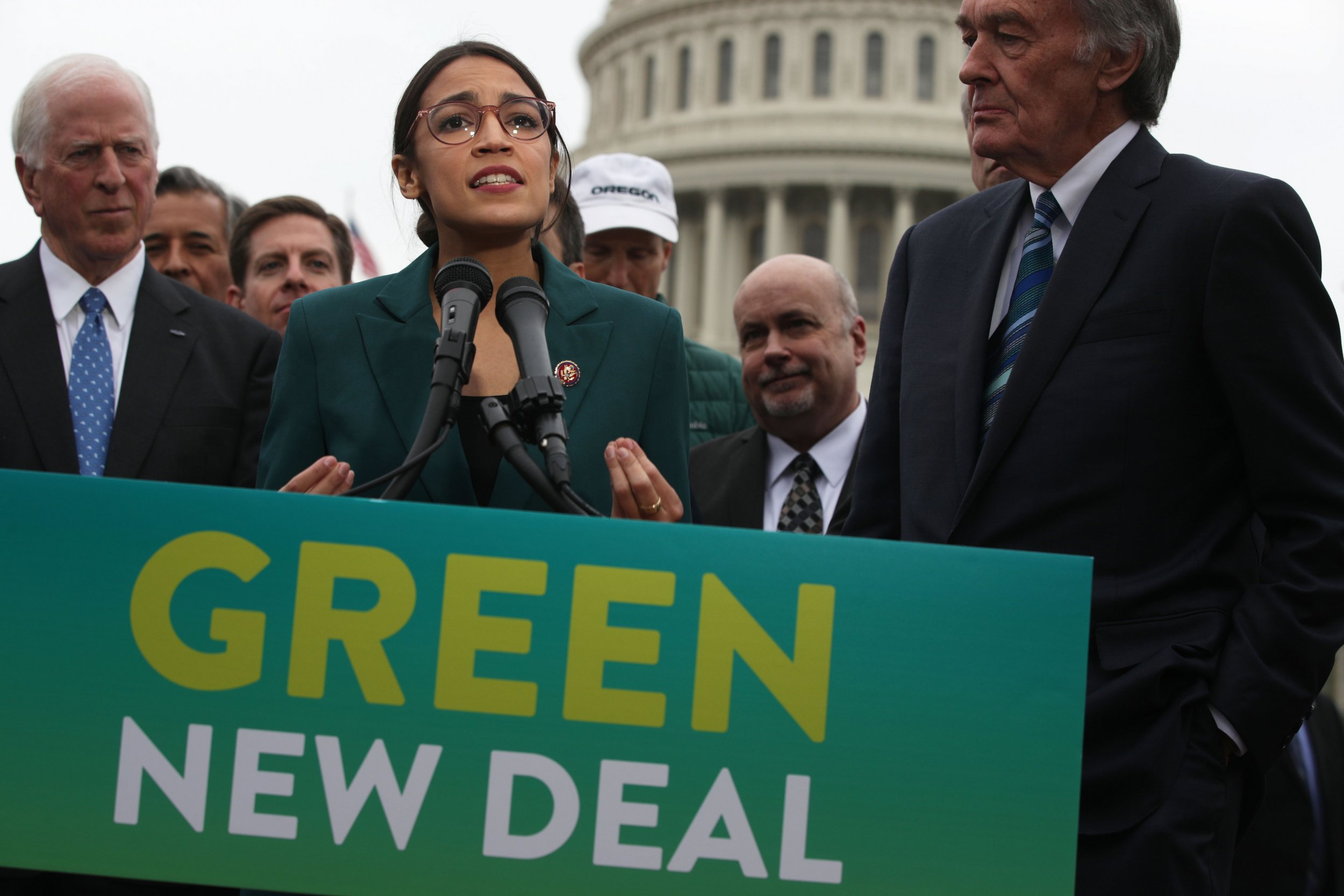 Representative Alexandria Ocasio-Cortez continued to criticize 2020 Democratic presidential candidate Joe Biden's forthcoming climate change plan on Monday, saying the "middle ground approach" was "unacceptable."
Ocasio-Cortez, who introduced a dramatic Green New Deal to fight climate change earlier this year, shared a story from Common Dreams, a nonprofit independent news center, that reported that greenhouse gas carbon dioxide levels had reached 415 parts per million over the weekend for the first time in more than 3 million years.
"This is why a 'middle ground' approach to our climate crisis is unacceptable," Ocasio-Cortez tweeted. "This isn't like other issues where you can pretend you're a sober adult by cutting the difference between left and right. You're either fighting for our future or you're not."
Ocasio-Cortez's attack followed her tweet on Friday that Biden's plan, which has not yet been released, "is a deal breaker."
Reuters reported, citing two sources, that Biden was "crafting a climate change policy he hopes will appeal to both environmentalists and the blue-collar voters who elected Donald Trump," and was "carving out a middle-ground approach that will likely face heavy resistance from green activists."
Ocasio-Cortez was among the green activists who ripped the reported plan.
"There is no 'middle ground' w/ climate denial & delay," the freshman congresswoman tweeted. "Blaming 'blue collar' Americans as the main opponents to bold climate policy is gas lobbyist 101. We're not going to solve the climate crisis w/ this lack of leadership. Our kids' lives are at stake."
Biden's campaign spokesman T.J. Ducklo on Friday tweeted that "Reuters got it wrong."
A spokesman for Biden did not immediately respond to Newsweek's request for comment on Monday.
"@JoeBiden has called climate change an 'existential threat,' and introduced one of the first-ever pieces of legislation in Congress to address climate change over 30 years ago. He knows how high the stakes are," Ducklo tweeted.
"As president, Biden would enact a bold policy...to tackle climate change in a meaningful and lasting way, and will be discussing the specifics of that plan in the near future," Ducklo continued. "Any assertions otherwise are not accurate."
Ocasio-Cortez's Green New Deal attempts to eliminate all carbon emissions in the country and remake the economy. While progressives have embraced the deal, it has faced criticism from other Democrats, including House Speaker Nancy Pelosi, who recently discredited it as the "green dream or whatever they call it."