The majority of Americans support a 70 percent marginal tax rate on income over $10 million, according to a Hill-HarrisX poll released Tuesday.
Democratic-Socialist Congresswoman Alexandria Ocasio-Cortez first suggested the idea as a way to fund the progressive Green New Deal legislation which would work to move the U.S. economy towards renewable energy and reduce carbon emissions.
"You look at our tax rates back in the 1960s and when you have a progressive tax rate system. Your tax rate, you know, let's say, from zero to $75,000 may be 10 percent or 15 percent, et cetera," said the New York representative in a recent 60 Minutes interview. "But once you get to, like, the tippy tops—on your 10 millionth dollar—sometimes you see tax rates as high as 60 or 70 percent. That doesn't mean all $10 million are taxed at an extremely high rate, but it means that as you climb up this ladder you should be contributing more."
Read more: Alexandria Ocasio-Cortez v. banks: NYC rep to join influential House committee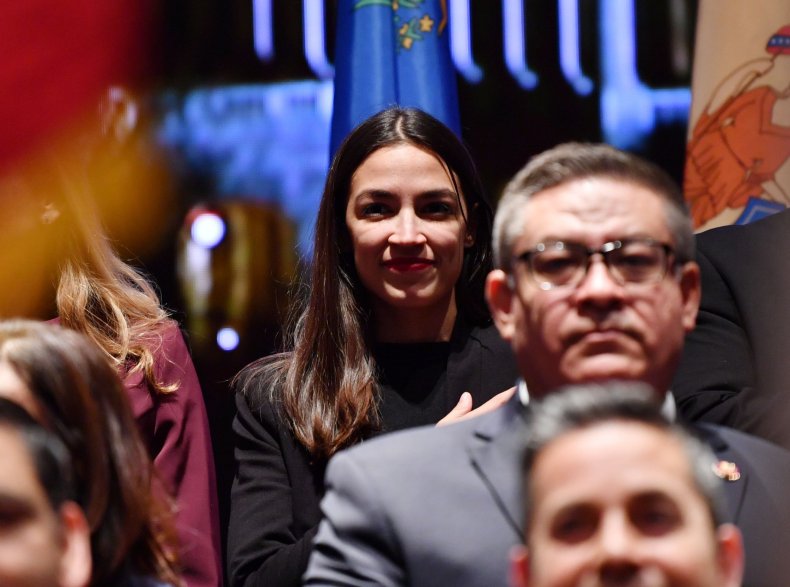 Between the 1960s and 1980s the highest U.S. marginal tax rate, on salaries over $200,000, was 70 percent and, according to Nobel-prize winning economist Paul Krugman, those high-tax periods coincided with some of the largest periods of growth the country has seen.
It appears that 59 percent of Americans agree with Ocasio-Cortez's idea and would support raising the highest tax rate to 70 percent, marginally. Democratic voters supported the idea by a margin of 71 percent to 29 percent, 60 percent of Independents supported the idea and even 45 percent of Republicans were on board, according to the poll.
Still, a number of prominent Republicans, and some Democrats, immediately criticized Ocasio-Cortez's proposal.
"A person could say we need to raise taxes a little bit," former Democratic Senate Leader Harry Reid told the Nevada Independent. "Again, when you talk about 70 percent and all that, we have to be careful because the American people are very conservative in the sense of not wanting radical change quickly. It just doesn't work."
Former Wisconsin Governor Scott Walker also dismissed the idea. "Explaining tax rates before Reagan to 5th graders: 'Imagine if you did chores for your grandma and she gave you $10. When you got home, your parents took $7 from you,'" he tweeted Tuesday. "The students said: 'That's not fair!' Even 5th graders get it."
Ocasio-Cortez responded to Walker on Tuesday, explaining that he was not grasping the concept of a marginal tax rate. "Explaining marginal taxes to a far-right former Governor," she wrote. "Imagine if you did chores for abuela & she gave you $10. When you got home, you got to keep it, because it's only $10. Then we taxed the billionaire in town because he's making tons of money underpaying the townspeople."