Alexandria Ocasio-Cortez Has More Twitter Power than Democratic Leaders and 2020 Candidates
Freshman congresswoman Alexandria Ocasio-Cortez, a political firebrand who has captured the admiration of the left and the indignation of the right, has more social media power than any Democratic leaders and 2020 candidates.
The 29-year-old garnered nearly 12 million interactions on Twitter in one month, Axios reported, trailing only Donald Trump among establishment politicans and media organizations in total engagement. The president remains the most popular figure on the social media site, with nearly 40 million interactions from December 11 to January 11.
But Ocasio-Cortez bested every other Democratic leader, including former President Barack Obama, House Speaker Nancy Pelosi and Senate Minority Leader Chuck Schumer. She also far surpassed all of the top 2020 candidates like Kamala Harris, Bernie Sanders and Beto O'Rourke.
She's also managed to generate more Twitter interactions than any major news organization, including The New York Times, Washington Post, CNN, Reuters, NBC and ABC.
Averaging about six tweets per day, Ocasio-Cortez often uses the social media platform like a traditional politician: to spread policy ideas. She has prolifically tweeted about the Green New Deal, an ambitious climate change solution, and marginal tax rates as high as 70 percent for America's wealthiest individuals.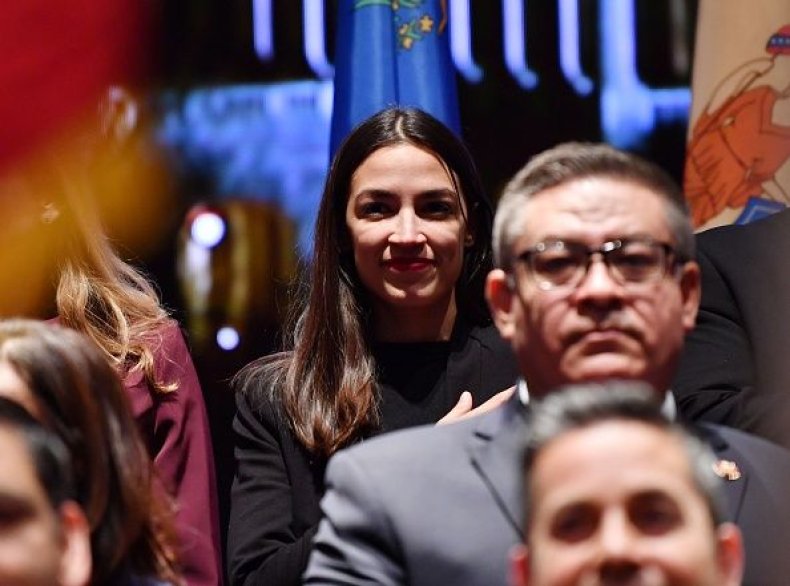 But her most popular posts are the ones that hit out at Republican leadership and conservative media pundits, especially after they have tried to publicly mock her.
Before taking office earlier this month, Ocasio-Cortez was scrutinized by conservative media outlets for saying that she could not afford to move to Washington D.C. until her congressional salary kicked in.
Fox News panelists chatted about her confession under the headline: "Self-proclaimed socialist says she can't afford DC rent." Conservative commentator Candace Owens tweeted that Ocasio-Cortez was "so fiscally irresponsible that she hadn't saved up enough money to rent an apartment in the Washington D.C. area… But sure, let's trust her with the future fiscal-planning of America."
Ocasio-Cortez swiped back at the criticism, posting online on Monday that "the thing Republicans taking cheap shots forget to mention is that it's about having trouble affording a SECOND apartment. I live in the Bronx and work in DC. Need a spot in both. But I understand how they can't conceive of a life where people don't casually maintain 2 homes."
Last week, amid news coverage of Republican Congressman Steve King's white supremacist comments, Ocasio-Cortez also slammed a conservative media reporter for not describing King's remarks as "racist."
In a tweet on Friday, senior political correspondent for the Washington Examiner David Drucker wrote that King informed Representative Steve Scalise that he would address his "racially-tinged remarks" on the House floor. King had been quoted in The New York Times as wondering when the terms white nationalist and white supremacist became offensive.
Ocasio-Cortez jumped on the tweet, telling Drucker that he "spelled 'racist' wrong." In a follow-up post, she added that "at this point those who use the terms 'racially tinged' or 'racially charged' to describe white supremacy should be prepared to explain why they chose to employ those terms instead of 'racist/racism.'"
"If the answer is their own discomfort, they're protecting the wrong people," she wrote.
On Monday, Ocasio-Cortez hit back at Trump after the president dismissed a reporter's question about the freshman congresswoman. "Who cares," Trump said while gesturing disdainfully when a question was posed about Ocasio-Cortez.
"I bartended for *years* in New York City. I understand guys like this like the back of my hand. We got under his skin," she tweeted. In just one hour the post had already gained 27,000 likes.