Alexandria Ocasio-Cortez Twitter Timeline: Tracking AOC's Transformation Into a Social Media Giant, One Tweet at a Time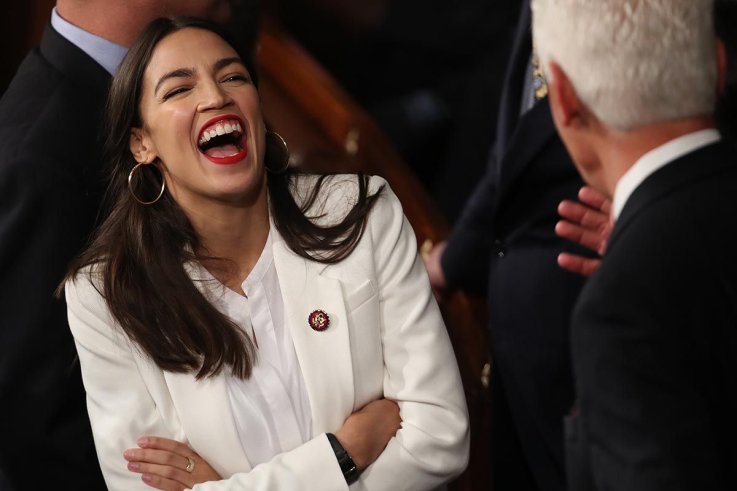 Alexandria Ocasio-Cortez's shock victory over incumbent Congressman Joe Crowley in the June 2018 midterm election primaries announced a new political force in American politics. In less than a year, Ocasio-Cortez has gone from being a bartender to the youngest woman to serve in Congress, viewed by some as a new hope for the Democrats.
Ocasio-Cortez learned early how to harness social media as an effective grassroots campaign tool for the digital age under her Twitter handle @Ocasio2018 (she switched to her current handle @AOC at the end of 2018). Her outspoken responses to her critics, as well as the simple, accessible way she writes about her political ideals, caused her support to snowball. She currently has 2.6 million followers on Twitter, and 1.9 million on Instagram.
Despite her viral appeal, her policies on social equality and environmental protection remain at the forefront of her agenda. When screenwriter Aaron Sorkin told CNN that Congress's new Democrats "need to stop acting like young people," he seemed to be missing the point that behind the memes and Instagram cooking videos, serious political ideas were reaching new audiences.
Even American conservatives admit her approach is working—and seem a little worried. "Everyone is talking about AOC's tax plan," tweeted the right-wing commentator Mike Cernovich on January 5. "She's 29 and got sworn in a day ago. lololol do people even understand this all?"
News website Axios reported that Ocasio-Cortez now has more Twitter power than any politician or media organization, bar President Trump. Between mid-December and mid-January, she generated more Twitter interactions than the six most prolific news organizations combined.
She's even been compared to Trump in her ability to shape the media narrative surrounding her, although Kara Swisher's op-ed in the The New York Times notes a key difference: "While he spouts outward, turning into an online megaphone, Ms. Ocasio-Cortez listens, takes everything in and reacts," Swisher wrote.
Author Antonio García Martínez, writing in Wired, agrees. "AOC is one answer to the bigger question of how social media impacts not just the portrayal of political power, but its seizure and exercise," he wrote. Ocasio-Cortez's success has woken her party up to the power of social media; she now teaches social media workshops for fellow Democrats.
So what's the secret behind her powerful social media presence? "Rule number one is to be authentic, be yourself and don't try to be anyone that you're not," Ocasio-Cortez said on The Late Show with Stephen Colbert in January.
"Don't try to talk like a young kid if you're not a young kid, don't post a meme if you don't know what a meme is—that was literally my advice—and I said don't talk like the Founding Fathers on Twitter. If you're a mom that likes to garden, talk like a mom that likes to garden, that's all you gotta do."
Newsweek has collected a selection of her notable tweets so far, tracking how her social media presence has evolved and gained momentum over time.