Alexandria Ocasio-Cortez Told to 'Do Better' by GOP Congresswoman: 'Instead of Lifting Women up Regardless of Party, You Chose to Push Us Down'
Representative Alexandria Ocasio-Cortez, a New York Democrat, clashed on Twitter with Republican Representative Elise Stefanik, a New York Republican, who accused her of "pushing women across the aisle down."
Both women have made history in American politics. Ocasio-Cortez, 29, is the youngest woman ever elected to Congress. Stefanik, 34, is the youngest Republican woman ever elected to the legislative body.
Stefanik took issue with Ocasio-Cortez criticizing the GOP after both parties gave President Donald Trump a standing ovation and cheered during his State of the Union address on Tuesday when he said America has "more women serving in the Congress than ever before."
"No one has benefited more from our thriving economy than women, who have filled 58 percent of the new jobs created in the last year," Trump said in the House chamber to cheers and ovations, including from Democratic women, who all wore white in tribute to women's suffrage and the struggle to secure equal rights.
"All Americans can be proud that we have more women in the work force than ever before. And exactly one century after Congress passed the constitutional amendment giving women the right to vote, we also have more women serving in Congress than at any time before," the president said.
Ocasio-Cortez tweeted an image of what she said was "one of my favorite parts of last night," showing her "air-fiving" Representative Rosa DeLauro, a Connecticut Democrat, "at the celebration of women in Congress (btw, majority of whom are Dem)."
"GOP has major+concerning problems electing women. Out of the *36* new women elected in 2018: - GOP elected: 1 (ONE!) - Dem: 35," tweeted Ocasio-Cortez.
Responding on Twitter, Stefanik hit back: "Exhibit A of pushing women across the aisle down - Esp when a Republican POTUS-along w/ standing ovation from @HouseGOP - graciously applauded historic # of women in Congress. Sadly Instead of lifting fellow women up regardless of Party, you chose to push us down. Do better @AOC."
Ocasio-Cortez replied, noting Stefanik's efforts to highlight the issue of women's representation in the GOP: "Rep. Stefanik, this is not a critique of women across the aisle, but of the serious inability for GOP to elect + support women. You yourself have taken your party to task on this - in fact, you called it a 'crisis.' I'm happy you're trying to fix it."
Stefanik responded: "I'm glad you've acknowledged the importance of women in both parties in elected office. I'm proud my @HouseGOP colleagues applauded the historic number of women elected to Congress last night. We need to work to elevate women's voices across the aisle."
Ocasio-Cortez also batted away criticism of her made by Peggy Noonan, a columnist for The Wall Street Journal.
Noonan wrote on Twitter that Ocasio-Cortez at the State of the Union "had a rare bad night, looking not spirited, warm and original as usual, but sullen, teenaged and at a loss."
The New York rep responded: "Why should I be 'spirited and warm' for this embarrassment of a #SOTU? Tonight was an unsettling night for our country. The president failed to offer any plan, any vision at all, for our future. We're flying without a pilot. And I'm not here to comfort anyone about that fact."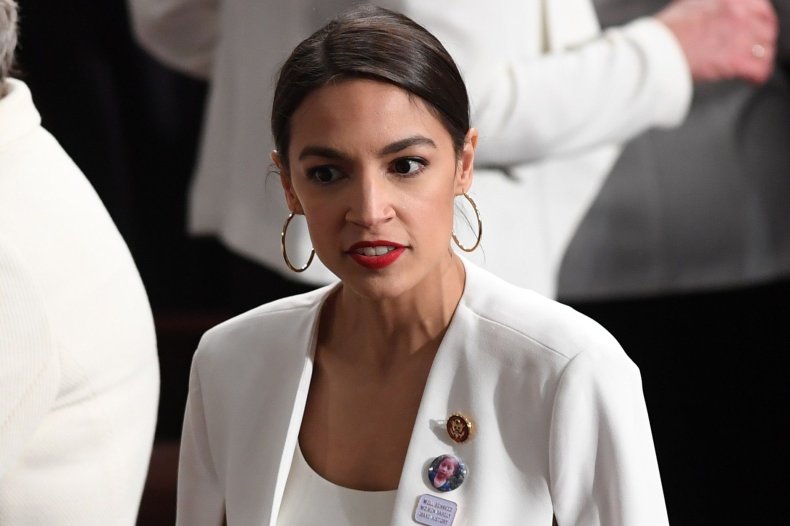 This article was updated with more background information.