Democratic Congresswoman-elect Alexandria Ocasio-Cortez on Friday afternoon criticized a proposed short-term spending bill that provided $5.7 billion requested by President Donald Trump for border security, stating: "Walls are waste."
"For the wall's $5.7 billion, every child in America could have access to Universal Pre-K," Ocasio-Cortez tweeted, reiterating her position during her campaign in support of universal preschool and boosting funding to schools.
"Yet when we propose the SAME $, we're told Universal Edu is a 'fantasy' & asked 'how are you going to pay for it,'" she continued in her tweet. "Education is an investment in society that yields returns."
The congresswoman-elect quote-tweeted a post by Washington Post reporter Jeff Stein listing what could be done with the $5.7 billion instead of putting it toward building a wall on the border with Mexico.
Stein's points included covering 852,017 uninsured Americans or funding a universal preschool plan with options of $2 billion to $12 billion.
"Granted you'd want these be recurring expenses rather than annual, but GOP also wants $25 billion for wall," Stein tweeted, adding that repairing water pipes in the city of Flint, Michigan, would cost only $55 million.
Stein had quote tweeted Ocasio-Cortez's tweet from Thursday night bashing the $5.7 billion.
"And just like that, GOP discovers $5.7 billion for a wall. $5.7 billion," she tweeted. "What if we instead added $5.7B in teacher pay? Or replacing water pipes? Or college tuition/prescription refill subsidies? Or green jobs?"
Ocasio-Cortez asked her Twitter followers to "notice how no one's asking the GOP how they're paying for it."
The House of Representatives on a 217-185 vote passed a short-term spending bill on Thursday night that included the $5.7 billion Trump asked for to put toward border security. It was immediately clear, however, that the bill would fail in the Senate. Democrats have insisted they will not support any further funding for the wall.
Trump vowed a government shutdown would happen if Democrats did not agree to include the billions for the border wall in the spending bill by midnight on Friday.
"The Democrats, whose votes we need in the Senate, will probably vote against Border Security and the Wall even though they know it is DESPERATELY NEEDED. If the Dems vote no, there will be a shutdown that will last for a very long time, Trump tweeted early Friday. "People don't want Open Borders and Crime!"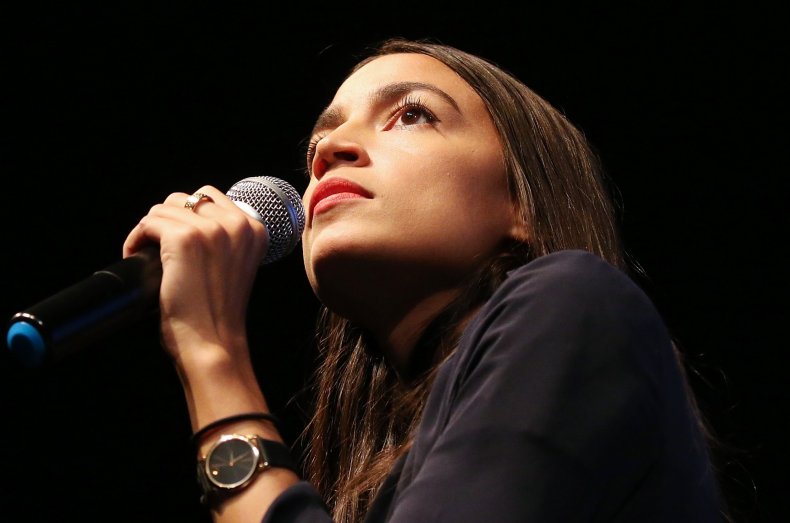 Though she does not take her seat in the House until January, Ocasio-Cortez, has spoken her mind on policy and taken shots at opponents, mostly Republicans, on Twitter. Early this month, she ripped the Trump administration's immigration policy.
"From jailing children to banning folks based on their religion, this Admin has been criminal from the start," Ocasio-Cortez tweeted.