Alexandria Ocasio-Cortez Wants Cuomo Administration Investigated Over Nursing Home Deaths
Democratic New York Representative Alexandria Ocasio-Cortez announced on Friday that she was joining several other Democrats in the state in calling for a full investigation into Governor Andrew Cuomo's handling of nursing homes during the COVID-19 pandemic.
In a statement sent to Newsweek, Ocasio-Cortez wrote, "I support our state's return to co-equal governance and stand with our local officials calling for a full investigation of the Cuomo administration's handling of nursing homes during COVID-19."
"Thousands of vulnerable New Yorkers lost their lives in nursing homes throughout the pandemic," the statement continued. "Their loved ones and the public deserve answers and transparency from their elected leadership, and the Secretary to the Governor's remarks warrant a full investigation."
In addition to Ocasio-Cortez, several other New York lawmakers on both sides of the aisle have also called for an investigation into Cuomo's handling of nursing homes during the pandemic.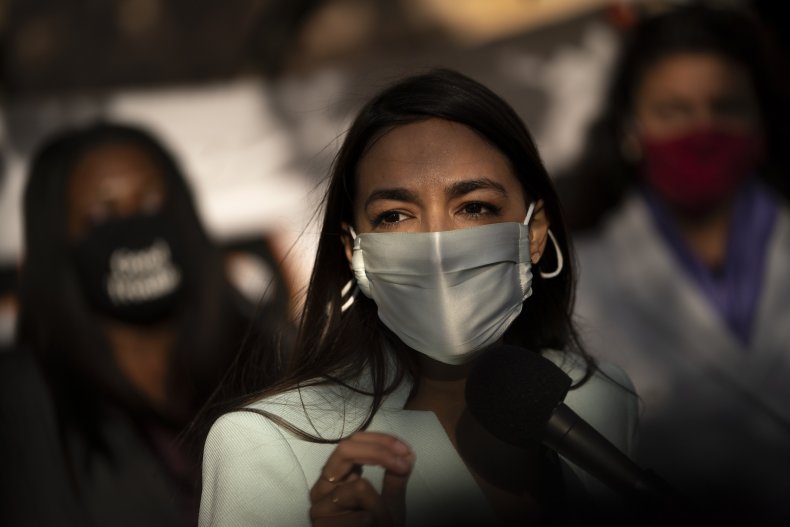 The calls for an investigation comes shortly after the New York Post reported that Cuomo's top aide Melissa DeRosa apologized to Democrats for setting aside their request for data on nursing home deaths during the ongoing pandemic.
In August, Cuomo declined a legislative request on the COVID-19 death toll in nursing homes from the state's Senate.
According to a transcript of the call, DeRosa said Cuomo's administration delayed their response from Democrats as the dealt with another request for nursing home data from the Department of Justice.
After Cuomo declined the request, he faced criticism from former President Donald Trump, which DeRosa spoke about during the call saying, "basically, we froze," after Trump directed "the Department of Justice to do an investigation into us," according to the Post.
In addition to calls for an investigation, numerous other New York lawmakers have also called for Cuomo to have him stripped of his pandemic emergency powers.
Last week, 14 Democratic state senators joined an effort led by state Republicans "for a repeal of the Governor's authority to issue unilateral directives."
"Without exception, the New York State Constitution calls for the Legislature to govern as a co-equal branch of government," the senators said in a statement. "While COVID-19 has tested the limits of our people and state—and, early during the pandemic, required the government to restructure decision making to render rapid, necessary public health judgements—it is clear that the expanded emergency powers granted to the governor are no longer appropriate."
During a Friday news briefing, Cuomo spoke about the criticism he has faced over the nursing home situation and said, "If anyone had the perfect answer to nursing home deaths, and if anyone tells you they do, they're lying."
While the New York governor made his comments, a visual was shown adjacent to him, which read, "And we saved tens of thousands of lives. We went from the highest infection rate to one of the lowest. Those are the facts."
Newsweek reached out to Cuomo's office for comment but did not hear back in time for publication.
Updated February 19, 2021, 4:24 p.m. ET, to clarify the comments DeRosa made during the call.