Alexei Navalny's Mom's Facebook Post Prompts Speculation After It Goes Offline
The disappearance of a Facebook post by the mother of Russian opposition leader Alexei Navalny, in which she described her fears for his life after she visited him in prison, has left many puzzled.
There has been growing concern about the health of the Kremlin's most renowned critic, who has been on a hunger strike since March 31 in protest of the alleged lack of medical treatment he is receiving for acute pain in his back and legs.
Independent media outlets in Russia reported that Liudmila Navalnaya had visited her son on Tuesday at the prison in Pokrov in the Vladimir region, east of Moscow, where he is serving a two-and-a-half-year sentence.
In a post published afterward, she reportedly described her fear for her child, criticizing the medical treatment her son was receiving and saying that the doctors dealing with him "will burn in hell."
The post also said he was coughing heavily, had difficulty breathing and was very weak, "not only because of the hunger strike" but also as "a consequence of poisoning."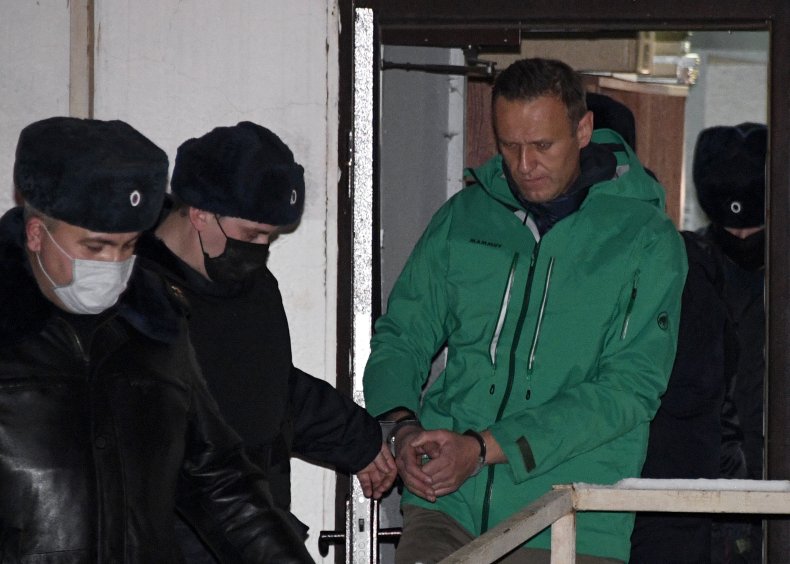 "Alexei is in great danger," it added.
But Russian-language outlets generally critical of the Kremlin were left puzzled when the post became unavailable. Latvia-based site Meduza reported that the post had been blocked "for some unknown reason."
Activist and Navalny supporter Nikolai Lyaskin tweeted to his 77,000 followers a screenshot of Navalnaya's post, which he said had been "blocked on Facebook."
A screenshot of the post was also tweeted by the editor-in-chief of the Echo of Moscow radio station Alexei Venediktov and human rights activist Zoya Svetova.
Rain TV noted that those who wanted to open the page were greeted by the message: "This content is currently unavailable. The owner may have removed the content or restricted access to it."
Meduza reported that Navalnaya's Facebook page became available on Thursday morning, though there was no post about her visit to the prison. The most recent entry dates from March 7, 2020.
In a statement to Newsweek, Facebook said: "We didn't take any action on this account. It appears to be reactivated by the user." Newsweek has also contacted Navalnaya for comment.
Navalny had been complaining of back and leg pain for several weeks. Russia's Federal Penitentiary Service (FSIN) said on April 6 that Navalny had been examined and that his health was satisfactory.
In a post liked more than half a million times, Navalny's wife, Yulia Navalnaya, wrote on Instagram this week that, even though he had lost a lot of weight, "I know that he is not going to give up."
Meanwhile on Thursday, Lyubov Sobol, a top associate of Navalny, was given a suspended sentence for trespassing after she tried to doorstep an alleged security operative thought to be linked to the opposition figure's poisoning by Novichok, the Associated Press reported.
The Kremlin denies responsibility for the nerve agent attack.
This story has been updated to include a statement to Newsweek from Facebook.