Alexei Navalny Concerns Prompt Further Sanction Threats Against Russia
Momentum to punish Russia over the deteriorating health of Alexei Navalny is growing after France's foreign minister warned President Vladimir Putin and the Russian authorities would be held responsible should the opposition politician die.
Jean-Yves Le Drian voiced fears expressed by many that the Putin critic, who languishes in a notorious prison where he is on hunger strike, is in mortal danger.
"This relentless attack on Navalny is unbearable," he told France 2, according to Reuters.
This week, the personal doctor for Navalny, Anastasia Vasilyeva, warned that the Kremlin critic could "die any minute."
When asked what would be the European response should the worst happen to Navalny, Le Drian responded: "We will take the necessary sanctions and it will be the responsibility of Mr Putin and the Russian authorities. I hope we won't go to that extreme."
Meanwhile on Wednesday, the top Senate Democrat, Bob Menendez, who chairs the upper chamber's foreign relations committee, said that the U.S. was prepared to take tougher action against Moscow, in addition to sanctions the Biden administration imposed last week.
"This is barbarism playing out in real time, and we cannot be silent," he said, according to The Hill.
"We must be perfectly clear that if he is not afforded this care, we are prepared to impose sanctions, not only on individuals, but on the Russian banking and financial sector."
The comments by Menendez came on the day that people took to the streets in dozens of cities across Russia in support of Navalny, who is serving a 2.5 year sentence in a colony in the Vladimir region.
Although the turnout fell short of the half million hoped for by the Kremlin critic's Anti-Corruption Foundation (FBK), the group considered the demonstrations to be more successful than the ones held in January following Navalny's arrest—with a higher attendance and fewer arrests. But as the lightning rod for the Russian opposition, and three weeks into a hunger strike, the health of Navalny is of concern both for his movement and the international community.
United Nations human rights experts urged the Russian authorities to ensure he had access to his own doctors and to allow him to be evacuated for urgent medical treatment abroad—as they did in August 2020, following his Novichok nerve agent attack.
"We reiterate that the Russian government is accountable for Mr. Navalny's life and health while he is in detention," the group said in a statement.
But the fate of Navalny, who is in a weakened state in prison, is not just down to Putin, according to Tatiana Stanovaya, founder of political analysis firm R.Politik.
"Putin doesn't really control the situation," she told Newsweek. "Putin can't guarantee that Navalny will survive."
She added: "Putin has signaled that it is not his level and that he much more things to manage, so Navalny remains without normal political oversight."
When contacted for comment, the senate foreign relations committee that Menendez chairs referred Newsweek to the senator's comments on Wednesday. Newsweek has also contacted the French foreign ministry and the Russian embassy in London for comment.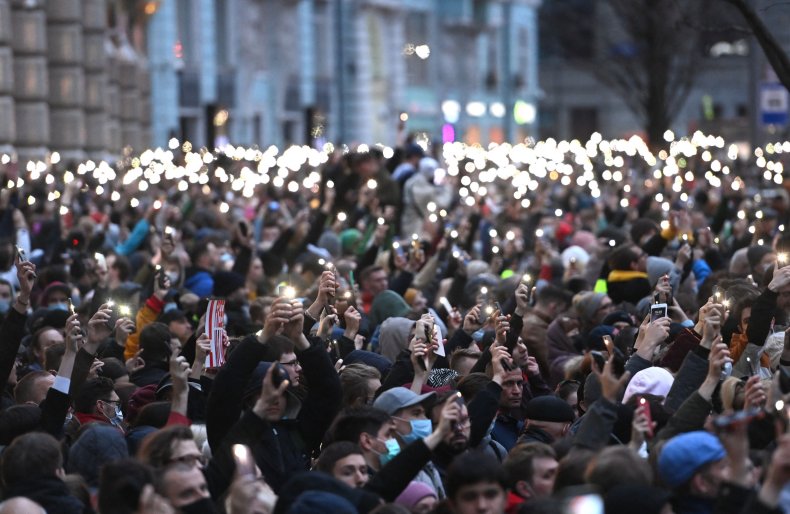 This story has been updated to include a response to Newsweek from the Senate foreign relations committee.