It was an overcast afternoon in northern Moscow on April 10, and a crowd was gathering outside the jail where Alexei Navalny, the Russian opposition leader, was finishing yet another stint behind bars. The crowd, mostly opposition activists and journalists, was expecting to hear a fiery speech from Navalny, a 40-year-old anti-corruption activist.
But there would be no speeches that afternoon. In an apparent attempt to prevent Navalny from addressing the media, Russian authorities had secretly transferred him to a different jail some 10 miles away and released him there. He was forced to make his way home alone on the metro.
Related: Russia's Healthcare System is Getting Worse
For Navalny's supporters, the underhanded move was an indication of his growing nationwide profile, and an indirect admission that Navalny is the only figure with any chance of unseating President Vladimir Putin in the 2018 elections. That is, if he can get on the ballot.
Putin and his inner circle have good reason to be spooked. On March 26, Navalny orchestrated the biggest anti-government protests in years; tens of thousands of people defied police bans to rally in almost 100 cities and towns across Russia. Riot police cracked down hard, arresting over 1,000 protesters in Moscow alone, including Navalny, who was sentenced to 15 days behind bars for disobeying police orders.
The protests centered on allegations that Dmitry Medvedev, the Russian prime minister, had received more than $1 billion in bribes from state banks and ultra-wealthy businessmen. In a slick online video that has gotten more than 17 million views on YouTube, Navalny said Medvedev had funneled the illicit payments through shadowy charity organizations into yachts and luxury real estate. The video sparked an uproar from ordinary Russians, who are facing increased hardships as the economy sputters, in part due to Western sanctions in response to Putin's 2014 annexation of Crimea. Some 23 million people—around 16 percent of the population—are now living beneath a poverty line, and a recent report by Moscow's Higher School of Economics revealed that 41 percent of Russians are struggling to feed and clothe themselves.
The Kremlin has not commented on Navalny's allegations, and Russia's parliament has refused to commission an investigation. After weeks of silence, Medvedev denied the accusations, and in keeping with Kremlin policy, he refused to mention Navalny by name.
But Navalny is not going away. "His targeting of Medvedev will only boost his nationwide reputation as someone who battles against corruption," says Dmitry Oreshkin, a prominent political analyst in Moscow.
The protests have already given Navalny a boost. An opinion poll by the Moscow-based Levada Center indicated that 38 percent of Russians supported the rallies and that 67 percent held Putin personally responsible for high-level corruption. Perhaps more significant, the poll also revealed that 10 percent of Russians would be prepared to vote for Navalny in next March's presidential election. For a politician who is mentioned by state media only when it accuses him of being a treacherous foreign agent, it was a remarkable result.
Though he's been inveighing against corruption for decades, Navalny became a prominent figure only after the December 2011 parliamentary elections, when protests erupted in Moscow in response to alleged voter fraud in favor of Putin's United Russia party. He later ran for Moscow mayor and received almost 30 percent of the vote, despite a blanket ban on his candidacy on state TV.
Navalny has suffered for his defiance, serving numerous short jail terms. In 2013, he was sentenced to prison for five years on what he says were politically motivated fraud charges but was freed the next day, after his supporters defied police warnings and staged a mass rally outside the parliament. His sentence was later commuted to probation on appeal. In 2014, his younger brother, Oleg, was imprisoned for more than three years on corruption charges that Navalny says were intended to keep him quiet. "My brother has been taken hostage," he raged outside the courthouse.
It took some time, but Navalny's rage eventually proved infectious, and the Kremlin appeared unprepared for the latest outpouring of public dissent. The 2011-12 protests were confined to the capital and largely powered by older, middle-class Muscovites. But this spring's demonstrations have energized the provinces and found massive support among younger Russians, a generation that has no or little memory of life before Putin. "Unlike most adults, we get our news from the internet rather than state television, which everyone knows is censored," says Yelena, an 18-year-old student in St. Petersburg. (She asked me to use only her first name so she could speak frankly about politics.) "Most adults I know have given up trying to change things, but we still have hope that we can one day live in a normal country."
Navalny and his supporters have similar hopes. They are opening dozens of campaign offices across the country in a bid to force the Kremlin to register him as a presidential candidate. He says that he has raised 26.3 million rubles ($467,000) in public donations in just three months and that more than 75,000 people have signed on as campaign volunteers.
Already, Navalny's campaign is proving to be unprecedented in modern Russia. Unlike in the United States, candidates here generally do not begin campaigning until a few months before the election. Putin, who says he has no time for such things, has barely campaigned since he came to power in 2000, and he has never faced a rival candidate in a debate—televised or otherwise.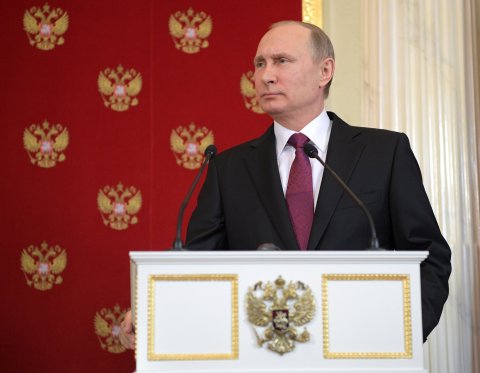 But Navalny will have to overcome considerable obstacles if he is to see his name on the ballot. "The Kremlin will want to distance Navalny from the election," Gleb Pavlovsky, a former Kremlin adviser who is now critical of Putin, tells Newsweek. "He is extremely unpredictable and will make the campaign tough for Putin."
Under Russian law, anyone convicted of a criminal offense is barred from running for public office. But the constitution says that only citizens who are behind bars are unable to run, and Navalny is arguing that this should allow him to be on the ballot. Russia's state-controlled election committee, which has a habit of blocking inconvenient candidates, will rule on his application in December.
In the meantime, local authorities haven't been pleased by Navalny's visits to their towns and cities. In Tomsk, in western Siberia, campaign volunteers were locked into their apartments after their doors were sealed up with insulation foam by unidentified vandals, and their cars' tires were slashed. Despite hiring a burly bodyguard, Navalny has been assaulted twice during forays into Russia's heartland, once by a Kremlin activist who sprayed green dye into his face and once by people who claimed to be Cossacks.
These obstacles, along with state media censorship and alleged vote-rigging, are why Navalny says Putin will never be beaten at the polls, although he continues to campaign in a bid to pile pressure on the Kremlin. "By refusing to allow any genuine political competition," the anti-corruption activist tells me, "Putin is doing everything he can to ensure that he will be forced out by other means."
Though Navalny bristles at the suggestion that he is Russia's Donald Trump, he is unabashedly isolationist and anti-immigration. "We will build wonderful relations with the West," he told supporters recently. "But my foreign policy starts at home. We will build normal roads, and only then will we worry about our military strength. We will raise pensions and minimum wages here, before we support [Syrian President] Assad's regime."
Up until 2012, Navalny was a regular at the Russian March, an annual gathering of nationalists and ultra-right radicals in Moscow. In 2013, he publicly backed protesters calling for the expulsion of Chechens from a southern Russian town, and he has also used insulting expressions about people from Russia's North Caucasus and central Asia.
In recent years, Navalny has toned down his anti-immigrant rhetoric, and he has massive support among Russian liberals. But some opposition-minded Russians say there is no way they could side with him, even against Putin. "He carries out important anti-corruption work, but his political program is based on nationalist-populism and ill-considered slogans," says Anya Sarang, a leading HIV activist. "I think those people who support him do so out of desperation."
Desperation or not, Navalny is one of the few politicians in Russia who is able to bring large numbers of people out into the streets. And it's a power he intends to keep on using. Unbowed by his recent stint behind bars, he has called for more nationwide protests on June 12, the Russia Day public holiday.
"If Russian citizens don't have the right to take to the streets with Russian flags on Russia Day, then it means that your sole aim is to transform Russia into your own personal wallet," he says in an online video addressing Putin and Medvedev, which was posted April 12.
The very next morning, police carried out a series of raids on the homes of anti-Putin activists across Russia.
Navalny's response? "Keep up the pressure.