Russian opposition leader Alexei Navalny is about to walk free from prison, amid speculation the Kremlin is considering jailing him more permanently to take him off the political stage.
In August, Navalny, who is the most visible opponent of Russian President Vladimir Putin, was sentenced to 30 days in jail for his role in a number of unsanctioned protests around Russia.
As he walked out of a detention center in Moscow on September 24, he was re-arrested.
Moscow's Simonovsky District Court then ordered him to spend a further 20 days behind bars on charges of staging another rally that caused bodily harm to police officers and damaged a patrol vehicle, charges Navalny vehemently denied.
It remains to be seen whether he will be re-arrested as quickly as he was last time when he gets out this weekend.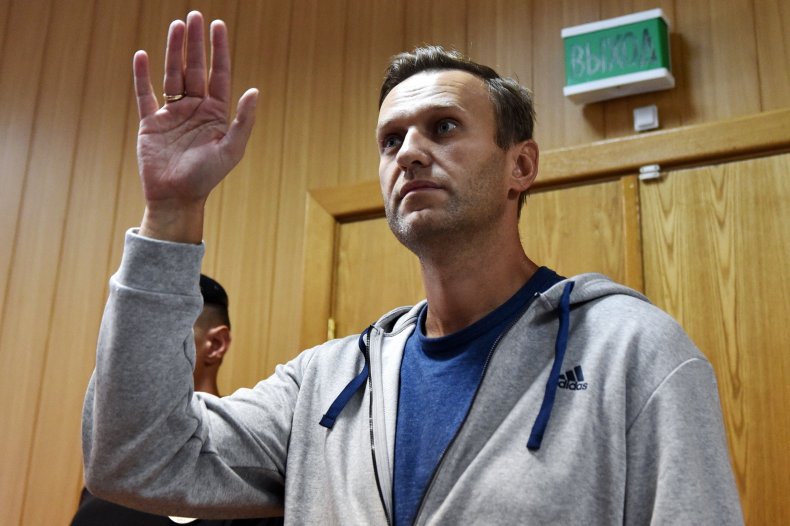 However, there are reportedly concerns amid the Kremlin elite as to whether Navalny can capitalize on widespread discontent in Russia over retirement age reforms. This policy is deeply unpopular and has dented Putin's approval ratings.
Within this context, political analyst Tatiana Stanovaya, chief of the political analysis firm R.Politik, said that the Russian leadership is looking at whether to "neutralize" Navalny.
She wrote in a Facebook post that Navalny was stuck on the sidelines of popular anger about the reforms, and that opposition to the policy has remained largely leaderless.
"Thanks to hostile coverage by state television, Navalny's 'anti-rating' is currently quite high, meaning that most Russians would either ignore or support his imprisonment, while liberals with any influence would be too scared to risk their positions to speak up," she said in the post, which was also carried by the news outlet Meduza.
"As Putin's approval rating suffers and advisers increasingly sense ominously that 'things are in motion,' Navalny becomes a less important game piece that's better swept off the board," she added.
Navalny's release comes just after his anti-corruption foundation (FBK) published claims of graft involving members of Putin's inner circle—the leaders of Russian state corporations Rostec, Gazprom and Transneft—in a regular segment posted on its YouTube channel.
Navalny was barred from running in the last presidential election, which was won by Putin, due to a criminal conviction. He said the charges had been trumped up.
Meanwhile, the Kremlin is reportedly looking for a way to allow Putin to stand again in 2024, despite the constitution forbidding what would be a third consecutive term.
The head of Russia's Constitutional Court Valery Zorkin said in an article published in the Kremlin mouthpiece, Rossiskaya Gazeta that Russia's constitution, adopted in 1993, is outdated, and that needed some "delicate changes."
The Bell reported: "Journalists and political scientists have no doubt this is the start of public discussions about how Putin can stay in power after 2024."
This article has been updated to correct the position of Tatiana Stanovaya, who is chief of the political analysis firm R.Politik.