Alexis Sharkey's Friends Say She Was 'Scared for Her Life' Prior to Death
The friends of the late Instagram influencer Alexis Sharkey have spoken about their concerns for her shortly before her death, saying that they believe she was murdered.
26-year-old Sharkey was found dead on the side of the road Saturday near I-10, about 17 miles west of downtown Houston. She was formally identified on Monday.
Lauren Breaux, Ally Cale and Courtney Ehninger, all friends of Sharkey, have spoken about how she was fearful for her life leading up to her death.
"We don't know what happened. We obviously have had ideas. We believe she was murdered, absolutely," Breaux told ABC13.
"I'm going to be honest, she confided in me about how worried she was for her safety when we went to Marfa, Texas, almost a month ago. We were sitting down at dinner and she lost it. We walked back to our hotel room and she confided in me that night in things. I looked at her [and thought], 'She's petrified. This girl is scared for her life.'"
When asked, the friends did not say who or what Sharkey was so fearful of.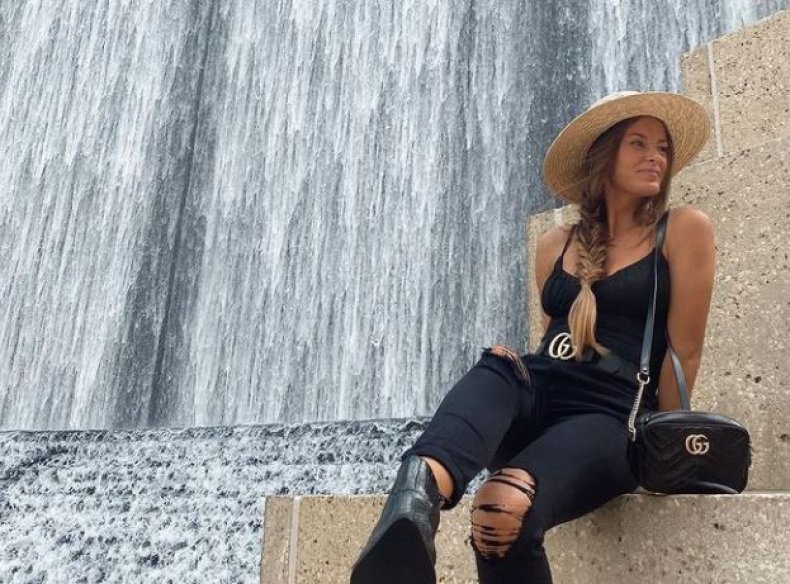 Her mother also thinks Sharkey's death was "absolutely foul play."
"The way in which she was found—my child would never do that to herself," Stacey Robinault told KPRC, a Houston news station. "That doesn't even make sense. That is absolutely foul play."
She continued. "There is nothing to me that suggests that this was an accident," she said. "And there's nothing to me that suggests anything else, other than that this was done to her. And I believe that in my mother's gut."
Alexis' husband Tom Sharkey has received death threats following the news of his wife's passing.
"It's horrible. People are talking tons of crap. I'm getting death threats and stuff," he told ABC7 Eyewitness News reporter Steve Campion.
"None of that bothers me. What bothers me is that world and everybody in it focuses on all of the stuff that doesn't matter ... should have been focused on finding my wife. Everybody was still looking for her, and I located her Sunday morning in the coroner's office. They couldn't ID my wife. They didn't know who she was. She was just there."
Tom disputed claims that the marriage was on the rocks, telling ABC13: "She wasn't happy. She was stressed. I would cuddle her to try to make her strong. She was an amazing woman. Sir, my wife was an amazing woman. She really was. There's always other sides to everything. I was the one holding her, cuddling her, and building her back up. I don't need to set the record straight. I'll let it play out the way it is. I know what my life was with my wife."