Algeria, France's Other National Soccer Team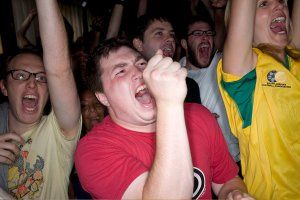 If the United States beats Algeria Wednesday, it will move on to the elimination round of the World Cup for the first time since 2002. The Stars and Stripes could squeak through with a tie (if England underachieves again), but Algeria must win to progress and will go for broke. Obviously, antipathy for Algeria will be running high in the States, but in truth the game is not a contest between two nations but three. Algeria's squad has been nicknamed "the other France team," by the venerable French daily Le Monde, for its quirky roster of French imports. With France—onetime football royalty—crashing out of the World Cup Tuesday, an ignominious early exit for a team that has become a laughingstock, the "other France" has been putting on a better show.
The Algerian team is unusual in that most players selected for the World Cup were born and raised in France, from which Algeria gained independence in 1962. Seventeen of the 23 players selected are French-born sons of an Algerian parent or two. The so-called Fennecs, or Desert Foxes, in fact hail from the Côte d'Azur, Alsace, or the Paris suburbs. Indeed, although Algeria is the only team in this World Cup from an Arab nation, some of the second-generation imports don't even speak fluent Arabic. Le Monde quotes an Algerian government official claiming the players were given the national anthem on an iPod with a phonetic translation of the lyrics so they could sing along at the matches. In France, the Algerian team draws some support from the country's large population of first-, second-, and third-generation North Africans. But Pascal Boniface, France's top analyst on the politics of soccer, detects broader support in solidarity, he writes, because "it is the team people's buddies support. In our high schools and universities, everybody has at least one buddy of Algerian origin." If the French lack a national team to root for, Boniface wagers, "a large part of us will support Algeria."
Indeed, so far Algeria's French-born recruits are a feel-good story, while the real France team is a woefully unloved shambles. After a disastrous 2–0 defeat to Mexico last week, France imploded. French striker Nicolas Anelka was kicked off the team for reportedly telling coach Raymond Domenech to "go f--k yourself, you dirty son of a whore." In solidarity, his teammates mutinied, refusing to practice Sunday, and French soccer's top official in South Africa resigned in disgust. Sponsors pulled ad campaigns, and Le Parisien declared, "Having the worst team in the World Cup was already unbearable. Having the most stupid is just intolerable." The latest meltdown earned every front page in France, for a national team already unloved. And Coach Domenech's mother, the one deemed a whore in the French striker's tirade, appeared on national radio to cry.
The unheralded Algerians, meanwhile, might be ranked 30th in the world, but they held soccer powerhouse England to a shocking scoreless draw in Cape Town on Friday night. For fans of the Desert Foxes from Paris to Algiers, 0–0 was quite enough to justify taking the car out for a spin and honking their satisfaction into the night.
Algeria's supporters have waited a long time for this. The national team made two World Cup appearances in the 1980s, upsetting West Germany in 1982, but its soccer infrastructure suffered the ravages of corruption and a bloody 1990s civil war. And so Algeria has staked its hopes for the country's first World Cup tournament since 1986 on a band of prodigal sons, thanks in part to a recent rule change: in 2009, the sport's governing authority decided to no longer force dual citizens to choose, by age 21, which nation they would represent. Algeria had petitioned for, and won, a removal of the age limit, breaking open a fount of untapped recruits, as long as they had not yet been called up by France's national senior team. Midfielder Hassan Yebda, for instance, won the Under-17 World Cup for France in 2001. He earned his spot on Algeria's team last October, at the age of 25.
And why not? France has relied on immigrants, and their sons and grandsons, to fill the national team for generations. Midfield maestro Zinedine Zidane, the Marseilles-born son of Algerian immigrants, led France to win the 1998 World Cup and is an idol on both sides of the Mediterranean (yes, despite that head butt). For Algeria, the rule change evened the playing field, at least a little. It had tired of losing out on the sons of its émigrés while the young talents held out for call-ups from France that never came. Ironically, the dismal team France took to South Africa for this World Cup doesn't feature a single player of North African origin for the first time in decades. That leaves arguably the world's two best young Franco-Algerian players, Real Madrid's Karim Benzema and Arsenal's Samir Nasri, to watch the tournament on TV, unavailable to Algeria because they had already played for France's senior squad. Their fate, and France's shameful collapse in this World Cup, might give pause to French-born dual nationals going forward.
For this year, France's "other team" may outlast France itself. With a win against the United States tomorrow in Pretoria, Algeria could advance further than it ever has in a World Cup. "We have nothing to lose. We are going to approach this match like a final," Algerian defender Madjid Bougherra told FIFA.com. Whatever becomes of the Desert Foxes tomorrow, that's more than the "real" France team could provide this time.