An Algorithm Spotted the Ebola Outbreak Nine Days Before WHO Announced It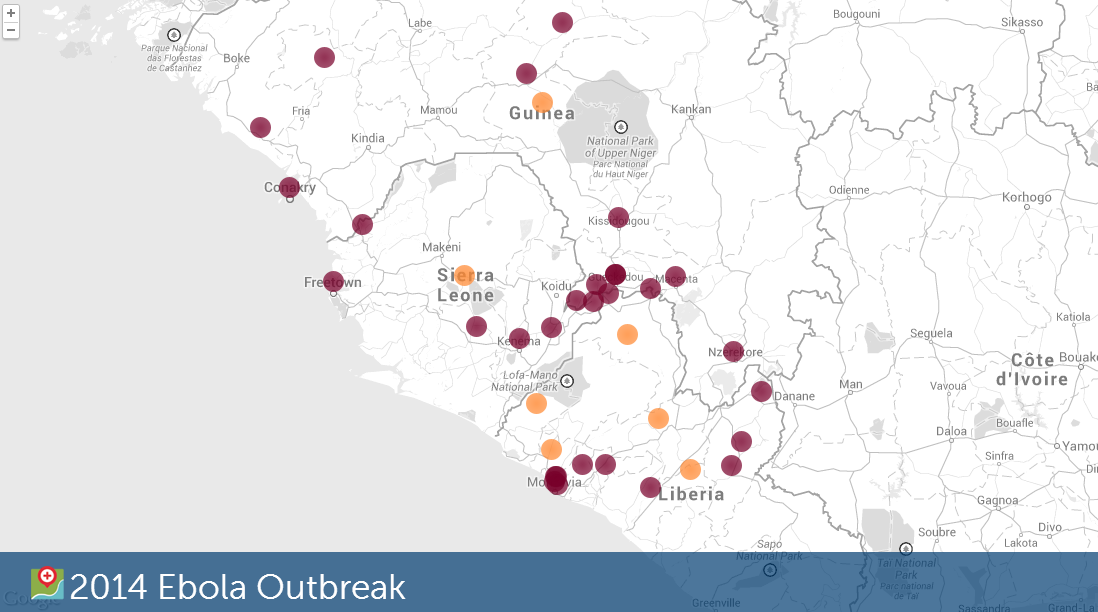 Disease surveillance—monitoring the spread of infection in order to predict its pattern—is vital to any attempt to prevent a pandemic. In the case of the current Ebola outbreak in Central and Western Africa, on-the-ground surveillance is tough. With too few medical resources such as labs to process diagnostic tests, and with international organizations like the World Health Organization (WHO) strapped for cash, everything slows down. But what if a computer algorithm could report an outbreak faster than people on the ground?
HealthMap, a sophisticated online mapping tool, appears to have done just that. The website, which is run by a group of researchers, epidemiologists and software developers at Boston Children's Hospital, noted a "mystery hemorrhagic fever" spreading in Guinea nine days before the WHO issued its first statement on the outbreak.
The tool's algorithm sifts through social media sites, local news reports, medical workers' social networks and government websites to track instances of disease and plots them on a map. On March 14, HealthMap noted reports of "mystery hemorrhagic fever" cases that had killed eight in Guinea, according to the blog Public Health Watch. Less than a week later, on March 19, it posted a dot on its map of Guinea, with a link to a local news report of a possible Ebola outbreak that had by that time killed 23, and HealthMap issued an alert. Finally, on March 23, the WHO confirmed the outbreak. (The day before, the Ministry of Health of Guinea had officially notified the WHO about the outbreak.)
Of course, HealthMap is not perfect. As of this writing, its map still shows heavy purple dots denoting "high activity" for Ebola in the New York area, where there are no cases. A click on one of the dots reveals that they appeared after reports last week of a man being treated in a New York City hospital with Ebola-like symptoms. It has since been confirmed that he does not have Ebola.
Any easily alarmed user must take care to read beyond the visuals, which HealthMap's attractive interface makes easy to do. But despite its imperfections, the tool may be an important source of quickly shareable data for public health professionals who badly need it.
"[Ebola] was spreading as an outbreak for four months before there was sufficient laboratory confirmation that this is what it is," says Stephen Morrison, the director of the Global Health Policy Center at the Center for Strategic and International Studies. "The capacities for surveillance, diagnosis, responding are just not there in these countries. If you throw a match into there, it just bursts into flames."
While no media-trawling bot could ever replace national and international health agencies, such tools may be starting to help fill in some of the most gaping holes in real-time knowledge.