Ali Krieger and More U.S. Women's Soccer Players Defend Megan Rapinoe: 'I Don't Support This Administration'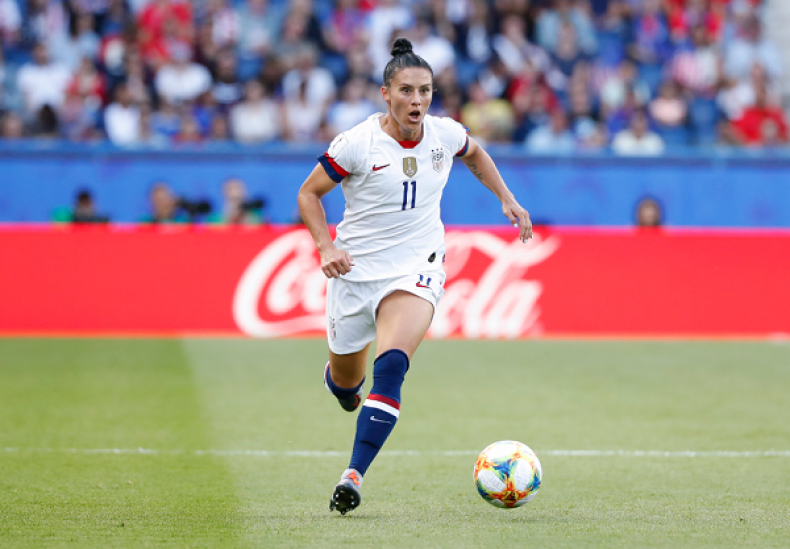 Megan Rapinoe received support from her fellow U.S. Women's National teammates following President Donald Trump's ridicule of the soccer captain. Both Ali Krieger and Alex Morgan said they would rescind invitations to visit the White House should they win the 2019 FIFA World Cup.
Krieger issued a statement defending Rapinoe on Twitter on Wednesday. "In regards to the 'President's' tweet today, I know women who you cannot control or grope anger you, but I stand my @mPinoe & will sit this one out as well. I don't support his administration nor their fight against LGBTQ+ citizens, immigrants & our most vulnerable," Krieger wrote.
Morgan felt similarly. She expressed her dismay with Trump's administration and her unwillingness to take photos at the White House in a profile with Time magazine. "I don't stand for a lot of things the current office stands for," she said, noting that she would be absent from any White House visit should the team be given the opportunity.
"We don't have to be put in this little box," Morgan continued. "There's the narrative that's been said hundreds of times about any sort of athlete who's spoken out politically. 'Stick to sports.' We're much more than that, O.K.?"
After catching wind of an Eight by Eight magazine video clip, in which Rapinoe said she was "not going to the f**king White House," Trump fired off a series of tweets criticizing the athlete and other professional sports teams that have shunned the U.S. tradition of visiting the White House. He also suggested Rapinoe shouldn't be concerned about an invitation to the White House when the team hadn't even won the World Cup just yet, but still decided to invite the players whether they won or lost the final series.
"Megan should WIN first before she TALKS! Finish the job! We haven't yet...invited Megan or the team, but I am now inviting the TEAM, win or lose. Megan should never disrespect our Country, the White House, or our Flag, especially since so much has been done for her & the team. Be proud of the Flag that you wear. The USA is doing GREAT!" he wrote.
Athletes have visited the White House following a big win from as far back as 1865 when President Andrew Johnson invited the Brooklyn Atlantics and Washington Nationals amateur baseball clubs. The tradition continued in more modern time with plenty of sports players visiting the White House during President Barack Obama and President George W. Bush's reign.
However, during Trump's administration, a number of teams and players have declined invites. Perhaps the most notable instance was when the Golden State Warriors rejected Trump's desire to host the NBA champions in 2017, which led the president to later declare neither the Warriors nor their 2018 NBA Finals opponents, the Cleveland Cavaliers, would be invited to visit the White House.