Alibaba Taking Investor Orders for $11Bn Hong Kong Listing Amid Escalating Pro-Democracy Protests
Alibaba Group Holding Ltd., a New York-listed Chinese internet company, launched the share sale for its listing in Hong Kong in an attempt to raise over $11 billion to fund its expansion efforts. With an offering of 500 million shares, the sale would be the city's largest equity offering since 2010, according to Bloomberg.
Underwriters for the deal have a so-called "greenshoe option" to offer an additional 75 million shares. Greenshoe options allow underwriters to sell more shares than the issuer originally planned if the demand is higher than initially expected.
Alibaba's move into Hong Kong was delayed by the summer's pro-democracy protests in the city, although the company had planned a Hong Kong listing for years. Over 2,300 people have been jailed in connection with the protests. Hong Kong has also fallen into a recession, according to Reuters.
"We viewed Hong Kong as strategically important to us," said Alibaba's head of corporate finance Michael Yao. "It's one of the most important financial centers. And this listing will allow more of our users and stakeholders in the Alibaba digital economy across Asia the ability to invest in and participate in the fruits of our growth."
China has also been involved in a trade war with the U.S., during which tariffs enacted by the Trump administration cost China $35 billion during the first half of 2019, according to U.N. News.
Trump has refused to retract the tariffs, which contributed to the Hang Seng index dropping below 27,000 points and ending the session with a loss of 2.6 percent.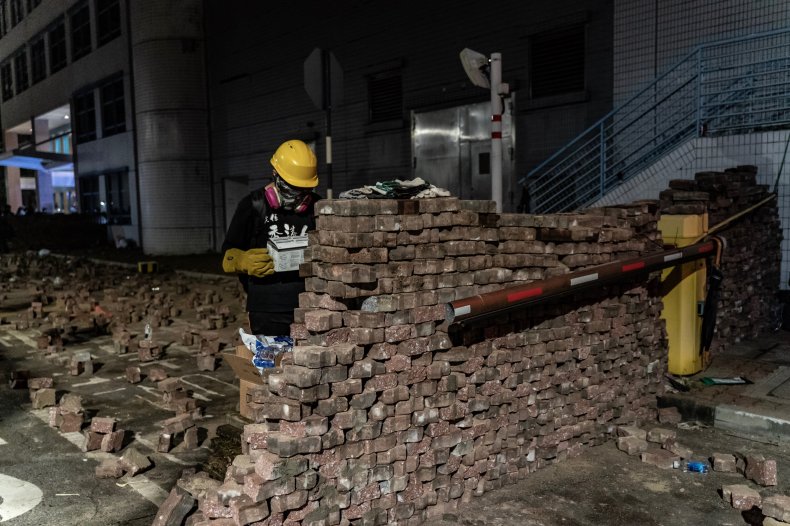 Although the ongoing violent protests in Hong Kong's financial district have been a factor in the city's recession, some experts believe the dominance of Chinese companies in the market will allow share prices to remain close to the same.
"A successful listing of Alibaba would be very helpful for the Hong Kong Market," Khiem Do, the head of Greater China Investments at Barings, said.
Owned by billionaire Jack Ma, Alibaba operates a diverse number of subsidiary companies focusing on digital media and entertainment, core commerce, cloud computing and innovation initiatives. The company also uses their own banking system, Ant Financial.
"We enable businesses to transform the way they market, sell and operate and improve their efficiencies," the company website says. "We provide the technology infrastructure and marketing reach to help merchants, brands and other businesses to leverage the power of new technology to engage with their users and customers and operate in a more efficient way."
During the one day Global Shopping Festival event held on November 11, Alibaba generated $38.4 billion in gross merchandise volume.
"Today we showed the world what the future of consumption looks like for brands and consumers," said Fan Jiang, President of Alibaba's commerce sites Taobao and Tmall. "We are meeting the growing demand of Chinese consumers and helping them upgrade their lifestyles, while introducing new users to our digital economy from across China and around the world."