The godfather of shock rock wished Aerosmith front man Steven Tyler a "Happy Birthday," by tossing knives at the singer's photo.
Cooper tweeted the video on Thursday, commemorating Tyler's 72nd birthday. While knife throwing shouldn't come as much surprise from the singer who electrocutes, hangs, and beheads himself onstage every night, Cooper's accuracy is no small feat.
"Please help me wish a very happy birthday to the Demon of Screamin'," the Cooper wrote, as his own song "Go to Hell" plays in the video.
While throwing knives at Tyler's photo may seem malicious, it just seems another way that the "School's Out" singer has played into his rock villain, "No More Mr. Nice Guy" persona, and the knife throwing is an act of love, performed in jest rather than out of evil.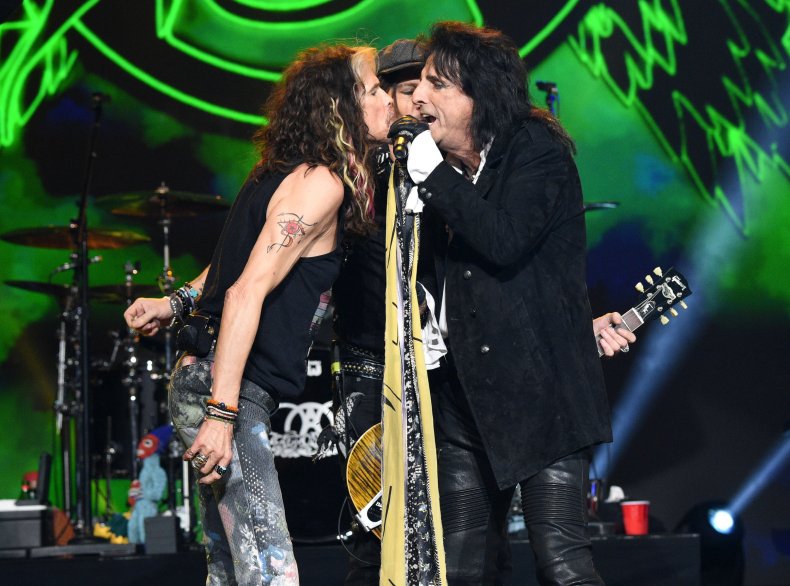 The '70s rock stars have performed together on a number of occasions. Cooper plays with Tyler's bandmate, guitarist Joe Perry, in the hard rock supergroup The Hollywood Vampires. Tyler joined the Vampires onstage at a 2019 gig at Los Angeles' the Greek Theatre to take the lead vocal on a cover of Tiny Bradshaw's "Train Kept A-Rollin'," which was famously covered by the Yardbirds and later popularized by Aerosmith on the 1974 album Get Your Wings.
Tyler also joined Cooper alongside Marilyn Manson and actor turned Hollywood Vampires guitarist Johnny Depp in 2014 for a cover of the Beatles' "Come Together," which Aerosmith famously covered in the 1978 film Sgt. Pepper's Lonely Hearts Club Band.
Unfortunately, due to restrictions in response to the coronavirus, Cooper was forced to postpone a number of European and North American tour dates, but he recently said he was making the most of the time in self-isolation. "While our management is working to reschedule the postponed shows, I'm going to finish work on my next album, which is nearly done," Cooper told Rolling Stone. "At least now I won't be squeezing in vocal recording sessions on days off, between shows. I don't like a lot of time off, as anyone who sees my schedule already knows, but a little extra time at home can be re-energizing."
Aerosmith are expected to kick off another string of shows in their Las Vegas residency in May, but it's not clear if the dates will be postponed or cancelled. Tyler shared a PSA via the band's official YouTube channel to "Stop Messin' Around" and avoid close contact like Tyler has with his bandmates onstage.
"You may have it and not know it. Don't spread the disease. Stay home as much as you can. Wash your hands often and try to keep 6 feet apart. Now is the time to engage online and not in person. It is not just about you, it's about us... ALL OF US," the band wrote in an accompanying message.