Alice Cooper On Reuniting With His Old Band and Starting a Supergroup With Johnny Depp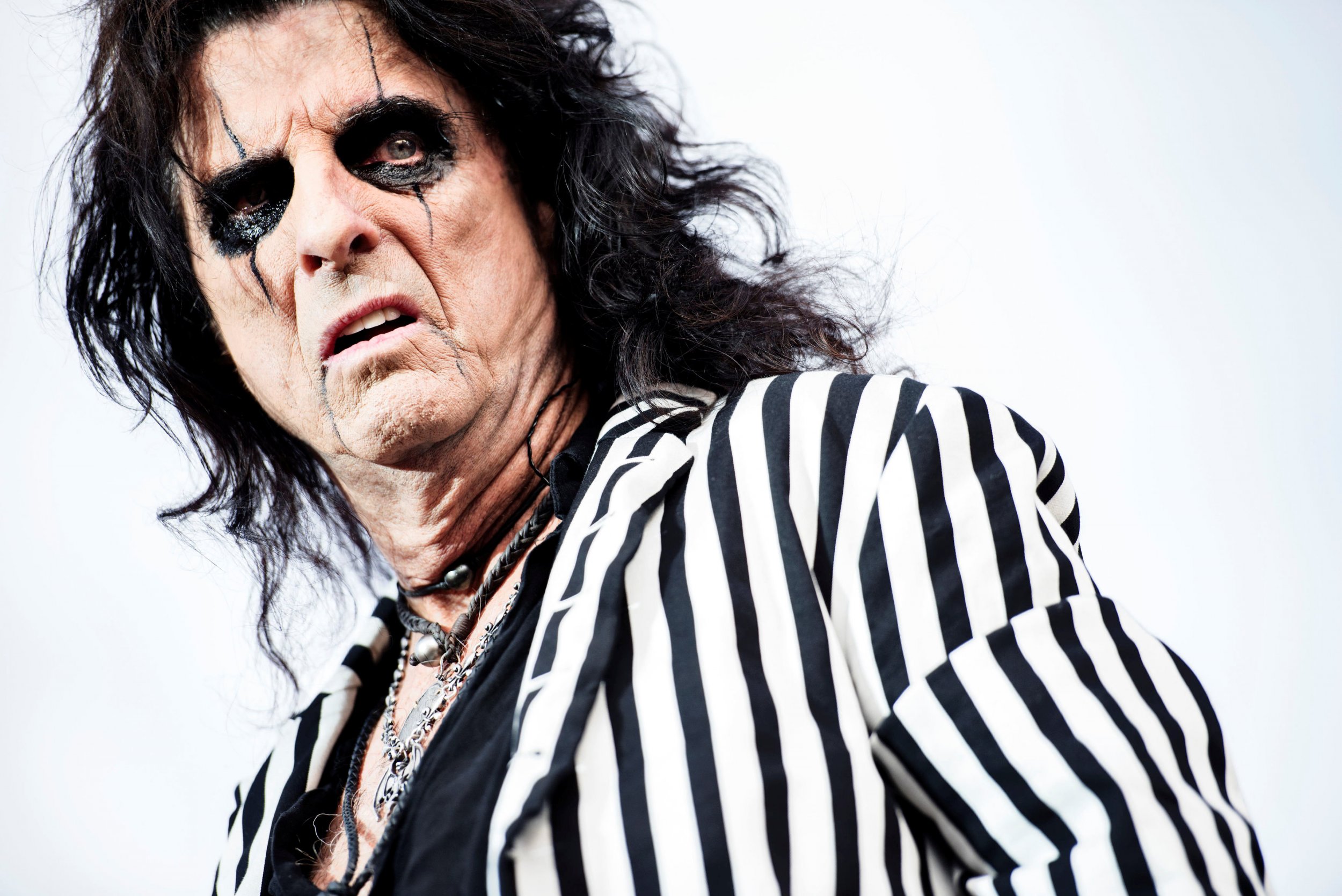 Alice Cooper has been blasting out propulsive hard rock—accompanied by shocking, yet humorous, theatrics—for more than four decades. But lately, with his eponymous band and with the Hollywood Vampires, a supergroup that also features Aerosmith guitarist Joe Perry and actor Johnny Depp (who, according to Cooper, is so good at guitar that he's given Perry "lessons"), he is leading a stage show that's "more in focus" now than in the past.
"It's like a modern-day vaudeville, a sort of hard-rock horror cabaret," he tells Newsweek. Central to the Vampires' wild performances, and their self-titled debut album, is what Cooper calls the group's "dead drunk friends"—iconic rockers such as Jimi Hendrix, John Lennon, the Who's Keith Moon and Led Zeppelin's John Bonham. (Unfortunately, Perry had to leave the tour temporarily after collapsing during a show in Brooklyn, New York, on June 11.)
It's been an especially busy summer for Cooper. Following the Hollywood Vampires tour, which concludes July 24 at Saratoga, California's Mountain Winery, he'll jump right back on the road with his own band and tour until October 30.
As if that weren't enough, Cooper recently met up with three of the guys from the original Alice Cooper group, the snarling outfit that recorded classic early-'70s albums such as Killer and School's Out.
How did you hook up with three of the surviving members of the early Alice Cooper group?
It just so happened that Neil [Smith, drums] and Mike [Bruce, guitar] were in Phoenix, and I was in Phoenix and I was writing new songs, and I said, "Why don't you guys come over and let's do some writing?" And we started writing. And I kind of noticed the tendency for it to sound more like a '70s album. And I didn't mind that at all. I think that's kind of a great sound. And you can't take that away; it's in the DNA. And then Dennis Dunaway [bass] was writing songs and sending us songs, so it just so happened that four of the original guys in the band were writing songs together, and I would love to see how that turns out in the studio. But really, there's no talk about touring or anything like that.
Are there any plans to record an album in the style of the early band?
Well, we never sat down and said, "This is gonna be a retro Alice Cooper album." Because I'm also taking songs from guys that are in my band now. But if it so happens that the flavor of the album starts going toward that early Killer sound or Love It to Death sound—well, I'm not gonna stop that. I want that.
The Hollywood Vampires' debut album certainly does justice to some of your "dead drunk friends," especially with cover songs like Jimi Hendrix's "Manic Depression," John Lennon's "Cold Turkey" and Led Zeppelin's "Whole Lotta Love."
Yeah, it's pretty cool. We picked all the right songs, I think, from those bands. If you're gonna play a song by John Lennon and you realize John Lennon was a drinking buddy and he had his drug problems, like everybody else, you're certainly not going to do "Imagine." [Laughs.] You're gonna do "Cold Turkey," you're gonna do one of the songs that have more to do with his drug problems. And when I say "my dead drunk friends," everybody kind of looks at me like that's irreverent, and I go, "If you would have known these guys, that's exactly their sense of humor."
Can you talk about your current stage show and the music you're performing live?
The stage has got a big toy box on it. A big giant pink toy box—it's like a little kid's room, like 5 feet tall. And there's characters that come out of the toy box and hand me my cane, they hand me my crutch, they hand me my sword. It looks like a little boy's room that's in some sort of a [Salvador] Dali nightmare. And that's the look of the show. But the attitude of the show is absolutely...I mean the show starts in fourth gear and stays there. There's no moment where we give the audience a chance to rest.
It starts out with "Black Widow" and goes right into "Public Animal Number 9," then "No More Mister Nice Guy," "Under My Wheels" and it's just, like, hit, hit, hit, hit. Every song has its own theatrical little signature to it. And then we get into a theatrical piece where Alice comes out and it's "Feed My Frankenstein" into "Cold Ethel" into "Only Women Bleed." And now the characters start coming out. We have the rag doll that comes out of the box and does ballet, and Alice kills the rag doll. The rag doll is guilty, so they put him in a straightjacket. Then the nurse comes out and puts Alice in a guillotine, and he gets his head cut off. Then he wakes up in the graveyard of the Hollywood Vampires. And then we do the three or four cover songs—so it all runs in a logical manner.
When Alice wakes up, all of a sudden it starts out with "Pinball Wizard," and a great big seat behind the stage drops off and there's a thing that says "Keith Moon"—and it's his gravestone. And then it's Jimi Hendrix, and the next one is Bowie. And these tributes we do are right on the money. The biggest reaction I think we get is when we do [David Bowie's] "Suffragette City"—the audience goes crazy.
Considering it's an Alice Cooper show, there must be a lot of blood. But just how much?
Well, when Alice's head comes off in the guillotine, we have it rigged so if you're in a certain area in the audience and you're wearing white, well, it's gonna be red.
This summer, you're on tour with both the Hollywood Vampires and your own band. What's it like gigging with the two lineups?
It's funny because it is like any medium. It's very pliable, in a lot of different ways. The thing that seems to be the most—the thing that stays consistent is that we write guitar rock. Detroit sort of rock 'n' roll. And we were very influenced by the Yardbirds and the Who and the Beatles and the Stones, but we were also influenced by West Side Story, and we were influenced by TV-movie themes and James Bond and all this stuff.
So a lot of times, with my original band, there were all kinds of things going on, where you'd be listening to a guitar solo and all of a sudden you'd hear—"Wait a minute, that was the I Spy theme." [Laughs.] But we didn't mind letting that creep in because it was an influence on us. So the one thing that's consistent is the fact that it's guitar rock. It's hard rock. And in all three situations, even with the Vampires, Johnny [Depp] will bring a song in, and he kind of knows that I'm not gonna go crazy over a soft-rock song. And he's a hard rocker too. And the song that came out of Johnny and those guys was "Good as You Are, Bad as I Am," which is a total guitar rocker.
Anything to say about performing with Johnny Depp? Some might be surprised to know that he's performing, even recording, with Alice Cooper and Joe Perry.
He was a guitar player before he was an actor. He came to L.A. as a guitar player. And I happen to know that. I was doing the movie Dark Shadows with him in London, and so one night we decided to go to this place called the Hundred Club, and you go there and look on the wall and see who played there: The Yardbirds, the Who and everybody played there. And we decided that we were just gonna be a bar band that night. And so we just go onstage, my band, and Johnny came and joined us, and somebody would yell out "Brown Sugar" and we'd start "Brown Sugar," and somebody would yell out "Back in the U.S.S.R." and we'd do that, you know. Doors songs and all this. That's when I really realized what a good guitar player he was.
Then when we started putting the band together, to honor all of our dead drunk friends—that's what it was, because, I mean, Jim Morrison, Jimi Hendrix were guys we drank with. And Keith Moon and T. Rex and Harry Nilsson, and we decided, Let's do an album dedicated all of our dead drunk friends. And Joe Perry happened to walk in and say, "I'm in." All of a sudden, we had two guitar players and a singer, and Duff McKagan [of Guns N' Roses] joined up, and pretty soon it was a pretty darn good band. But the thing about it was that Joe Perry comes to me and says, "You understand, I take lessons from Johnny." He said, "Johnny plays things that I don't know how to play." He says, "So I'm sitting here going, 'How did you play that?'" That's how good of a guitar player Johnny is. Being onstage, the last thing I have to worry about it is how good the band is. They're all great.