'The Alienist' Season Finale: Was TNT's Reported $50 Million Serial Killer Show Worth It?
On January 22, TNT embarked on a high-profile experiment with The Alienist. The 10-episode period adaptation of Caleb Carr's book, one of the most controversial crime novels of the 1990s, is the network's most ambitious—and expensive—project to date. It boasts some A-list talent: a producing and directing credit from True Detective's Cary Fukunaga, with Dakota Fanning, Luke Evans and Daniel Brühl starring as a trio of professional misfits. Variety reported that each episode cost $7.5 million to produce, after tax credits.
By adapting the series, TNT endeavored to do what film sudios couldn't. In 1996, Paramount poured millions into a film that proved more expensive to produce by the day, and the effort was dropped for decades. The network took up the task in 2014, and once its version of The Alienist was set to air it felt as though the entire industry had turned its collective gaze on a network known more for airing Law and Order reruns than creating ambitious original content.
The season finale airs tonight at 9 p.m., which presents the perfect opportunity to ask if TNT's investment was worth it.
The Alienist focuses on a team—hopeful detective-in-training Sara Howard (Fanning), illustrator John Moore (Evans) and criminal psychologist Dr. Kreizler (Brühl)—pursuing a serial rapist and murderer who solely targeted underage, gay sex workers in late 19th century New York. The trio use a process that would eventually become known as "criminal profiling" to solve the mystery, and as the show's winding whodunit plot presses on, a deeply unhealthy love triangle develops between its leads.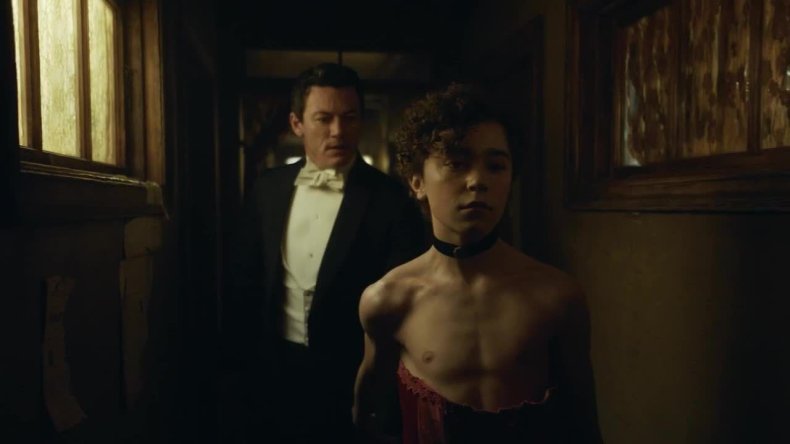 There are few opportunities for true levity in The Alienist, and even set pieces that one might assume are straightforward require hidden layers of disturbing detail. Elements of The Alienist are so fine and evocative of the period, it can feel like it was shot on the streets of turn-of-the-century Manhattan.
But production designer Mara LaPere-Schloop, one of Fukunaga's regular colaborators (she also worked on True Detective) told Newsweek most of the series was actually filmed on a monstrous set constructed in Budapest. "We needed a full range, from gilded age architecture and opera-houses to the tenement buildings," she said. "Any given episode needed as many as 30 separate sets and locations, and they wouldn't return again. It was a juggernaut of problem solving."
A microcosm of the committment to period accuracy—and the complex challenges it wrought, thematically and logistically—are the show's "boy brothels." These once-real, historical buildings meant different things to different people, and they're crucial to the show's narrative. But getting them right entailed some creativity. "The boys had their graphic calling cards, but beyond that we don't have much historical documentation of what these inner spaces were like," LaPere-Schloop said.
She referenced the Tenement Museum on the Lower East Side as a helpful resource, but there isn't as much photo evidence of brothels that specialized in pedophilia as there are, say, documents following immigrant family-owned businesses that remained above the law. "My reading of the script gave me the idea of this horrific, depraved place, but Jakob Verbruggen had an alternative take."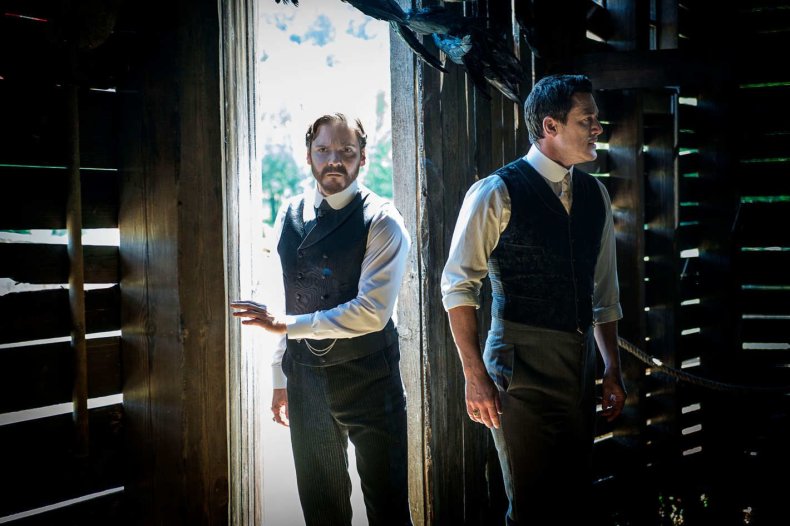 All 10 episodes of The Alienist were written by Fukunaga, but as budget battles delayed the start of shooting he was forced to bow out as director. Verbruggen replaced him, directing three episodes of the show. (Four other directors handled the other seven installments.) "We didn't want Jakob to feel as though he had inherited someone else's project," LaPere-Schloop said, insisting the transition was seamless.
Verbruggen's take on the brothels was more humane and nuanced than, perhaps, what was on the page. Many of the boys wear drag and perform musical numbers for clients. They playfully refer to each other by feminine names. And several approach Moore the way women characters confidently proposition the hero in classic westerns. "We didn't want that first brothel to feel like a festering basement where these poor boys are just rotting," LaPere-Schloop said. "It has a festive quality to it, although there are controversial things happening in the room. It's almost bohemian."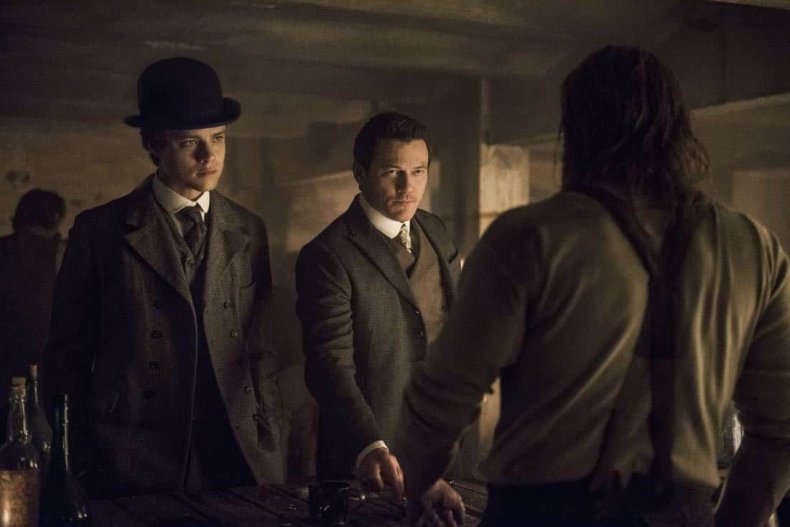 Despite his early exit, Fukunaga remained involved with The Alienist as executive producer, and his fingerprints are all over the show—especially in the operatic mise-en-scene. The bodies of the show's victims are often uncovered with a bolt of lightning and roll of thunder, and we slowly zoom into the mutilated eye socket of a dead boy from hundreds of feet above his naked body. Not only is the series expensively produced, but its depiction of violence is relentlessly stylized.
Whether or not that approach—and all the story's grit and grime and decadence— is successful is ultimately up to the viewer, LaPere-Schloop said. "It's all in the eye of the beholder," she explained. "To me, those opulent gilded interiors can be just as perverted-looking as an isolated and desolate street, but then again, my husband calls me the Queen of Darkness because of the dark themed shows I've worked on. Our lighting can err on the moody side, but it was important to us to expose this world in a realistic manner and gloss over all its details. It's not a hyper-realized gilded city, and you have to get your boots dirty."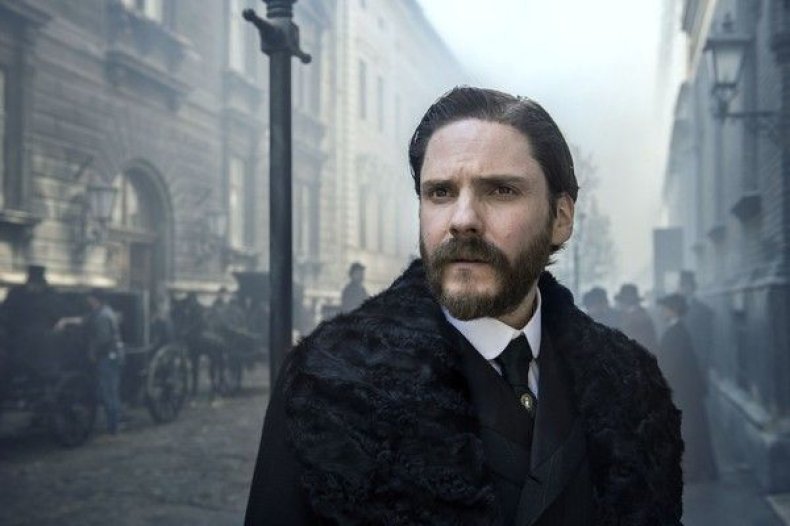 Dirty, they got. LaPere-Schloop says every sign above every shop is hand-painted and references either a crew inside-joke or a sign the crew found in historical documents. Every curtain and sheet and bedspread was hand-made for the show, every book in Kreizler's study is real, and every filthy pigeon walking on the sidewalk is hoping to nab the birdseed and bits of fruit LaPere-Schloop's crew meticulously spread the night before filming.
"We built every carriage and made custom upholstery for each," she said. "We built every shop, every cart on the street, and every piece of food you see in every shot is real. The awnings above every market were sewn and then dyed and then aged before being hung up."
When the show delves into black-and-white situations of morality, LaPere-Schloop said her sets change to reflect it. Sara Howard, for instance, is plagued from all sides in the police precinct by sexism and the threat of assault. "There's a shot where we follow Sara from the exterior of the building into her little workspace, and every hallway and doorway gets progressively smaller. She has to make her way through the boys' club, the holding cell and down these narrow halls until she's safe. As a woman in a male-dominated office space, your interpretation of the environment is going to feel different, so we tried to show the viewer what she sees."
Throughout the first season, viewers have seen a lot—and so has TNT. The show has had its ups and downs through the first 10 episodes, but each week brings in at least a million and a half viewers. (It benefited a great deal from streaming availability, which doubled its viewership according to Live+7 ratings.)
Whether that's enough for the network is still to be determined. TNT has yet to announce an order for a second season, and if it does, Carr's 1997 sequel, The Angel of Darkness, could easily provide enough story for 10 more episodes. But one thing's clear: All of that investment—in time and money—paid off in one of the most viusally engaging and transportive television series in recent memory.