Aliens, 'Tiger King' and Beards: Trump Has Wild 'Father's Day' Interview
Is the government hiding information about aliens? Has President Donald Trump seen the Netflix cultural sensation Tiger King? And what does he think about the beards that his allies have grown during the shutdown?
Trump sat down for an amusing interview with his eldest son that his campaign streamed Thursday night in which he—mostly—answered those questions.
The interview with Donald Trump Jr. was billed as a "Father's Day" special. The younger Trump has a regular podcast called Triggered but this was the first time he's sat down with his father for it.
"Which is your favorite Trump child and why is it Ivanka?" Trump Jr. quipped at the start of their talk. (The president said he loves his kids "all the same.")
But the interview got the president's take on some light topics during the coronavirus pandemic and nationwide protests over police brutality.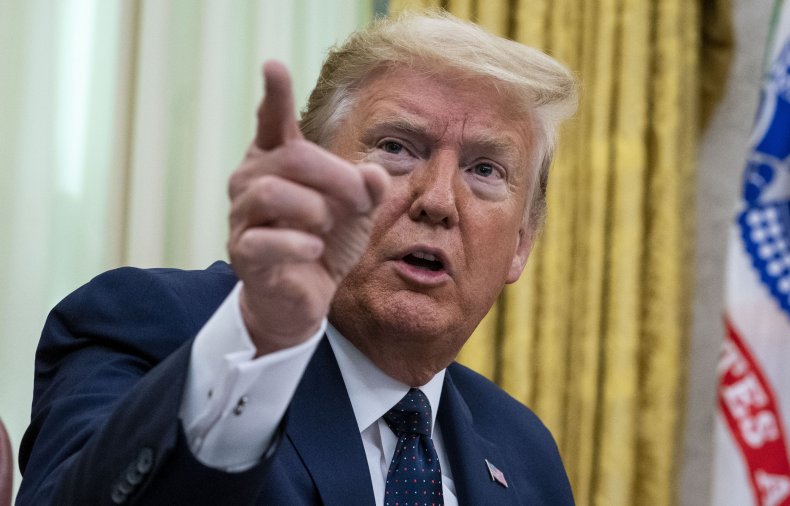 Trump said he no longer watches Saturday Night Live, a show he's hosted in the past but now regularly lambasts his family and administration.
"I don't think it's a good show. I don't see a lot of talent. The person who portrays me is terribly untalented," he said. "If I didn't win or if I didn't run, I don't think it would be on the air anymore."
One show he has tuned into is Netflix's Tiger King, a documentary about Florida zookeeper Joe Exotic, who is currently behind bars on murder-for-hire charges.
Trump said he's seen "a couple of episodes" of the true crime miniseries.
"He's quite a character," Trump said. "That's a strange guy and a lot of strange people around him."
Trump wouldn't divulge what he knows about aliens but hinted at some insight.
"So many people ask me that question," he said. "There are millions and millions of people who want to go [to Roswell] and see it. I won't tell you what I know about it, but it's very interesting."
And the president isn't fond of the facial hair that some men have been sporting amid the coronavirus shutdowns, including his son. The younger Trump asked his father about two allies who also have grown beards recently: Republican Sens. Ted Cruz and Rand Paul, both former GOP presidential rivals of his but now allies.
"I don't like it on you. It's fine if you want to do it," President Trump said. "I think that Rand and Ted look better without it."