Who Is Alina Habba? Trump Lawyer Accused of Calling AG 'Black B****'
Alina Habba, a lawyer who represents Donald Trump, allegedly called New York Attorney General Letitia James a "Black b***h."
The claim was made in a lawsuit alleging discrimination that was filed against Habba and her firm, Habba Madaio & Associates, by Na'syia Drayton, a Black woman who worked there as a legal assistant until recently. It was filed in Middlesex County, New Jersey, on Tuesday, online records show.
Habba, who has represented Trump in a number of lawsuits, has attacked James, calling her a "sick person" for her investigation into Trump's business practices.
The lawsuit alleges that Habba's behavior created a hostile work environment for Drayton, including through Habba's tendency to repeatedly sing the n-word while blasting hip-hop music in the office.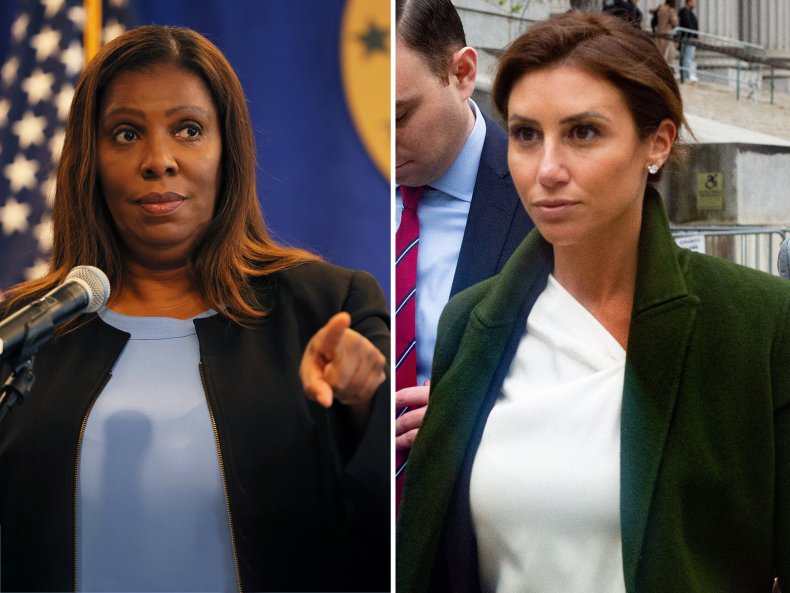 In a statement to Newsweek, Habba said: "Na'Syia is someone we love and care about and have for years. Na'Syia had never made a single complaint to anyone until she had decided to quit and ask for an exorbitant amount of money in return. I am disappointed by this lawsuit and the allegations which are simply not true."
The lawsuit highlighted an incident from April when Habba allegedly became enraged after learning she had lost a legal argument to James, who is Black.
That month, a judge in Manhattan had ordered Trump to fully respond to a subpoena from James and pay a $10,000 daily fine per day until the court's requirements were met.
The lawsuit alleged that after learning of her defeat, Habba emerged from her office and yelled, "I hate that Black b***h!" She then "began parading around the office seething" about the judge, the lawsuit claims.
Drayton was "appalled about the racist remarks" and "felt astonished" that her supervisor "felt comfortable and entitled to make such statements" in the workplace and in her presence.
According to the lawsuit, Drayton was the only African-American employee at Habba Madaio & Associates, a relatively new and small firm based in Bedminster, New Jersey—which is also home to the Trump National Golf Club.
Drayton had worked with Habba at her previous firm between 2017 and 2019 and was recruited by Habba to join the newly formed Habba Madaio & Associates in November 2021. Drayton "had some reservations" about returning to work for Habba, according to the lawsuit, but she agreed mostly because she was unemployed at the time having been laid off because of the COVID-19 pandemic.
The first couple of months there were like "a honeymoon," according to the lawsuit. But soon, Habba's behavior made Drayton feel uncomfortable at work.
Habba and her partner, Michael Madaio, regularly played and sang along to music with sexually explicit and offensive lyrics that made Drayton uncomfortable, the lawsuit alleges.
On January 26, they played several songs that Drayton felt were "both racially offensive and sexually inappropriate" for the workplace, including 'N***** in Paris' by Kanye West and Jay-Z, 'Ruff Ryders Anthem' by DMX and Lil Wayne's 'Rich A** F**k' and 'Lollipop.'
Every time Habba and others said the n-word, Drayton felt "demeaned and violated," the lawsuit says.
On at least one occasion, Abba and others suggested to Drayton that a song was being "played expressly for her." She felt "shocked, embarrassed and humiliated," the lawsuit says.
It was around the time of the April incident that Drayton began suffering from panic attacks, particularly as she was preparing to go to work, the lawsuit says.
Habba noticed a change in Drayton's behavior and called her into her office in May, where she told her that she seemed "unhappy and disengaged at work," the lawsuit says.
Drayton did not feel able to tell Habba the reason behind her withdrawal in that meeting, but sent an email to Habba and Madaio on June 8 where she complained that she felt the work environment had "become hostile and unwelcoming to her as an African-American woman."
Drayton then received a call from Habba and Madaio, during which Habba allegedly "criticized and attacked" Drayton for being "combative, hyper-sensitive and ungrateful."
Habba allegedly also said that she could not possibly be racist because "I am a f**king minority myself" and "I'm not white. I used to be bullied because I am Arab." Habba also told Drayton that her comments about James were "not meant for you," according to the lawsuit.
After that call, Drayton felt she had no other choice but to resign as Habba and Madaio "wholly denied responsibility" and made no indication that they would take corrective action.
Newsweek contacted an attorney representing Drayton for further comment. James' office has also been contacted for comment.
Update 7/21/22, 11:45 a.m. EDT: This article has been updated with comment from Alina Habba.