'Alien' Sea Creatures Baffle Locals As They Wash Up on Beaches
Alien sea creatures have been washing up on Australia beaches, baffling locals.
A resident in Sutherland Shire in New South Wales found a slug-like life form lying on a beach and posted pictures to Facebook, Yahoo News Australia reported on Sunday.
"Does anyone know what this is? Have seen a number of these washed up this week," the local wrote. Another local said that they had also found the same animals washed up in Cronulla, also located along the central coast in the same state.
"They are everywhere...I was also wondering what they are," the second resident was quoted as saying.
Although the creature resembles an extraterrestrial, Harry Masefield, an aquarist at Sea Life Sydney Aquarium, told Yahoo that it is actually a sea hare, a slug-like marine mollusk found along the southern coast of Australia.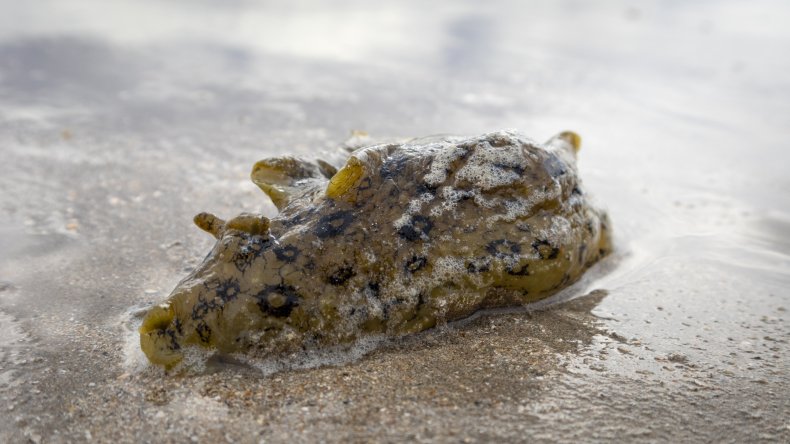 The invertebrate usually lives in seagrass beds or rocky reefs, feeding mostly on algae. The sea hare has a toxin in its skin that prevents it from being eaten by predators. However, it is not harmful to humans if touched.
Masefield said sea hares have likely begun washing up due to climate change—weather warnings have been in place for many areas along the central coast of New South Wales recently.
The area has seen heavy rainfall and severe winds. These weather patterns have likely caused the strange-looking animal to wash up on the shore, a fate that befalls a multitude of marine life that becomes displaced by rainstorms and flooding.
Professor Culum Brown of Macquarie University told Yahoo that sea hares are only potentially harmful if eaten.
"People don't munch on them but occasionally a dog might try should it find one washed up on the beach. If the individual hare has been eating particular types of algae it may cause harm to the dog," he told the news site.
It is not the first time strange looking sea creatures have washed up on Australian beaches following severe weather. In March, another bizarre and alien-like marine animal became stranded on the coastline of Queensland.
Local resident Alex Tan was on a morning walk at Maroochydore Beach on the Sunshine Coast when he came across the carcass that appeared to have humanoid hands and reptilian skull and tail. It also had patches of black fur.
Then in April, another organism with human-like lips washed ashore on Sydney's Bondi Beach. Local Drew Lambert spotted the animal among flood debris.
A video taken by Lambert showed a creature that appeared to have large lips, not dissimilar to a person's. An expert later identified it as a coffin ray.