Alisal Wildfire Map: Evacuations, Highway 101 Closure as Santa Barbara Fire Triples in Size
Within hours of being detected, the Alisal fire in Santa Barbara, California, tripled in size, prompting evacuation orders and the partial closure of a highway.
The Alisal fire began on Monday afternoon near the Alisal Reservoir, at the time the fire was announced, it was at about 2,000 acres. However, strong winds and dense foliage fueled the flames, enabling it to cross Highway 101 and grow to more than 6,000 acres on Tuesday morning.
With the fire threatening homes and structures, the Santa Barbara County Sheriff's Department issued mandatory evacuation orders for Arroyo Hondo Canyon, Refugio Canyon and the area between El Capitan Beach State Park and West Camino Cielo. The order advised people in those locations to "leave the area immediately."
An evacuation warning was also issued for the area east of El Capitan Beach State Park, the area west of Dos Pueblos Canyon Road and the one south of West Camino Cielo. Under an evacuation warning, residents can leave if they want to but are not required to do so, although they should be ready to evacuate at any time.
Officials established an evacuation center at the Dos Pueblos High School upper parking lot in Goleta, California. Large animals could also be sent to the Earl Warren Showgrounds.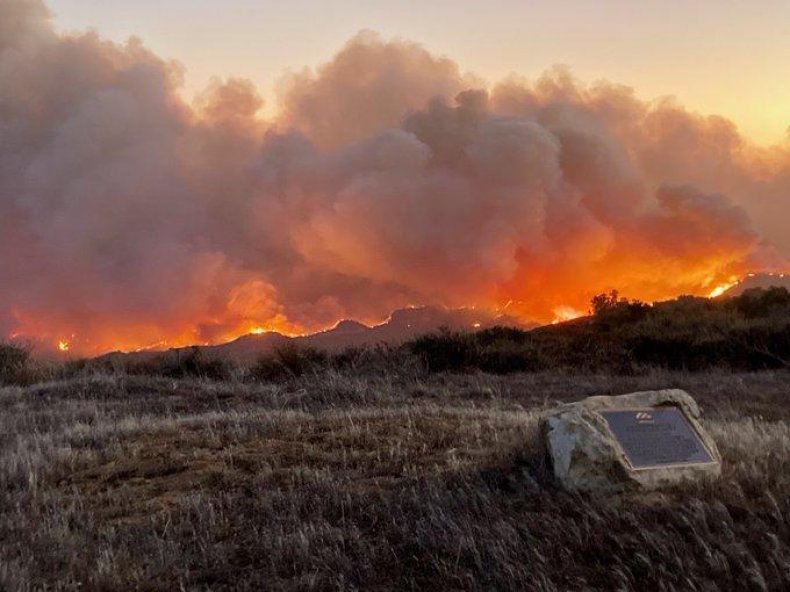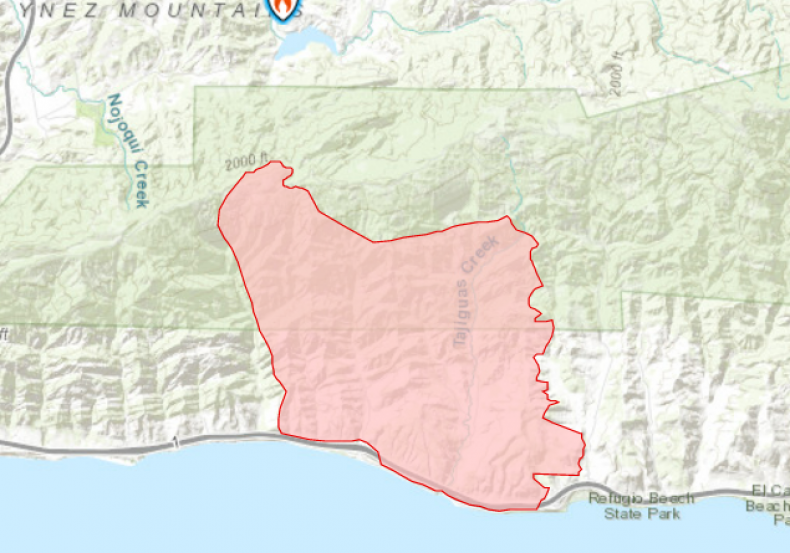 The fire's "rapid" growth, fueled by wind gusts up to 70 miles per hour, pushed it into Tajiguas Beach towards the Tajiguas Landfill and made smoke visible throughout southern Santa Barbara County, according to information on the National Wildfire Coordinating Group website.
Along with issuing evacuation orders and warnings, officials closed Highway 101 from Highway 1 at Las Cruces and Winchester Canyon/Cathedral Oaks Road in Goleta.
Some residents in the Santa Barbara area had their power shut off on Monday as part of a planned outage to help try to prevent wildfires from breaking out amid high wind conditions. PG&E began issuing "all clear" notices in some areas Monday evening but noted that additional high winds could cause more power shutoffs in areas on Wednesday night and Thursday morning.
More than 120 personnel have been sent to fight the fire and are set up to protect the approximately 100 structures that are believed to be threatened. Unfortunately, high winds grounded aircraft from being able to take off, and the area was under a high wind warning through Tuesday.
Andrew Madsen, a spokesperson for the Los Padres National Forest, told KSBY that the area hasn't burned since 1958. As of Tuesday morning, the fire was 0 percent contained and it's unclear at this time what caused the fire.