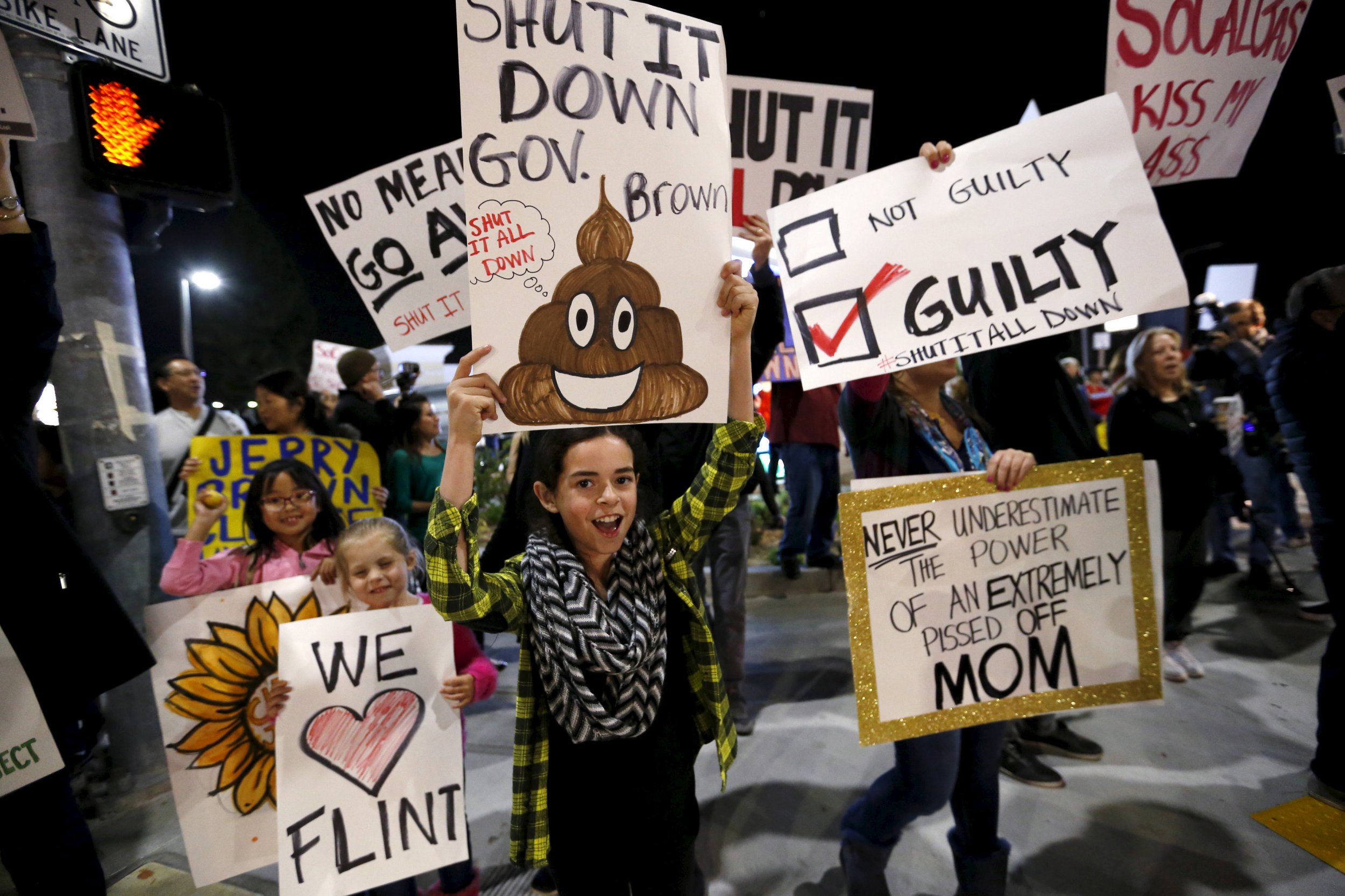 Updated | Juli Gallaher didn't think twice when Donald Blake asked her to help collect air samples from locations where her Porter Ranch neighbors reported smelling gas. She'd known Blake, an atmospheric chemist at the University of California, Irvine, for years. Plus, she wanted to know for sure: Should she expect more persistent aches and pains—or worse—for her family who had been breathing in methane by that point for weeks? It was a while before Gallaher connected their uncharacteristic nosebleeds and headaches to the now notorious methane leak from a ruptured well at the Aliso Canyon Storage Facility, which shares a hilly backdrop with Los Angeles's Porter Ranch neighborhood.
"This is a really windy area. It's common for those of us who live here to suffer from allergy symptoms. The nosebleeds had been going on for both me and my husband for six weeks, but I chalked it up to the wind," Gallaher says. She did insist her son Andrew, 25, go to the emergency room after a severe headache lasted four straight days. Gallaher is sure her son got it hiking in the Aliso Canyon and what locals refer to as Three Trees Canyon, both of which are nearby the storage facility.
The rupture of a 7-inch casing from the well at the Aliso Canyon Storage Facility was discovered on October 23, and before it was finally capped on February 18, the leak had poured nearly 100,000 metric tons of methane into the atmosphere. Methane is the second-largest known contributor to global climate change, behind carbon dioxide, and can contain compounds known to cause cancer and other long-term health problems.
Results from the first study on the massive leak, of which Blake was a co-author, will be published February 26 in the journal Science. The research team analyzed surface air samples collected by Gallaher as well as air samples collected from within the methane plume, or cloud, by aircraft during 13 flights between November 7 and February 13. Their lab analysis showed atmospheric leak rates of up to 60 metric tons of methane and 4.5 tons of ethane per hour. It is typical for ethane, another greenhouse gas, to be much less abundant in the atmosphere than ethane. Blake explains that natural gas is 3 to 5 percent methane and less ethane. "The methane releases were extraordinarily high, the highest we've seen," says Blake. "Landfills give out methane, though. Dairy cows belch it out too," Blake says. "It was important to quantify the ratio of ethane to methane to be sure what we were measuring was coming from the leak. If we saw a bunch of methane and not ethane, we could say it was coming from a landfill."
The researchers found that at its peak, the blowout doubled the rate of methane emissions from the entire Los Angeles Basin and temporarily created the largest known human-caused source of methane in the U.S., twice the size of the next-largest source, an Alabama coal mine.
According to the study, over the 112-day event, the leak released a total of 97,110 tons of methane, equal to one-quarter of the annual methane pollution from all other sources in the Los Angeles Basin combined. The disaster's impact on climate will be equivalent to the effect of annual greenhouse gas emissions from over half a million cars, their study says. At the Porter Ranch area, where background levels of methane are normally 2 parts per million, some samples showed 20 parts per million.
The analysis of air samples gathered also found above-normal levels of several potentially dangerous compounds present in natural gas, including benzene, toluene and xylenes. "Some of the volatile organic compounds have been linked to health effects if exposure is long-term," says Blake, who was particularly concerned about benzene, which is known to be carcinogenic. "Even though we found levels that were above normal, they were still extremely low. For example, if the highest benzene level we saw was .3 parts per billion, that had only increased from a baseline sample of maybe .1 parts per billion. I was pretty surprised to see such low benzene levels—before the leak and after."
Blake, who has measured air pollutants across the globe for more than 30 years, teamed with Stephen Conley of University of California, Davis, and the National Oceanic and Atmospheric Administration's Tom Ryerson, who had pioneered techniques for assessing oil spills with airborne chemical sampling during the 2010 Deepwater Horizon catastrophe and the 2012 Elgin rig blowout in the North Sea.
Other than wanting to determine whether Porter Ranch residents had been exposed to health hazards that could haunt them for years, the team wondered exactly how much more methane floated through the air during those four months than is typical for Los Angeles. At last count, Los Angeles was home to nearly 7.5 million registered vehicles. Those do their part to release methane into the atmosphere, as do landfills. But every day for 112 days the Aliso Canyon leak spewed enough methane into the air to fill a balloon the size of the Rose Bowl.
Conley's aircraft had instruments that measured amounts of both methane and ethane once they were in the methane plume, or cloud, according to Blake. It was necessary to attach the canisters to inlets on the side of the aircraft to collect air samples that allowed them to measure potentially hazardous benzene, toluene and xylenes once back at the lab and to verify the amounts of methane and ethane detected by the on-craft instruments.
When released unburned, over 20 years methane has 84 times more warming power than carbon dioxide, a fact that should find policy makers fretting over how this enormous leak will affect California's ability to meet greenhouse gas emission targets for the year. Four days after Southern California Gas Co. repaired the leak, the Environmental Protection Agency released its draft U.S. Greenhouse Gas Inventory Report, which showed incidentally that U.S. oil and gas methane emissions are 27 percent higher than earlier estimates. The EPA began recording emissions in 1990 and updates its reporting each year for every year studied. David Lyons, a scientist with the Environmental Defense Fund, says it's not that there's more methane being leaked into the air than before, but that the EPA's accounting techniques have become more accurate. In the U.S., methane emissions come primarily from industry, agriculture, and oil and gas operations.
"There's more methane than we thought," says Lyons. "It needs more attention than it's been getting. Previous estimates were 7.3 million metric tons," which means it was thought that 1.4 percent of harvested methane was slipping into the atmosphere. "Now it's 9.3 million metric tons, or closer to a 1.8 percent leak rate" Lyons says. Despite better accounting, one shocking setback reveals little safety in those numbers. Lyons cites a recent study that showed oil and gas methane emissions could be 90 percent higher than estimates based on the EPA Greenhouse Gas Inventory, in part because inventories often don't count super emitters, like the Aliso Canyon leak.
Lyons explains that for the Greenhouse Gas Inventory, the EPA estimates emissions by multiplying the number of pieces of equipment or facilities by the average emissions per piece of equipment or facility. Emission factors are typically based on data collected by measuring emissions at a subset of facilities. Due to the high cost of measurements, the data set may only include a small number of facilities (often less than 100, sometimes even 10 or fewer).
"Almost every oil and gas source has a skewed distribution of emission rates—this means that most sites have low emissions, but a few have very high emissions," says Lyons. "Statistically, a small sample size is more likely to include the common low emission facilities, which causes the emission factor based on their average rate to be lower than the full population that includes relatively rare, very high emission sites."
Lyons writes that while Aliso Canyon is the "mother" of all super emitters, smaller events are happening every day. Another study released February 24 from University of California, Irvine supports this. Atmospheric scientists conducted a mobile survey across Los Angeles, Orange and Riverside counties, before the Aliso Canyon gas well leak and their results, published this week in the Journal of Geophysical Research: Atmospheres, identify hundreds of the region's highest emitters. Governor Jerry Brown and the state Air Resources Board has ordered Southern California Gas Co. to offset the gas leak by removing as much of the fast-acting greenhouse gas from the air as was emitted from the Aliso Canyon site. Lead author Francesca Hopkins says, "The survey identified numerous methane hot spots that could be targets for these mitigation activities."
Lyons thinks that having more accurate methane estimates from the EPA's Greenhouse Gas Inventory will help justify whatever greenhouse gas emissions regulations are proposed in accordance with the Paris agreement, to which the U.S. committed in December. Greenhouse gases are impersonal, however, whereas public health is not.
But Juli Gallaher and her family can rest a little easier. When it came to the levels of toxins in the air Blake is not worried. "Benzene worried me most. The amount of benzene was shown to have increased. But even with that increase, the very highest amount measured was about .3 parts per billion," Blake says. Put in context, Blake has sampled air in foreign countries that contain 6 parts per billion. "And the worst are 100 times that." And that's in the absence of a "mother" leak like Aliso.
He is relieved, but suspects it will take repeated analysis to make Porter Ranch residents feel secure. Blake has plans to take some students out next summer for another look. But things could have turned out far, far worse. "Had there been elevated benzene or another of the dangerous compounds, things would have moved very differently," Blake says. "That would have shown we have a cancer problem, not a headache or nosebleed problem."
Correction: An earlier version of this story mistakenly said that when released unburned, over 20 years methane has 20 times more warming power than carbon dioxide. It has 84 times more warming power. The name of Southern California Gas Co. has also been corrected.