Alison Roman's New York Times Column Suspended Following Chrissy Teigen and Marie Kondo Comments
Alison Roman's New York Times cooking column has been temporarily suspended following an interview in which she criticized Chrissy Teigen and Marie Kondo.
According to The Daily Beast, a spokesperson for the New York Times confirmed that Roman's column is "on temporary leave," but did not give a reason for the suspension or confirm how long it would last.
In an interview with New Consumer published May 7, Roman criticized Teigen's Instagram page, calling it a "content farm" and said she was "horrified" by that and her cookware line. Roman also said Kondo's lifestyle range feels "greedy" and called the organizing guru a sell-out.
Teigen responded on Twitter, saying it was "a huge bummer," sparking a public apology from Roman, who tweeted: "I shouldn't have used you /your business (or Marie's!) as an example to show what I wanted for my own career—it was flippant, careless and I'm so sorry."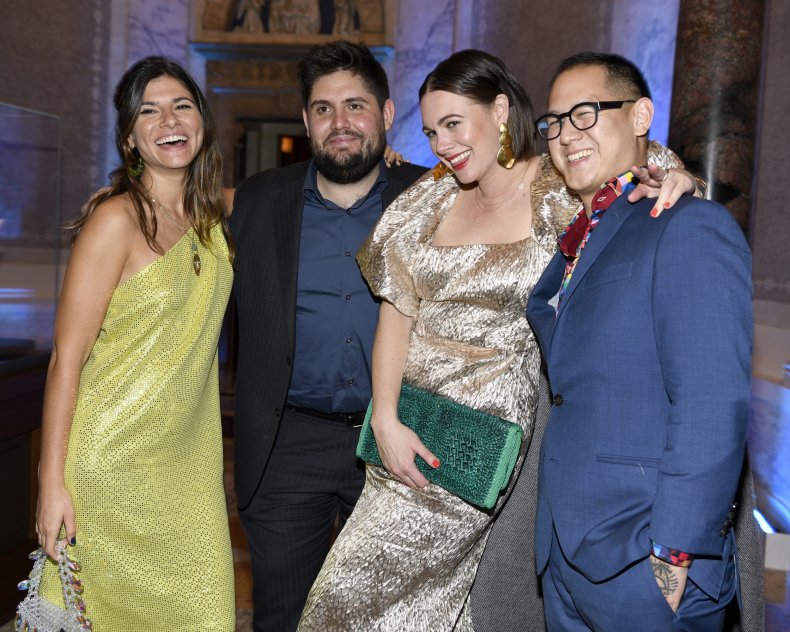 However, it now appears that a public apology was not enough to quell the drama as the food writer continues to suffer the consequences of her comments. But not everybody agrees with the New York Times' decision to suspend Roman's column.
Some writers following the feud have taken to Twitter to express their concern that a writer has lost a column for criticizing a millionaire.
Writer Natalie Shure said: "honestly, Alison Roman facing professional retaliation for s***-talking multimillionaire celebrities is a labor issue and other NYT writers should condemn it."
New York Times editor and writer Bari Weiss said: "You used to have to do something real to get cancelled. Apparently now you just have to criticize a celebrity!"
Jordan Weissman criticized the New York Times for suspending Roman while allowing Bret Stephens to continue publishing columns following an opinion piece he wrote for the paper titled 'The Secrets of Jewish Genius,' which saw him accused of being a eugenicist.
Weissman said: "I'm sorry, but if the Times is going to suspend Alison Roman—which, really?—what's its justification for running a column by Bret 'Disease of the Arab Mind' Stephens."
Luke O'Neil: "Don't care about the specifics of this maybe she sucks but a newspaper pulling a column because someone did some beef on here against one of the most famous people in the country is f***** up."
However, others think that the suspension is justified as Roman seemed to target two Asian women in the interview while praising Gwyneth Paltrow's Goop. Roman was also accused of mocking Kondo's accent, which she denied on Twitter and insisted that the phrase "please to buy my cutting board" was an inside joke that had been misinterpreted.
In response to Shure's defense of Roman, Liz Hsiao Lan Alper said: "Does every woman of color need to come back AGAIN and re-explain that Alison Roman's Columbus cuisine column is taking a hit because she went after two women of color and then behaved as she was the victim as is oft the script when white women attack WoC?"
Film and TV critic Rebecca Theodore-Vachon also responded to the writers defending Roman and said: "Looking at these White women shook about Alison Roman and I wonder if part of that is because they also talk s*** about successful women of color in their DM's and chats.
"They're shook knowing their coin can be snatched too. Please don't fool yourself into thinking otherwise."
Adrienne Law also appeared to reference Stephen's controversial article the fact he continues to write for the publication and said: "The whataboutery is out in full force stanning [supporting] for Alison Roman right now. If you think NYT isn't addressing implicit racism consistently, the answer is to insist on consistent treatment—not to withdraw all punishment. Roman shouldn't get a pass just because so-and-so did."
Neither Roman nor Teigen have commented on the New York Times' decision to suspend the former's cooking column.