All '90 Day Fiancé' Couples Still Together On Valentine's Day 2020
90 Day Fiancé has given TLC viewers a boatload of drama over seven seasons. While some couples have lasted, others have gone up in flames on the reality TV show and even afterward. Many of the show's loved and hated relationships continue to play out on social media.
While not every 90 Day couple has remained together and peaceful—see Colt Johnson and Larissa Dos Santos Lima's very public feuds—a handful are actually making their relationships work. Whether in a distance relationship or committed to a life together, here are the pairs that remained couples after filming 90 Day Fiancé, according to TV Insider and the couples' social media accounts.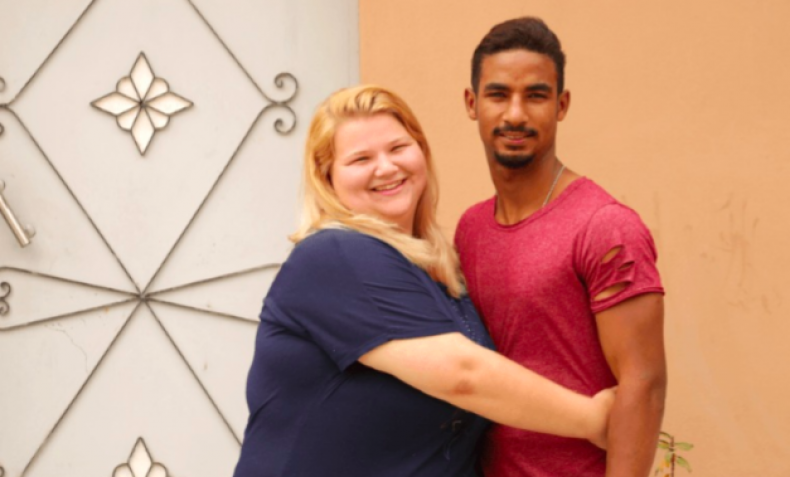 Russ and Paola
Russ and Paola remain one of 90 Day Fiancé's most famous couples. The Season 1 pair are married and have a 1-year-old son.
Alan and Kirlyam
Another Season 1 couple is married with a son. Alan and Kirlyam have been together since the season aired in 2014.
Mike and Aziza
This Season 1 couple, now married, just welcomed their first child in 2019.
Justin and Evelyn
Justin and Evelyn had a rocky start when she first moved to America. Justin expected a "proper wife" who would keep up the housework, but Evelyn (who changed the spelling of her name from Evelin when she moved to America) wasn't thrilled about that idea. They're happily married now, though.
Brett and Daya
This Season 2 couple were married in 2015 and welcomed their first child in 2017. The pair had a difficult time winning over close and extended family members because of their K-1 visa relationship.
Danny and Amy
Danny and Amy are now the parents of two children and also have an entire congregation since starting a church in Texas. Viewers will remember that Danny met Amy in South Africa while on a Bible study vacation, so their religious connection has continued to grow.
Loren and Alexei
This Season 3 couple are still married and are expecting their first child. Loren has been sharing her pregnancy journey on Instagram, along with many photos of her with Alexei.
Kyle and Noon
This Season 3 couple has stayed out of the spotlight since their story aired on TLC, but they keep fans in the loop on social media. Last year, they asked fans to vote for them as Portland, Oregon's "cutest couple" through a local radio station, according to In Touch Weekly.
Melanie and Devar
Season 3's Melanie and Devar are still married and welcomed a child in 2017. They may have briefly split in 2019, but it's unclear. It all started when a fan on Instagram asked Devar if they'd broken up. He responded, "You said it, not me," according to Distractify. Since, they've appeared to be a couple.
Fernando and Carolina
While this Season 3 couple is known to be married, they've kept their life private after the show's filming.
Josh and Aleksandra
This couple were married during Season 3 and welcomed their first child shortly after. They announced their second pregnancy in 2018 but have kept the child off of their social media accounts. Some fans may remember the controversy surrounding the birth of their first child, whom many viewers claimed appeared to be biracial. Both Josh and Aleksandra are white.
Jorge and Anfisa
While this Season 4 couple are together, their relationship looks quite different now. Jorge was arrested after nearly 300 pounds of marijuana was found in his car's trunk, according to People. He was sentenced to two and a half years in prison in 2018.
Narkyia and Olulowo
This Season 4 pair is still married, though they did break up for a while after the truth about one of Olulowo's past relationships surfaced, according to E! News.
Matt and Alla
Matt and Alla, who were married on Season 4, announced their first pregnancy on Instagram Thursday. The pair were flooded with celebratory responses from their followers, who seem to be continuously invested in the pair's relationship.
Chantel and Pedro
One of 90 Day's more dramatic relationships is still going strong. The couple, who have been revisited by the show, are together despite the conflicts between their families. Because of their popularity, a spinoff, The Family Chantel, aired on TLC in 2019.
Nicole and Azan
This couple have been featured on a handful of 90 Day Fiancé seasons, and they're still together despite the struggle for Azan's green card. For much of their relationship, Nicole traveled to Morocco to be with Azan. It seems Nicole is living in America while Azan is still in Morocco.
Elizabeth and Andrei
This married couple welcomed their first daughter in 2019 and are living happily, according to Elizabeth's Instagram.
Evelyn and David
Season 5 couple Evelyn and David are still married and seem to be putting Evelyn's music career first. The singer was on American Idol last year and made the top 14.
David and Annie
Though there haven't been any major updates from Annie and David, the pair seem to be happily married after their wedding on Season 5.
Josh and Aika
After getting married in 2017, Josh and Aika remain together. Children have always been a part of the conversation, as viewers saw on Season 5. The pair told followers they were trying to get pregnant in September, according to Soap Dirt.
Kalani and Asuelu
After Kalani got pregnant, the pair welcomed their first son before they were married. Then the pair got pregnant again, which was a surprise since the child wasn't planned. Kalani and Asuelu are now happily married with their two children, according to Asuelu's social media.
Eric and Leida
Though fans didn't think this couple would last, Eric and Leida are still married. In recent months, Leida has seemingly mended her broken relationship with Eric's daughter.
Steven and Olga
This Season 6 couple were immediately thrown into parenthood at the start of their story. After Olga got pregnant, Steven stepped up as a father, though he admitted he didn't know what to expect. Now, they seem to have parenting down and share family photos on Olga's Instagram.
All '90 Day Fiancé' Couples Still Together On Valentine's Day 2020 | Culture