All Aboard: North Korea's Favorite Ferry is Carrying 140-Member Orchestra to Olympics, Sailing through Sanctions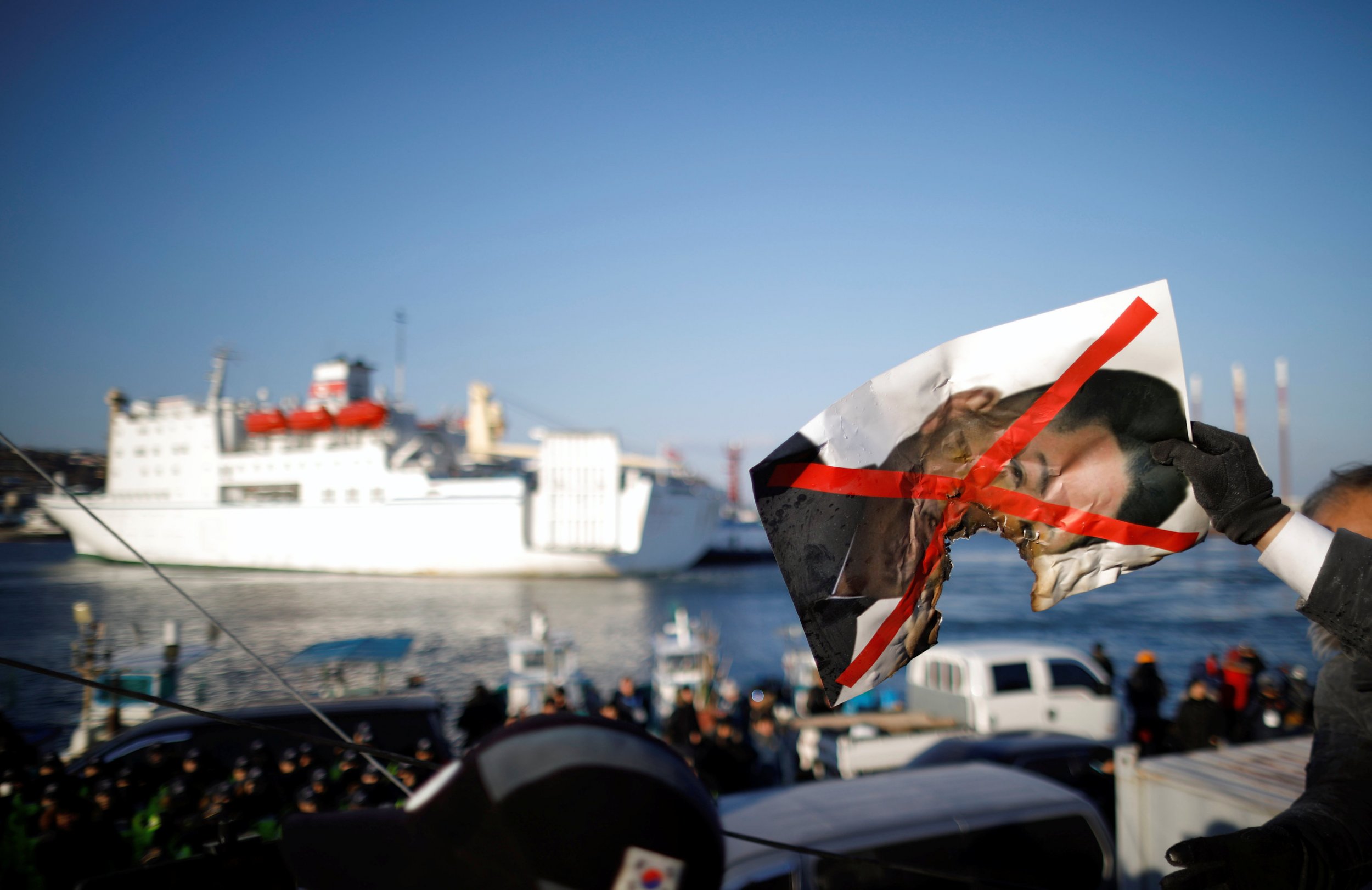 South Korea temporarily lifted some sanctions on North Korea to allow a ferry belonging to the Kim ruling family to transport the country's 140-member orchestra to two scheduled performances in the country.
The Mangyongbong 92 is a 9,700-ton ship given to North Korea's founder Kim Il Sung by ethnic Koreans living in Japan in 1992 to mark his 80th birthday. It is named after a hill near the leader's birthplace in the outskirts of the capital, Pyongyang.
The arrival of the ship on Tuesday in the Mukho Port in the city of Donghae, South Korea, was greeted by dozens of riot police and protesters waving South Korean and American flags and photos of North Korean leader Kim Jong Un with his face crossed out in red, Reuters reported.
The 140-member orchestra led by Hyon Song Wol were all wearing matching red-and-black uniforms and were given an official salute from North Korean ruling party leadership, including Kim's sister Kim Yo Yong, when departing from Pyongyang.
The ship will be their home during their stay in South Korea, where they are expected to perform on Thursday in Gangneung—the city that will host the sliding and skating events of the Pyeongcheng Olympics—and in Seoul on Sunday. The Mangyongbong 92 can host up to 300 people.
According to Reuters, it features special rooms where Kim Jong Un's father and grandfather stayed among its various cabin classes, as well as a bar equipped with a karaoke machine and a shop where guests can buy souvenirs and snacks. The silver-white vessel's fourth floor is equipped with a restaurant, a movie theater and bathtubs, the South Korean publication JoongAng Daily reported in 2014.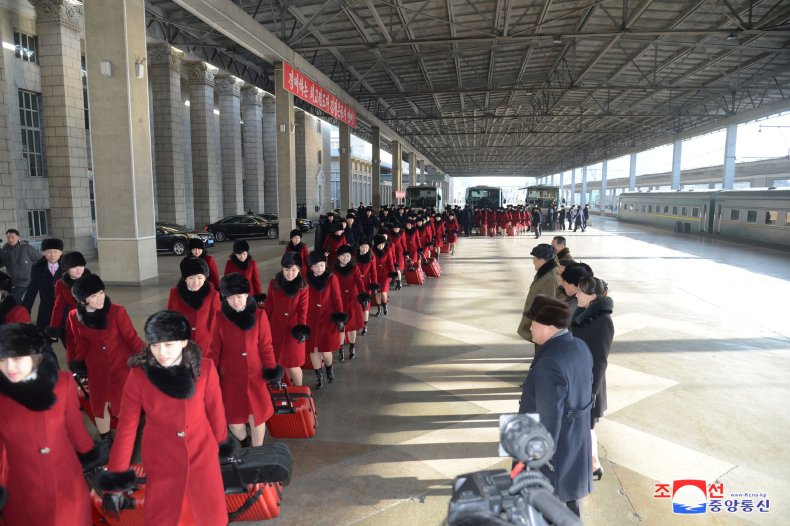 The ferry was used to transport people and cargo between Japan and North Korea, providing a steady stream of tradable goods and remittances in and out of the country, until Tokyo banned it from its waters in 2006, after Pyongyang test-fired a long-range missile. The ship was also suspected of smuggling drugs and components for the country's missile and nuclear program obtained from Japanese electronic gadgets such as the popular Playstations game console, The Telegraph reported at the time of the ban.
The Mangyongbong 92's first journey to South Korea happened in 2002, bringing a 350-strong cheer squad to the Asian Games in Busan and serving as their accommodation during the 17-day stay. But the vessel, like all North Korean ships, was then banned from anchoring in South Korean ports from 2010 onwards, after a torpedo attack against a South Korean navy ship killed 46 sailors. Pyongyang denied any involvement in the attack despite an international investigation finding conclusive proof the torpedo was launched from a North Korean submarine.