All Airlines, Countries' Airspace Affected by Russian Invasion
Several countries have shut down commercial flights and are monitoring airspace after Russia launched a full-on invasion of Ukraine on Thursday.
Here are the countries affected by Russia's invasion, according to the conflict zone bulletin created by the European Union Aviation Safety Agency (EASA):
Ukraine
Ukraine closed all airspace for commercial travel after Russia began its attack. The notice is valid until May 24, unless revised before then.
Ukraine's State Air Traffic Services Enterprise announced the closure shortly after 1 a.m. Greenwich Mountain Time, saying the closure was "due to the high risk of aviation security for civil aviation.... The provision of air traffic services to civilian users of the airspace of Ukraine is suspended."
Several airlines, including Ukrainian International Airlines, announced shortly afterward that they would be suspending all scheduled and charter flights to and from Ukraine.
Bees Airline, Motor Sich Airlines and SkyUp announced on their websites they are no longer flying at the moment, and several flight routes from Air Ocean Airlines, which flies out of Kyiv Sikorsky International Airport, are also temporarily suspended. CNBC also added Qatar Airways, Wizz Air and Turkish Airlines to the list.
Russia
Russia announced on Thursday it had suspended domestic flights to and from several airports until March 2, including Rostov-on-Don, Krasnodar and Stavropol.
The EASA announced an affected area in Moscow as well, although The Independent earlier reported that a British Airways flight from Heathrow Airport to Moscow appeared to be on schedule and running normally.
Several independent Russian airlines, including Red Wings Airlines, are suspending all flights across the country until early March.
Moldova
Moldova was listed within the EASA's conflict zone and has shut down all covering airspace as the country braces for an influx of refugees from Ukraine, Radio Free Europe reported.
President Maia Sandu said Thursday she will ask Moldova's parliament to declare a state of emergency, as tens of thousands of Ukrainians are expected to begin fleeing into the country, according to The Times of Israel.
Belarus
It was reported that the Federal Aviation Administration recently prohibited flights over the entirety of Belarus. Operations over Belarus are still advised with caution because of incident in 2021 when an aircraft carrying a Belarusian dissident was redirected under the false pretense of a bomb threat.
The Belavia Belarusian Airlines has canceled several flights and rescheduled and redirected several others.
Other Airlines
The Latvian airline airBaltic announced on Thursday that it was canceling flights up to March 13.
Hungarian airline Wizz Air had scheduled flights to England's Luton Airport from Ukraine's Kyiv and Lviv on Thursday, but both were canceled.
Ryanair, which operates flights from the U.K. to Ukraine, has suspended flights to and from Ukraine for the time being.
Poland said Friday it plans to close its airspace to Russian airlines. Polish Prime Minister Mateusz Morawiecki wrote on Facebook, "I have ordered the preparation of a resolution of the council of ministers which will lead to the closure of the airspace over Poland to Russian airlines," according to Reuters.
There are also reports that the Czech Republic's Prague is "considering" closing its airspace to Russian airlines, according to Russia's state-run RIA Novosti news agency.
Willie Walsh, director general of the International Air Transport Association, told Newsweek, "The escalation of events in Ukraine is deeply saddening. We hope for an early and peaceful resolution. For aviation, safety is always the top priority.
"IATA is helping to facilitate the relevant and timely sharing of information with airlines from government and nongovernment sources to support airlines as they plan their operations around airspace closures in Ukraine and parts of Russia," he said.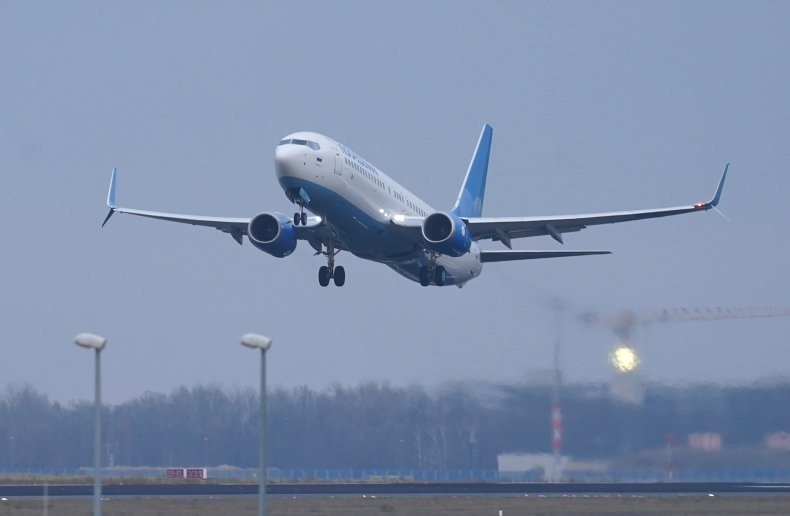 Update 02/25/22, 10:20 a.m. ET: This story has been updated with more background and a comment from the director general of the International Air Transport Association.