Is 'All American' Based on a True Story?
All American Season 3 recently landed on Netflix and the series is holding on tight to its place in the Netflix Top 10. The sports drama will return for a fourth season on The CW on Monday, October 25, and a spin-off, All American: Homecoming, is on the way.
Is All American based on a true story? Newsweek has everything you need to know.
Warning: This article contains spoilers about All American.
Is 'All American' based on a true story?
All American follows the story of rising high school American football player Spencer James (played by Daniel Ezra) from south Los Angeles who plays for South Crenshaw High School.
In season one, Spencer James is recruited to play for Beverly Hills High, a rival school and football team, after being spotted by Beverly High head coach Billy Baker (Taye Diggs).
James decides to play for Beverly High and the series follows his commitment to his new team alongside his loyalty to where he comes from.
By season three, Spencer returns to Crenshaw High for his senior year.
The series is inspired by the life of former professional American football player Spencer Paysinger, who serves as a consulting producer on the series.
He even played the role of an assistant football coach Davis at Beverly Hills High.
Although the show is inspired by Paysinger's life, several details have been altered for dramatic purposes along the way.
For example, the two Spencer's play entirely different positions. Spencer James in All American plays defensive back, running back, and shows off his skills as a receiver, and has even handled some kick-off duties. The real Spencer Paysinger played wide receiver and sometimes played defense as a safety.
Spencer Paysinger also only attended one school—Beverly Hills High—whereas Spencer James in the series attends South Crenshaw High and Beverly Hills.
In season two, Spencer James' father Corey (Chad L. Coleman) became the coach at South Crenshaw High but before he could coach his son, he died from a lifelong illness leading Spencer James to walk away from football. This did not happen to Spencer Paysinger in real life. His father, Donald Paysinger, supported him throughout his entire high school career.
The real Spencer Paysinger was never a victim of a gang-related shooting as seen in season two of All American.
Speaking to ESPN, producer Robbie Rogers said: "It's a real story, it's inspired by a true story, and so it's good to put a face to that story. Hearing it from Spencer himself was very important."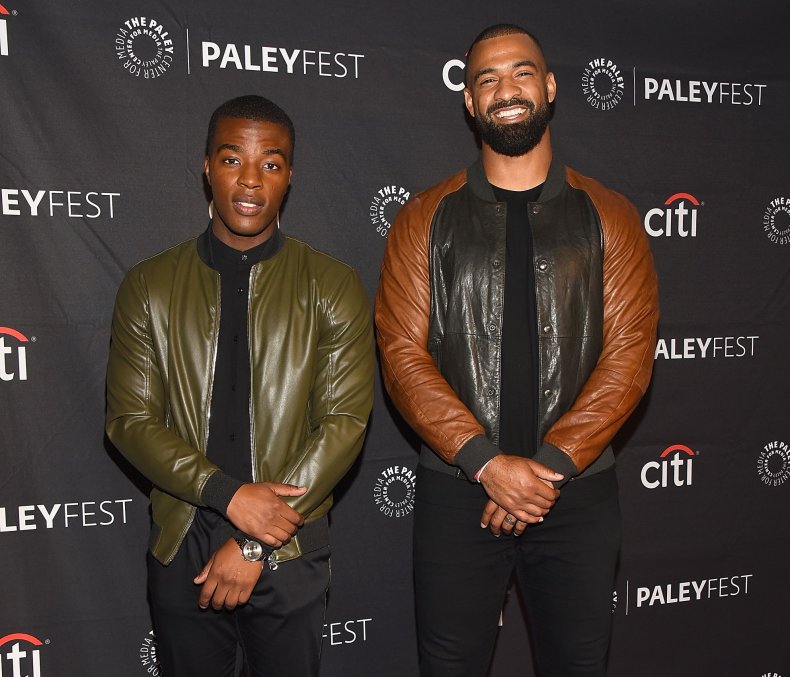 After high school and college football, Paysinger played linebacker and was signed by the New York Giants as an undrafted free agent in 2011. He was as part of the Super Bowl XLVI winning team, beating the New England Patriots.
In 2015, he signed a one-year contract with the Miami Dolphins and was re-signed in 2016.
He then moved to the New York Jets in June 2017 but before he could play any games in the regular NFL season, he was released from the contract in September 2017.
On December 5, 2017, he signed with the Carolina Panthers, playing in three-games before being released from the team that same month on December 29, 2017.
Paysinger announced he was retiring from football at the beginning of 2018, aged 29.
Reflecting on his retirement to ESPN, Paysinger said: "I remember sitting in my locker that day, packing all my stuff, smiling. I never wanted football to be my highest peak."
Outside of All American, Paysinger runs his own coffee shop, Hilltop Cafe, in south Los Angeles, and runs Afterball LLC—an investment fund that helps retired football players with their next steps in life after retiring from the sport.
Football runs in the Paysinger family. His uncle, Carter Paysinger, was the head football coach at Beverly Hills High from 1990 to 2009, and his father, Donald Paysinger, worked with the school as an assistant and head coach for over 30 years.
Just like Spencer James in All American, Paysinger grew up in Los Angeles and attended Beverly Hills High, the school James moves to from Crenshaw High.
James' college years are yet to be explored in All American but it will most likely follow Paysinger's path, who went on to play college football at Oregon, becoming captain and team leader.
Luckily, All American fans do not have too long to wait until season four lands on Netflix.
The fourth series of All American will arrive on Netflix worldwide shortly after it has finished airing on The CW.
All American seasons 1 to 3 are streaming on Netflix now.