Are Coop, Layla and Carrie Alive? Fates Revealed in 'All American' Season 4 Premiere
The third season of All American ended on a huge cliffhanger that saw Coop (played by Bre-Z), Layla (Greta Onieogou), and Carrie's (Anna Lore) lives put on the line. For months, All American fans have been counting down the days to the Season 4 premiere, with hopes Coop, Layla, and Carrie's fates would be revealed.
Thankfully, their fate was addressed in the season premiere, putting audiences out of their misery. Newsweek has everything you need to know. Warning, there are some spoilers about episode 1 ahead.
Are Coop, Layla, and Carrie Alive in All American Season 4?
There is good news for fans of All American's Coop, Layla, and Carrie.
The trio survived their near-death experiences of the season 3 finale, which included a shooting and a near-suicide attempt.
Going forward this season, audiences can expect to see Coop, Layla, and Carrie juggling the psychological drama of what happened to them as they try to move forward with their lives.
Coop
Picking up a few days after the events of the season 3 finale, Coop was rushed to surgery and remained in a coma for three days after being shot by Mo (Erica Peeples), the sister of the gangster Tyrone Moore (Demetrius Shipp Jr.)
The good news is, Coop is expected to make a full recovery. The bad news is, Coop may find herself the suspect in a murder case after taking the fall for a crime she did not commit.
In the season 3 finale, out of nowhere Preach (J. Kareem Grimes) shot at Mo just moments after Mo had pulled the trigger on Coop. At the beginning of Season 4, it was revealed Mo did not survive her injuries and her death was to become the focus of a murder investigation.
As Preach is a felon on parole who would most definitely be sent back to jail if the police discovered he was the killer, Coop decided to take the fall for Mo's death, telling detectives she shot her in self-defense.
The detective did not seem to buy Coop's story and going forward, Preach and Coop could find themselves in some serious hot water.
Layla and Carrie
Following the events of the season 3 finale, audiences had absolutely no idea whether the duo survived.
As season 3 came to an end, Carrie had requested Layla drive her to a Los Angeles overlook before they visited Carrie's parents. However, when they got there, things took a seriously dark turn.
Carrie approached the cliff edge and nearly jumped, trying to pull Layla with her. Carrie had also penned a suicide note that implied Layla too would also be taking her own life that evening. For months, fans were uncertain if Carrie and Layla were still alive.
Through a series of flashbacks in the season 4 premiere, audiences finally found out whether Layla and Carrie had survived and what happened at the cliff edge.
Thankfully, Layla was able to talk Carrie down from the cliff edge and convinced her life really is worth living.
Carrie was then seen crying into Layla's arms, admitting she would like to return to the Running Springs rehab.
However, the near-death experience has understandably left Layla incredibly shaken. In the season 4 premiere, it was revealed she was suffering from nightmares and hand tremors as a result.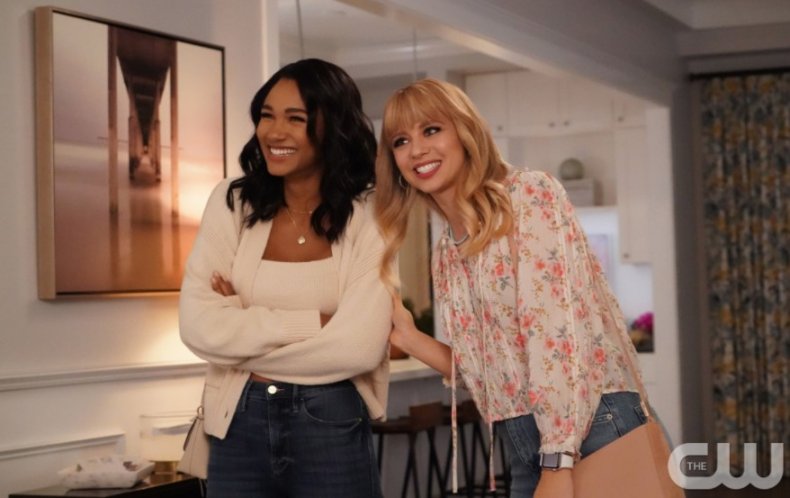 She then told her dad JP (Ray Campbell) she has felt unsafe since her mother's death and since he left. Layla told him: "You're part of the home I feel unsafe in And that feeling is what left me vulnerable to someone like Carrie."
At the end of the Season 4 premiere, Layla moved in with the Baker family, with Olivia (Samantha Logan) and Jordan (Michael Evans Behling) by her side.
All American Season 4 airs Mondays at 8 p.m. ET on The CW.
If you have thoughts of suicide, confidential help is available for free at the National Suicide Prevention Lifeline. Call 1-800-273-8255. The line is available 24 hours every day.