An All-American White House State Visit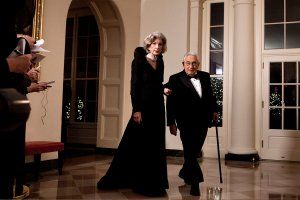 When Chinese officials accepted the White House's invitation to visit the U.S. and be celebrated at an extravagant state dinner, they said President Hu Jintao wanted a "quintessential American experience." He got a culinary experience that included lobster from Maine, buttermilk crisp onions from Ohio, ribeye steak, and—naturally—apple pie with vanilla ice cream.
But Hu also got to experience the type of American political discourse that China's critics have often lamented isn't allowed in the rising global power.
Despite President Obama pulling out all the stops for the red-carpet affair, several key congressional leaders were notably absent from the evening. House Speaker John Boehner, Senate Majority Leader Harry Reid, and Minority Leader Mitch McConnell didn't attend. Reid had the most outspoken words on President Hu's government, having called him a "dictator" this week.
The evening was uniquely star-studded, with American, and some Chinese-American, celebrities and leaders. There was Barbra Streisand, designer Vera Wang, and General Electric CEO Jeffrey Immelt. Renowned cellist Yo-Yo Ma arrived in a svelte tuxedo, and diplomats Henry Kissinger, Madeleine Albright, and Hillary Clinton were present to toast the Chinese leader.
Yet despite the glamour, there were questions all week from reporters about why Hu would be feted as a friend of America when his government has been at odds with America's core values, like freedoms for religion, speech, and the press. Pundits have noted the strangeness of Obama, who won 2009's Nobel Peace Prize, hosting Hu, whose country has imprisoned this year's winner, political dissident Liu Xiaobo.
When challenged by reporters during a press conference Wednesday, an exercise that simply doesn't exist in China with the same openness as in America, Hu conceded that while his country has come further than the international community has recognized, "a lot still needs to be done" to continue expanding rights in China. He also spoke about international concerns about China's undervaluation of its currency and lax regulation of intellectual property.
Kicking off the evening, Obama addressed the tensions between both powers. "While it's easy to focus on our differences of culture and perspective, let us never forget the values that our people share: a reverence for family; the belief that, with education and hard work and with sacrifice, the future is what we make it; and, most of all, the desire to give our children a better life."
Hu responded cordially. "The purpose of my visit is to increase mutual trust, enhance friendship, deepen cooperation, and advance the positive, cooperative, and comprehensive China-U.S. relationship for the 21st century," he said in a toast. He also said that both leaders had agreed to respect each other's sovereignty and development interests, and find ways to "properly handle differences and frictions."
By the end of the night, after entertainment by jazz musician Herbie Hancock and pianist Lang Lang, Hu had the same stoic expression he seemed to have worn all week. Certainly it benefited both leaders to launch international discussions about economic strategy, intellectual-property protection, and global security. But having to face criticism, tough questions, and international pressure about his decisions may have been a bit more of America than he had in mind.
This story originally appeared on The Daily Beast.