All of The 'Bachelor' Franchise Couples Still Together On Valentine's Day 2020
Fans tune in to The Bachelor every Monday night for the drama, the insincere contestants and the show's humor, but sometimes there's an added bonus: true love. While not every season produces a long-lasting couple, or even a short-lasting one, some Bachelor hopefuls do go on to live happily ever after, starting families as well as businesses.
Some Bachelor favorites are still in love, as are others whom some fans claimed wouldn't last. Here are the couples that made their love work in the real world and are celebrating Valentine's Day 2020 together.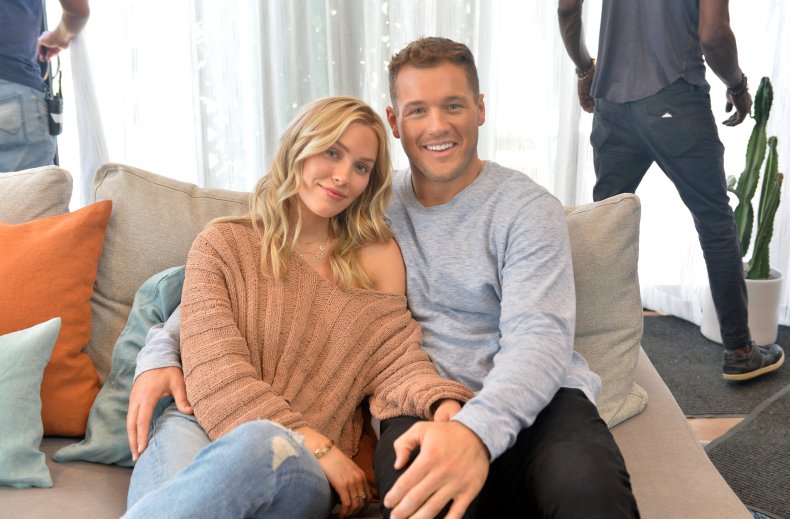 Dean Unglert and Caelynn Miller-Keyes
This controversial Bachelor in Paradise couple is still going strong, despite fans claiming they would never last. Unglert and Miller-Keyes had a rocky start on the show, even breaking up once before leaving the show to travel together. Though they're still a couple, marriage is not in their future, according to Unglert, who told Us Weekly that he tells Miller-Keyes to never expect it. He calls himself "untraditional."
Hannah Godwin and Dylan Barbour
A Bachelor in Paradise engagement led to a seemingly strong relationship after the show for this couple. Godwin and Barbour have stepped out of the spotlight, though fans still sometimes claim that Godwin doesn't seem too invested in the relationship. She responded to these comments by saying she's just "awkward."
Colton Underwood and Cassie Randolph
Underwood, last year's Bachelor, had a big decision to make, but nothing too controversial occurred during his season. Underwood and Randolph had a smooth and loving relationship throughout the show, and it seemed to continue into their public engagement.
Becca Kufrin and Garrett Yrigoyen
After what was arguably The Bachelor's most brutal breakup, Kufrin went on to find love with Yrigoyen on her season of The Bachelorette. Despite the controversy that arose from offensive posts liked by Yrigoyen on Instagram, the couple seem to be solid in the real world.
Arie Luyendyk and Lauren Burnham
Bachelor viewers were convinced Luyendyk and Burnham would never last after the Bachelor ambushed Kufrin with a breakup, filming crew in hand. When he decided to win Burnham back, most viewers were furious. That hasn't stopped the pair from living their happily ever after. Luyendyk and Burnham are now married and have one child.
Ashley Iaconetti and Jared Haibon
The Bachelor franchise's longest-lived love story came to full fruition when Iaconetti and Haibon were married last year. The pair originally met on Bachelor in Paradise, which they both appeared on twice. Iaconetti was seen as just a friend to Haibon. Eventually, after filming, Haibon caught up to Iaconetti's feelings, and the rest is Bachelor history.
Krystal Nielson and Chris Randone
This Bachelor in Paradise romance was sparked between two contestants who had received the "villain" edit. On the summer show, their true personalities came out, and fans seemed happy about their engagement. Now, Nielson and Randone are married and say they want to have children.
Kevin Wendt and Astrid Loch
Another Bachelor in Paradise couple is celebrating an engagement. Wendt and Loch were engaged while off the show, and they have been together since.
Rachel Lindsay and Brian Abasolo
Lindsay's Bachelorette season resulted in her engagement to Abasolo. The pair were married in 2019.
Raven Gates and Adam Gottschalk
Another Bachelor in Paradise couple is going strong. After meeting on the show in 2018, Gates and Gottschalk were engaged the next year.
Carly Waddell and Evan Bass
Fans, and even Waddell, were certain this relationship wouldn't last. Though the attraction between Waddell and Bass wasn't mutual immediately, they've proved love doesn't always happen at first sight. Waddell and Bass are now married with two children.
Jade Roper and Tanner Tolbert
Roper and Tolbert are another Bachelor in Paradise romance that has resulted in marriage and two children. Meanwhile, Roper and Waddell continue to be best friends and have a podcast together.
Jojo Fletcher and Jordan Rodgers
This Bachelorette love story was controversial in 2016, as many viewers didn't think it would last. Fletcher and Rodgers are still engaged but have a 2020 wedding planned, according to People.
Sean Lowe and Catherine Giudici
Lowe's Bachelor proposal to Giudici was one of the show's most shocking finales, as it seemed obvious he'd choose his runner-up. Lowe and Giudici have been strong since, though. They have three children and launched a furniture line on Wayfair.
Desiree Hartsock and Chris Siegfried
Hartsock and Siegfried have stepped out of the spotlight since their Bachelorette engagement. They were married in 2015 and have two sons. Hartsock also designs wedding dresses.
Ashley Hebert and J.P. Rosenbaum
Herbert and Rosenbaum have lived a somewhat private life since The Bachelorette, but they were open about Rosenbaum's recent Guillain-Barré syndrome diagnosis, which they revealed this past December.
Jason Mesnick and Molly Malaney
Mesnick and Malaney have been happily married since 2010. Most of their social media activity now revolves around their life as parents.
Trista Rehn and Ryan Sutter
The first Bachelorette season produced one of the franchise's long-standing couples. Rehn and Sutter were married in 2003. Rehn considers herself a "hockey and dance mom," according to her Instagram.