'All Black Lives Matter' Mural Painted on Hollywood Boulevard Washed Away, L.A. City Looking for Permanent Location
"All Black Lives Matter" was painted on Hollywood Boulevard, Los Angeles, on Saturday but had started to be washed away on Sunday evening. The mural featured the colors of the trans flag and non-binary flag, plus the LGBTQ+ rainbow flag.
The mural was painted ahead of a Black Lives Matter march led by the black LGBTQ+ community, where protestors congregated outside the TCL Chinese Theatre on Sunday to protest for racial equality and gay rights, before marching towards West Hollywood.
Leanne Suter from ACB7 News shared a video on Twitter of the letters being removed with a power washer and said that the mural is being moved to another location. Suter wrote: "It took hundreds of volunteers to create the colorful All Black Lives Matter in the middle of Hollywood Blvd and it is now being washed away after an estimated 40,000 took to the streets for a peaceful protest."
Rachel Brown from ABC7 News reported that Hollywood and Highland was shut down until the mural was removed and that the city is looking for a permanent place for the mural.
The mural was removed despite calls for it to be kept up for at least two weeks from a petition that gained more than 2,000 signatures.
The petition was submitted to Mayor of Los Angeles Eric Garcetti, the City of Los Angeles, and Los Angeles City Council. It said: "This mural stands for justice, equality, community, freedom—this means so much for so many. Sign this petition to TELL THE CITY OF LA that we want to KEEP THE MURAL UP FOR TWO WEEKS (at least)."
But city workers had started to remove the painting on Sunday ahead of it being reportedly repainted elsewhere permanently. Newsweek has contacted the mayor of Los Angeles for comment.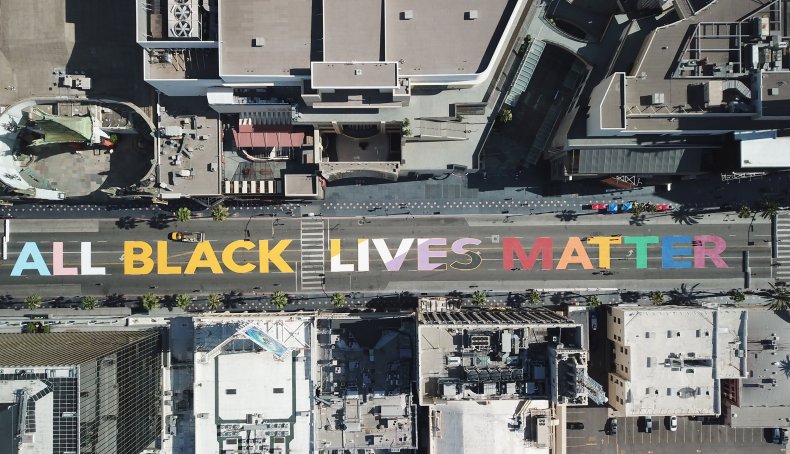 "Black Lives Matter" has been written on streets across the country, including in Washington, D.C., New York City, and Seattle.
In Washington D.C., Mayor Muriel Bowser commissioned a two-block painting that reads "Black Lives Matter" on the street leading up to the White House. Bowser then named the square in front of St. John's Church "Black Lives Matter Plaza."
On Twitter, the mayor's chief of staff, John Falcicchio said of the mural: "It started [with] thousands of people demonstrating on 16th St NW. Their voices inspired a team to come together and use art to push back a bully and to claim a place for people to speak out against racism, injustice, and inequality. And thus, 16th St NW became #BlackLivesMatter Plaza."