'To All the Boys 3' Release Time: When the Movie is Released on Netflix
To All the Boys: Always and Forever is the third and final movie in the franchise, and is set to be released just in time for Valentine's Day on Netflix. To All the Boys 3, the latest film from Netflix's commitment to released one new movie a week in 2021, will see Lara Jean (Lana Condor) getting ready to leave for college, and deciding what her relationship with Peter (Noah Cenineo) will look like after they both leave high school.
When is To All the Boys 3 out on Netflix?
Always and Forever has a Netflix release date of Friday, February 12. As with the majority of Netflix content, the movie sequel will be released at 00:01 a.m. ET.
Exactly when To All the Boys 3 drops onto Netflix where you are will depend on your time different from the east coast of America, which is currently eight hours behind GMT.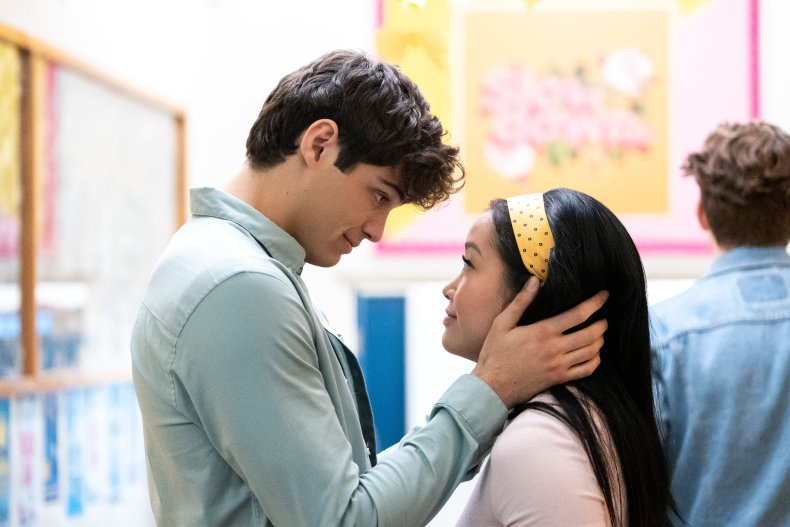 Here's when the movie will be streaming in the following territories on February 12:
Argentina: 5:00 a.m. ART
Australia: 4:00 p.m. AWST / 4:45 p.m. ACWST / 5:30 p.m. ACST / 6:00 p.m. AEST / 6:30 p.m. ACDT / 7:00 p.m. AEDT/LHDT
Austria, Belgium, Denmark, France, Germany, Italy, Luxembourg, Monaco, Netherlands, Norway, Portugal, Spain, Sweden,Switzerland: 9:00 a.m. CET
Brazil: 5:00 a.m. BST / 6:00 a.m. FNT / 4:00 a.m. AMT / 3:00 a.m. ACT
Canada: 12:00 a.m. PST / 1:00 a.m. MST / 2:00 a.m. CST / 3:00 a.m. EST / 4:00 a.m. AST / 4:30 a.m. NST
Ecuador: 3:00 a.m. ECT / 2:00 a.m. GALT
India: 1:30 p.m. IST
Indonesia: 3 p.m. WIT / 5 p.m. EIT / 4 p.m. CIT
Japan: 5 p.m. JST
Mexico: 12:00 a.m. PST / 1 a.m. MST / 2 a.m. CST / 3 a.m. EST
New Zealand: 8 p.m. NZST
United Kingdom, Ireland and Iceland: 8:00 a.m. GMT
U.S.: 3:00 a.m. EST / 2:00 a.m. CST / 1:00 a.m. MST / PST / 11:00 p.m. on Feb 11 14 AKT 10:00 p.m. on Feb 11 HST.
As for what viewers can expect from the film, the synopsis reads as follows: "As Lara Jean Covey prepares for the end of high school and the start of adulthood, a pair of life-changing trips lead her to reimagine what life with her family, friends, and Peter will look like after graduation."
As confirmed in the trailer, those two trips are a Covey family visit to Korea as well as a trip Lara Jean takes to New York City.
Both of the first two films in the series, To All The Boys I've Loved Before and To All the Boys: P.S. I Still Love You, are available to watch now on Netflix.
Condor, meanwhile, posted on her Instagram when filming commenced on the movie in September 2019: "I've been really struggling how to put into words my feelings towards this ending...words will never be able to describe my love for Lara Jean.
"Her family, her friends, Peter. Words will never be able to describe the long nights on set, where it would suddenly hit me, like a ton of bricks, that I was getting the honor of portraying a girl so fiercely determined in love, who represents strength in softness. Words will never be able to describe my gratitude to YOU, for loving her as much as I do."