All of Calif. Projected to Fall Under New Stay-at-Home Order By End of December
The entire state of California is projected to fall under new stay-at-home orders by the end of December due to falling intensive care unit capacities as the state continues its battle with the novel coronavirus.
Rising COVID-19 cases, hospitalizations and deaths in California and across the U.S. are expected to get even worse in the coming weeks following the Thanksgiving holiday. California Governor Gavin Newsom on Thursday encouraged Californians to comply with one more stay-at-home order as they await access to a COVID-19 vaccine, the distribution of which could begin before the end of the year if the Food and Drug Administration (FDA) approves one for emergency use by mid-December.
In the meantime, Newsom said each of the state's five regions—Northern California, Greater Sacramento, Bay Area, San Joaquin Valley and Southern California—is expected to soon begin reporting ICU capacities below 15 percent, the threshold at which the new stay-at-home order will be triggered.
"The ICU capacity in all of these regions by the end of this month will drop, based on our current projections, below 15 percent in total capacity," Newsom said during a Thursday news conference. No region qualifies for the stay-at-home order yet, but the Bay Area region could fall beneath that 15 percent threshold by the middle or end of the month, Newsom said. The other four regions could reach that marker within a week or as soon as the next couple of days, he said.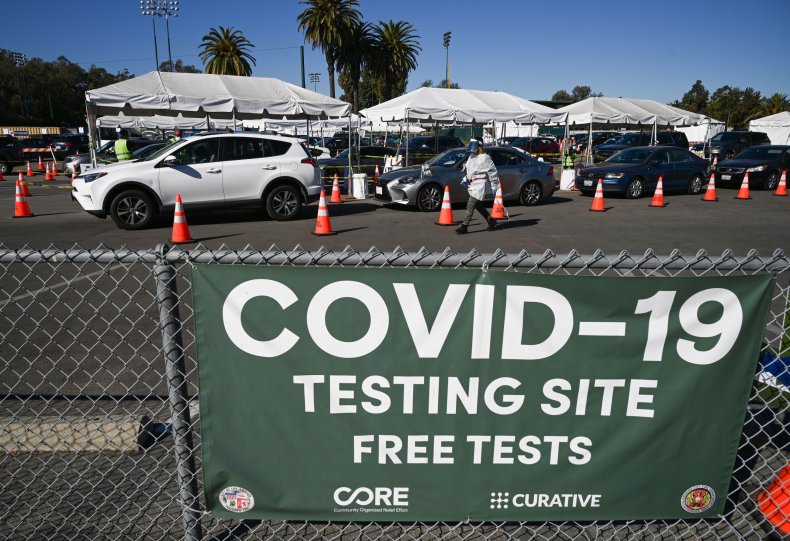 Once the new stay-at-home order is triggered, it will be in effect for at least three weeks, Newsom said. The business sectors that will be required to temporarily close include bars, wineries, personal services, hair salons and barbershops. Restaurants will be allowed to remain open for delivery and take-out, and retail shops can remain open so long as they observe 20 percent customer capacity limits, the governor said. Critical infrastructure and schools that have secured waivers to open can also remain operational, he added.
California was the first state to announce a stay-at-home order in response to the pandemic in mid-March. Though the state appeared to be flattening the curve of the virus' spread by the end of the summer, new daily infections spiked in recent weeks. Health experts have predicted that the U.S. is heading into its worst bout with the virus and warned that its rapid spread could overwhelm hospitals already under strain due to the resurgence of winter respiratory illnesses.
More than 1.2 million people in California tested positive for the virus in total and more than 19,000 people have died as of December 2 according to state data. Newsom said Thursday that California's seven-day average of new daily infections was above 15,000, the highest reported since the start of the pandemic. Hospitalization numbers have increased by 86 percent in the last two weeks, and ICU admissions have also increased by 67 percent in that same time period, according to the governor.
As Newsom ran through the numbers of cases, hospitalizations and deaths, a slide popped up on the screen beside him that read, "If we don't act now, California's hospital system will be overwhelmed and our death rate will continue to climb."
Newsom said California is "pulling an emergency brake" with its new stay-at-home order.
"This is not a permanent state. This is what many had projected, we had predicted: the final surge in this pandemic," Newsom said. "We do not anticipate having to do this once again, but we really all need to step up. We need to meet this moment head-on, and we need to do everything we can to stem the tide, to bend the curve and to give us the time necessary by bending that curve to get those vaccines in the hands of all Californians all across this state."
Newsweek reached out to Newsom's office for further comment but did not receive a response in time for publication.