All of Clint Eastwood's Movies Ranked From Worst to Best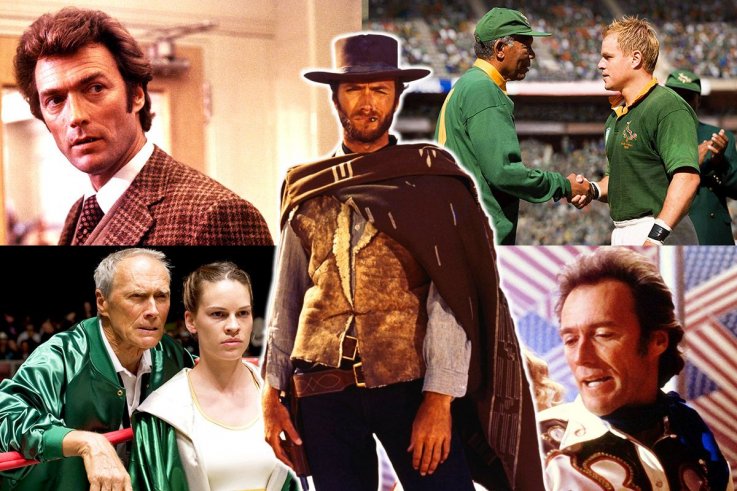 It's hard to think of anyone still alive who embodies American cinema more than Clint Eastwood. "The roles that Eastwood has played, and the films that he has directed, cannot be disentangled from the nature of the American culture of the last quarter century, its fantasies and its realities," wrote film scholar Edward Gallafent in 1994.
Born at the start of the Great Depression, Eastwood didn't get his break until the 1950s. He was cast as Rowdy Yates in the Western TV series Rawhide, developing the persona of a rugged, All-American cowboy he would riff on throughout his career.
His chance to go beyond cookie-cutter cowboys came when he was cast in the spaghetti Western A Fistful of Dollars in 1963. His character, the Man with No Name, complicated the wholesome cowboy image with his eccentric, taciturn manner—more anti-hero than hero.
Read more: All of Dwayne "The Rock" Johnson's movies, ranked from worst to best
The character would be revived during the two sequels, For a Few Dollars More (1965) and The Good, the Bad and the Ugly (1966). The trilogy helped project Eastwood into fully fledged stardom, landing him further roles, largely in Westerns and war films.
He portrayed his other most memorable character, the loose-cannon cop Dirty Harry, in five films starting in 1971. After turning down the role of James Bond, he made his directorial debut with the hugely successful psychological thriller Play Misty For Me.
Read more: All of Chris Hemsworth's movies ranked from worst to best
He continued to explore the Western over the following decades, adding new twists and keeping the genre alive even as the New Hollywood directors turned audiences towards contemporary, gritty filmmaking.
Perhaps most memorably, he directed and starred in 1994's Unforgiven as an aging gunfighter. Unforgiven was a major critical and commercial success, winning Oscars for Best Director and Best Picture. His 2005 movie, Million Dollar Baby, would go on to win him the same two awards over a decade later.
Now 88 years old, Eastwood is as prolific as he ever was. Earlier this year he directed The 15:17 to Paris, a drama about a real-life terror attack on a Paris-bound train, and December will see the release of The Mule, which he directs and stars in.
Using data from critical review aggregation websites Rotten Tomatoes and Metacritic, as well as user-submitted reviews from IMDb, we've ranked all of Eastwood's movies, from worst to best.