All the Demands and Allegations in the Trump Presidential Election Lawsuits
In the early hours of Wednesday morning, President Donald Trump prematurely declared election victory in a televised address to the nation as he trailed Democratic Presidential Nominee Joe Biden in electoral college votes. Trump also said that he would ask the U.S. Supreme Court to intervene in the election process.
The president accused Democrats of trying to "disenfranchise" the people who had voted for him. He called the election "an embarrassment to our country" and said he wanted all voting to stop.
"We want the law to be used in a proper manner so we'll be going to the U.S. Supreme Court," Trump said. "We want all voting to stop. We don't want them to find any ballots at four o'clock in the morning and add them to the list."
As vote counting proceeded, Trump's campaign filed a series of lawsuits in three battleground states throughout the day seeking to halt ballot counting. He has also demanded a recount in Wisconsin.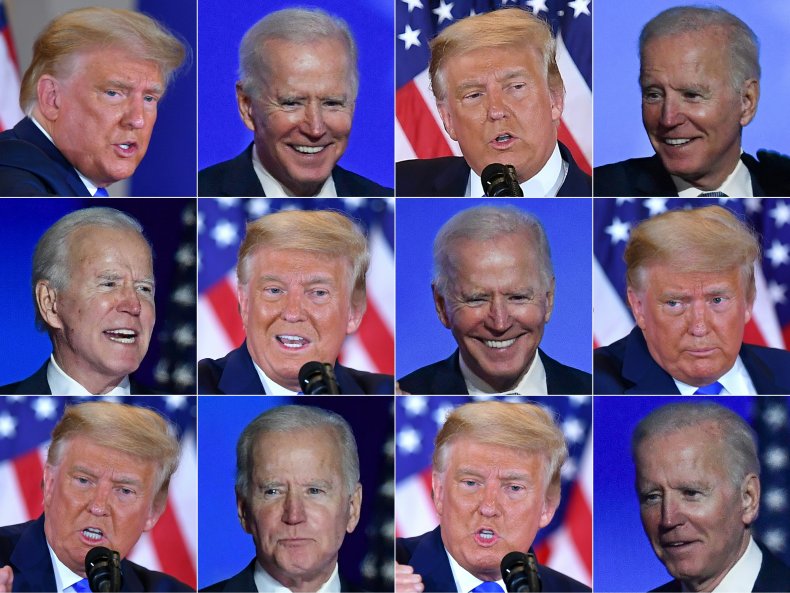 Michigan—16 Electoral College votes
Trump's campaign on Wednesday filed a lawsuit in the Michigan Court of Claims requesting authorities to stop counting ballots until it is allowed "meaningful access to numerous counting locations to observe the opening of ballots and the counting process."
The campaign also demanded authority to "review those ballots" that were "opened and counted while we did not have meaningful access." At the time, Biden was leading Trump by less than a percentage point with 49.5% percent of votes cast compared to Trump's 48.8 percent. The Associated Press later called the state for Biden.
Trump also suggested without evidence that Michigan had "found" votes to stop Republican Senate nominee John James from winning.
"As votes in Michigan continue to be counted, the presidential race in the state remains extremely tight as we always knew it would be," said Trump 2020 campaign manager Bill Stepien. "We have filed suit today in the Michigan Court of Claims to halt counting until meaningful access has been granted. We also demand to review those ballots which were opened and counted while we did not have meaningful access."
"President Trump is committed to ensuring that all legal votes are counted in Michigan and everywhere else."
Pennsylvania—20 Electoral College votes
Trump's campaign on Wednesday filed its second lawsuit in Pennsylvania requesting to stop the counting of ballots. The president's team also announced its intention to intervene in an existing Supreme Court case to decide whether to allow an extension of the state's deadline to receive mail-in ballots.
Trump's campaign intends to file a separate legal action to stop Democrats from allegedly "hiding" the "ballot counting processing from our Republican poll observers." Another separate legal action from the Trump campaign seeks to reverse the extension of a deadline for absentee and mail-in voters to produce proof of identification.
The campaign said the legal fillings join existing Republican challenges demanding access to ballot processing and counting locations for their observers in the state.
Later on Wednesday evening, the Trump campaign and Republicans filed a lawsuit challenging Pennsylvania Secretary of State's allegedly "unilateral actions to extend the voter ID deadline set by law, circumventing state law and bringing more chaos and uncertainty to the process."
Georgia—16 Electoral College votes
Trump's campaign filed a third lawsuit in Georgia on Wednesday afternoon to halt ballot counting as Republicans grew concerned about securing the state. With votes in Fulton County—the state's second largest county by population—still to be counted, election officials have indicated that results should emerge around midnight or early Thursday morning.
The president's lawsuit argues that all mail-in ballots must be received by 7 p.m. ET on Election Day to be counted. "Today, a Republican poll observer in Georgia witnessed 53 late absentee ballots illegally added to a stack of on-time absentee ballots in Chatham County," said Justin Clark, the Trump campaign's deputy manager and senior counsel.
"President Trump and the Georgia Republican Party have filed suit to require all Georgia counties to separate any and all late-arriving ballots from all legally cast ballots to ensure a free, fair election in which only legal, valid ballots count," Clark added.
Wisconsin—10 Electoral College votes
The Trump campaign also called for a recount in Wisconsin, which has been called for Trump by most media outlets. Stepien said there were "irregularities" in numerous counties in the state, without providing evidence or specific examples.
Amid the lawsuits, the president prematurely claimed victory in Georgia, Pennsylvania, Michigan and North Carolina on Twitter earlier today. The tweet has since been flagged by the social media platform for containing "disputed" content that "might be misleading about an election or civic processes."
Biden's campaign called Trump "pathetic" for "demanding recounts in places he has already lost."
"He's simultaneously engaged in fruitless attempts to halt the counting of votes in other states in which he's on the road to defeat," said Biden campaign spokesperson Andrew Bates. "This is not the behavior of a winning campaign. Plain and simple, Donald Trump has lost Wisconsin, he is losing Michigan, and he is losing the presidency. Put another way, 'It is what it is.'"
On Wednesday, Biden insisted that all states should continue counting ballots. "No one's going to take our democracy away from us—not now, not ever," the Democrat said.
Newsweek reached out to Trump and Biden's campaign for further comment.
This is a developing story and will be updated as additional information becomes available.