All the Democrats in Wednesday's Debate Are Electable. But Who Has the Ground Game? | Opinion
Who's the most electable? Candidates and pundits are going to argue that question on Wednesday, during the fifth Democratic debate—but they aren't the ones who will answer it. Voters will.
All 10 Democrats on stage in Atlanta have the background, experience and ideas necessary to defeat Donald Trump. This election, however, won't come down to who sounds best on stage. It will be decided on the ground by the side that runs the most robust field program.
In 2016, Democrats made the fatal mistake of treating electability as an innate trait and failed to put in the hard work of campaigning. We wrote Donald Trump off as "unelectable" and skipped Michigan, Pennsylvania and Wisconsin, where fewer than 80,000 votes swung the election, and voter turnout in Democratic-leaning areas declined. Despite 2016 having the most racially diverse eligible voting population ever, the non-white share of the electorate remained unchanged from 2012. Because of that lack of turnout, Donald Trump was able to win the election with a lower vote share than Mitt Romney received in 2012.
Democrats relied on changing demographics to carry the day and forgot the basics of winning campaigns—face-to-face conversations with voters. Hillary Clinton was no more electable or unelectable than anyone in the current Democratic field, but she failed to make her case directly to the inconsistent Democratic voters that we need to expand our base.
Newsweek subscription offers >
Conventional wisdom says infrequent, disillusioned voters don't care about politics, but of course they do. All politics are local, and these voters care deeply about their communities and know their values. The problem is: Democrats haven't been doing a good job of speaking to them on an intrinsic level, beyond broad party platitudes.
Voters feel taken for granted by candidates who only show up when it's time to vote. Some will walk away frustrated while trying to navigate our broken electoral process, rife with voter suppression. Many have not voted in the past three general elections. Most important, inconsistent voters will likely be the winning margin in states like Wisconsin, Michigan and Pennsylvania.
Political consultants have wrongly convinced Democratic candidates that the way to reach these voters is through expensive, flashy TV ads. Total ad spending by Democratic candidates for the primary is over $42 million, even though TV advertising has a minimal impact on turnout. Experiments have shown, however, that canvassing produces one additional vote for every 14 people reached, at the cost of only $7 to $19 a vote. Put another way, had Democrats reached out to every eligible non-voter in 2016, there could have been 6.2 million more votes cast.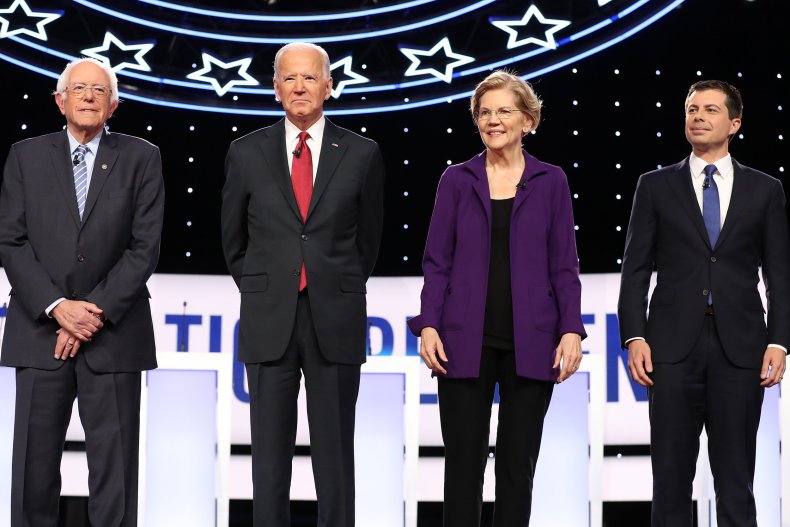 Newsweek subscription offers >
We need to get people to commit to vote, help them make a plan to get to the polls and follow up until they cast a ballot. It can be long and grinding work, but it pays off. And we need a Democratic nominee who understands that. Someone who knows that a successful field program must include authentic, in-person conversations aimed at turning out people of color, working folks and young voters.
The Trump campaign is already running an incredibly sophisticated disinformation campaign, aided by Fox News' propaganda and Facebook's greed. We can't counter that just by flooding voters with TV ads, plus digital and direct mail. We need to send real people to neighborhoods across the country and turn out our voters, and that is only accomplished if we demand every candidate pledge to invest in a robust field program as early as possible.
Our path to victory runs through getting inconsistent Democratic voters to the polls and driving turnout among the base while nurturing the high Democratic enthusiasm we saw in 2018. Any of the Democrats on stage Wednesday are electable in 2020, but if we don't focus on turnout, the candidate who wins the nomination will have already lost the general election.
Alex Morgan is the executive director at the Progressive Turnout Project.
The views expressed in this article are the writer's own.
All the Democrats in Wednesday's Debate Are Electable. But Who Has the Ground Game? | Opinion | Opinion