Cody and Brandi Rhodes Talk AEW Dynamite's Premiere, Creating and Staying True to All Elite Wrestling's Identity
Wednesday nights are about to get explosive.
All Elite Wrestling (AEW), a new professional wrestling promotion started by the Khan family and a group of wrestlers calling themselves "The Elite" are ready to put on their special brand of wrestling for the masses. After months of preparation and shows, AEW is ready to hit primetime with the first episode of AEW Dynamite, the first live weekly wrestling program on TNT in 18 years.
"It's surreal. Yesterday we started to see some of our trucks rolling through with some of the talent on the back," AEW Chief Branding Officer and wrestler, Brandi Rhodes told Newsweek. "So it's all coming together. I couldn't be more thrilled."
"I'm ready to party man," AEW Executive Vice President and wrestler Cody said. "All of this preparation over a year's worth of preparation to get to this moment, particularly the fans. But the guys and girls can take it in when they go out there. It's sold out arena. It's the very first time in 18 years on TNT. Let's party."
And while the fledgling new promotion is looking to plant a foothold in a burgeoning wrestling industry, Cody, Brandi and the rest of the AEW roster and team want to perform in a way that's unique and true to their identity.
Newsweek spoke with Cody and Brandi Rhodes about the upcoming premiere of AEW Dynamite, creating AEW's identity for a mass audience and much more.
Note: This interview has been lightly edited for clarity and length.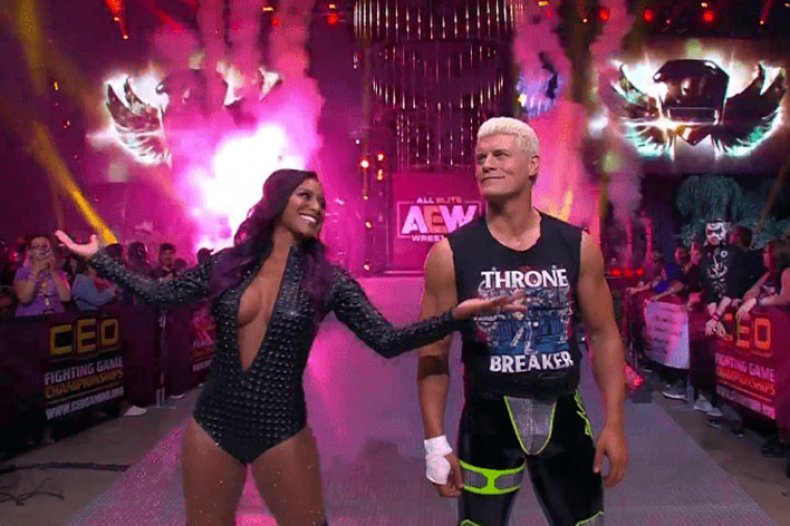 How much more work needs to be done before the premiere?
Cody: Every day there's something the Code Man forgot that he needs to go in and check. The pre-production team is so great that surrounds me and Brandi, and the EVPs and Tony... Everyone is keeping us on their toes, so it's just dotting the I's and crossing the T's type stuff. But we had enough time to prepare, and at this point it's just to execute.
Doing the backstage production/creative in this capacity is new for both of you. In the months of putting on pay-per-views and preparing for the premiere, what surprised you about the process?
Brandi: Honestly, for me, what was surprising was having the amount of support I have. When you come from the wrestling world, you are taught to do everything for yourself: market yourself, plan for yourself, design for yourself... And now that we are flanked with all of these wonderful, creative individuals helping us, it's surprising to me because I can say "hey, I have this idea and want this done" and then have three people say "how can I help?" That's the biggest, not so much challenge, but a great thing. Learning to let go of that mentality to do it all myself.
Cody: I'd say for me, because I was around my dad and other individuals who were both on screen and on camera, I had learned what it took to do this role as an active performer and producer behind the scenes. I'm surprised at how much I'm enjoying it. It's yet to stress me out [or] cause any scheduling conflict. Like I was saying, I'm a big preparation person, and we have the best and friendliest people that made it easy for me to go from fighting someone in the ring, like my brother, for example, and putting on the headphones and preparing for the next segment. It's a job that I've been preparing for my whole life.
What challenges come with balancing both roles on and off screen?
Cody: There are four EVPs and there is the Chief Brandi Officer, all wrestlers who are also in the infrastructure. The challenge is going to be the checks and balances of it and the self-awareness of us. If the fans want us on the screen in these matches, that's what they are going to get. But if the fans start to hunger for something new, a young up and coming male or female talent, it's gotta be on us to know when do we step back. Right now it doesn't look like there's any need to, but when it does, we have to do the best thing you can do in wrestling and that's listen. Listen to the live audience when they clap their hands, to the audience on social media, all across the board. You gotta be able to hear them.
You speak of the audience. Going live on TNT will put a lot more eyes on AEW and the product. What are you trying to do to capture the casual fan?
Cody: For me we always thought of the product. We were under the impression a few years back that we had a product that people wanted to see. And that was when we decided to go ahead with All In. And that was very validating, vindicating that there is this market. The "casual fan" term has been thrown around, but another term that should be thrown around is the "shadow market." There is a lot of wrestling fans that went away between 1998 and today, and our product, a sports-centric, "we"-based product, speaks to them more than anything. We just have to focus on AEW and nothing else.
You roster has a lot of familiar faces like Jon Moxley, Chris Jericho and you two. Have you encountered challenges with bringing in names from other companies with long histories and incorporating them in creative?
Cody: It would be silly of us to pretend the world doesn't exist around us. We don't want to insult anybody, there's a ton of equity in a character like Jon Moxley. He was the biggest star in WWE, and he decided to cross the line and join our brand and work with us. I think it's important that we recognize. This was grassroots to begin with. It's independent, and it's international. You can't all of a sudden turn on the lights at AEW and say none of that existed before. All of that existed before and led us to this point now.
Brandi: Like you said, some of the more popular names that you mentioned, there's a reason the lapsed fan is taking a look here. It would be a disservice to pretend that it's a clean slate and that these other people don't have these past histories, ourselves even. Like Cody said, our fans like to be heard, and they don't like to have their intelligence insulted. Neither would I. So we're trying to stay as true to ourselves as we can.
A big selling point for AEW has been its sports-centric nature. It doesn't seem like an exact science, but have you experienced any hurdles navigating through when professional wrestling was very traditional?
Cody: It depends on which tradition you're kinda looking at. There's a tradition how WWE presents wrestling, which is fine and good. That's how they present wrestling. Pro wrestling might have started in the very first place when the winner of a match would clearly get paid more than the loser of the match. Or an individual male, or female, who had the most wins would be in the title picture. It wasn't always about blood feuds and personal rivalries. They exist as well, but they have to build over time. They don't just start on a dime.
And one of the hurdles has been we only had Double or Nothing, Fyter Fest, Fight for the Fallen, All Out and nothing else. We only had four shows. That's the beginning of this league and sports-centric presentation. Meaning the numbers are small in terms of the record. It was a no-brainer for me as to who would face Chris Jericho [for the AEW World Championship]. Tony Khan made the call on that for Baltimore, and I have the best singles record to back it up. But here is where it gets dicey. We have a lot of AEW Dynamite between now and then. If Sammy Guevara beats me on the very first episode, that changes. You say it's not an exact science, but it can be actually. The guys who win the most matches will get the premiere spots, same with the women.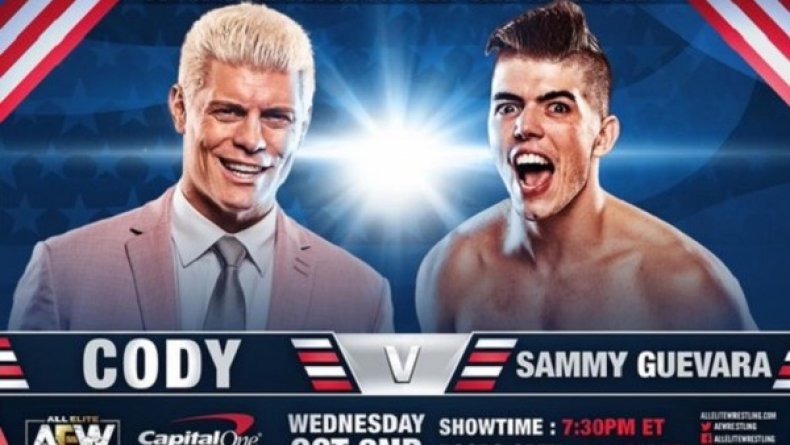 Along with the sport-centric themes, AEW has continued to spotlight joshi wrestlers from Japan. What was the thought to make that happen for the women's division?
Brandi: I'm glad you mention the joshi wrestlers because they are part of our women's division, and it shows that there is not one way to be a women's wrestler. There are different styles of women's wrestling just like men's wrestling. There are different divisions [in men's wrestling], you have cruiserweights and heavyweights. With the women you have that kind of diversity as well. So as we build this division, we are allowing our women to do what they do best and not fit them all into one box. And that does encompass the joshi style of wrestling. A lot of people haven't really seen that style truly play out on American television, which is why our audience has been very intrigued with it. We're planning to continue to let it play out.
What was the thought-process on putting the women's championship match on the first episode?
Cody: We just put out the new episode of "The Road to Series," and the last two episodes have been heavily focused on Riho, Nyla and that match. And it's the match, as a fan, I'm looking to most, not just that the belt looks so so good. Sometimes we use the pomp and circumstance to pump it up, but in this case the truth doesn't need it. It's a very significant moment for the company, and it's the only title match on that very first AEW Dynamite. It means the world to me, and I look forward to being able to congratulate whoever it is that walks through the back curtain. It's such a huge moment for us.
Brandi: It's only going to happen once. You'll only be the first AEW Women's Champion once, so it's a very very significant moment for our company and our women.
Nyla Rose and Riho are fighting to become the first AEW Women's Champion. What about them makes them prime for this match?
Brandi: Like Cody said we're at the mercy of having only a few shows. So, looking at wins and losses and records, it's hard to gauge. Someone like Nyla Rose who was able to eliminate so many people in the Casino Battle Royale - she was the first entrant in and was the last one standing - that's a huge strong showing, and she's been one of the most competitive of all the women.
And then you have Riho who was this great underdog competitor who has had many showings in tags, singles or triple threats. And she has come out on top more often than not. She's been looking strong in these situations, so it's an interesting matchup. It's one that people may look at and see what the outcome is, but maybe they don't. Maybe they are underestimating each competitor, and on October 2, they are going to get the best look at each of their women and they will either have their minds changed or thoughts confirmed.
Another big aspect of AEW is the focus on Tag Team wrestling. How important is it to the company?
Cody: It's like a time machine, going back in time to when whole territories were built on tag team wrestling. Arn Anderson used to tell me the "hot tag" should be the most exciting 30 seconds of the night. And really when tag team wrestling is done right, like The Young Bucks do it, like Private Party does it, like the Lucha bros do, it's a very special type of matchup. We sometimes forget that because tag wrestling is thrown away in some circles these days. We really want to put it out on the forefront. We expanded on the time when you tag in. It's no longer five seconds, it's 10 seconds to get more tag team action and play to the tag team's strength. And when you have Matt and Nick Jackson, you have to put a big spotlight on tag team wrestling.
A lot of AEW's roster is being built up through Being the Elite and the "Road to" series. When Dynamite premieres, will AEW continue to lean on those web series or let the show speak for itself?
Cody: We have to do a little bit of both. We have a lot of fresh faces and it's a young cast of men and women along with veteran talents like Chris Jericho. So you have to set them up to succeed and have to character profile and present them to this audience.
This sounds silly, but I wrestle every match as if you'd never seen me before. I try to teach the audience who I am with each match, and that's just a good mindset that was instilled in me that we are instilling across the board. We know we have new faces, and we know how talented those new faces are, so we have to go full-court press. We already know who Chris Jericho, Jon Moxley, myself and Kenny Omega are. I want to know more about who Luchasaurus is, who Britt Baker is. We can't be selfish with TV time. We want them to grow and shine.
How paramount is it to give the new faces TV time when the roster has so many known wrestlers?
Cody: It's gotta be, or otherwise we are looking for an instant release versus the long period of time planting these seeds. We are in it for the long haul. The contract with TNT is a longer contract, the talent contracts with AEW are longer. We are trying to start a promotion on October 2. There were many people who criticized putting Sammy Guevara in the first match and they say "Well what if you don't know Sammy Guevara? What about your competitors, what are they doing?" That's exactly why we should be doing it. We can't count on nostalgia, and we can't play those same notes. We have to present something new. We go back to the first words we have when it comes to talent recruitment, and that's "fresh."
You have a great working relationship with AAA. What's the future of that and other partnerships for AEW?
Cody: Matt Jackson has a nice quote. "We want to be friendly with everybody." We are all about AAA and gosh, some of their incredible talent like Black Taurus, Psycho Clown, there's unbelievable talent there. And I'm making it my personal mission to bring those guys to Dynamite themselves. And when it comes to these other promotions, we are open for business. We really are. We are open for business and partnership. Our doors are open.
What can fans expect from Dynamite? Will it be more akin to the pay-per-views or smaller?
Brandi: It definitely won't be smaller by all means. I hate when people talk about weekly wrestling shows that are lesser than pay-per-views. The fact is pay-per-views are longer, but the wrestling will be just as intense and exciting. And the stories will be building have a lot of tension and reasons to watch. The great thing is that the pay-per-views will allow you to see what's been building on the weekly TV show played out fully.
Cody: I think it's really a matter of people tuning in. They may compare it to wrestling that's on TV or what's been done in the past, but I can honestly say, knowing the type of show we are presenting on night one, it's unlike anything that's been done ever. AEW is a brand-new thing. It's presentation is aiming to be sports presentation. It's how we will handle interviews, handle character progression and [how it's] done differently than in current wrestling. It's something that you will have to tune in and see for yourself.
AEW Dynamite premieres on TNT Wednesday, October 2 at 8 p.m. EDT.