All Elite Wrestling Hangman Page vs PAC: How to Watch Match Online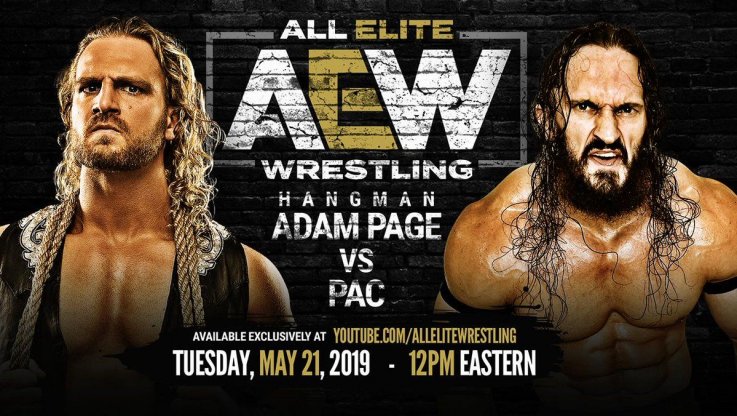 Ahead of All Elite Wrestling' s first show, Double or Nothing, Hangman Page and PAC will duke it out at WrestleGate Pro.
If you've been following AEW and the upcoming show in Las Vegas you know that these two were meant to fight on Saturday, but over the weekend it was reported that the match was shifted to earlier in the week.
To make up for it, AEW will be streaming the match between the two on Tuesday, May 21 at 12 p.m. EDT. Here's all the information you need to know about the match and how to watch it online.
HOW TO WATCH HANGMAN PAGE VS PAC ONLINE
All Elite Wrestling will stream the match live on its YouTube channel for free. The YouTube app is available on mobile devices, PS4, Xbox One and even the Nintendo Switch.
You can also watch the match below.
WHY WAS THE MATCH CALLED OFF?
Over the weekend, The Wrestling Observer reported that PAC and AEW had "creative differences" on how the result of the match should go.
PAC - formerly known as Neville in the WWE - is reportedly unwilling to lose to Page because he wants to keep the Dragon Gate Championship strong. He has wrestled to time-limit draws to avoid losing while AEW didn't want a DQ finish on their show because they are presenting a "sports atmosphere."
So instead, Page traveled to England to take on PAC at WrestleGate Pro and AEW will stream the match live for its fans.
Page will get a new opponent for Double or Nothing but it's unlikely it will be announced before the show. Double or Nothing is scheduled for Saturday, May 25 starting at 6 p.m. EDT for the pre-show and 7 p.m. for the main card.
Are you excited for the PAC vs Hangman Page match? Who do you think Page's opponent at Double or Nothing will be? Let us know in the comments section below.
All Elite Wrestling Hangman Page vs PAC: How to Watch Match Online | Sports