Brandi Rhodes Talks All Elite Wrestling's Women's Division and Making Riho the First Champion
All Elite Wrestling is positioning itself as an alternative to the professional wrestling establishment, and that includes creating the best women's division. Yet Chief Branding Officer Brandi Rhodes said fans must wait for the excitement to unfold.
"You never want to rush into things because you put unnecessary pressure on competitors that don't need to be there. Each championship is unfolding as we go," Rhodes told reporters at New York Comic Con on Friday. "Pretty confident that [AEW President] Tony Khan is on record saying he would want a women's tag division. I want a women's tag division."
The first step toward that goal came on the premiere episode All Elite Wrestling: Dynamite on TNT last Wednesday with the crowning of the first AEW women's champion: Riho. The relatively unknown Japanese wrestler defeated Nyla Rose as part of the live two-hour series debut.
"It was the unlikely candidate that won, so that's very intriguing," Rhodes told reporters. Rose, she added, "is obviously very angry. And there are all these hungry women chomping at the bit for a chance to win a championship. It's going to play out very nicely."
Dynamite debuted to solid ratings last week, averaging 1.41 million viewers, according to The Hollywood Reporter. The show ran at the same time as WWE's NXT, which has reportedly averaged about 1.1 million viewers.
Rhodes gave much of the credit for the episode's success to AEW's newer talent, including Riho. "It was inspirational to see," she told reporters. "It also gives me so much hope.... People will continue to be hooked because it was hard not to be connected to something on that show."
Riho is not only relatively unknown in wrestling circles she also isn't a native English speaker. That language barrier could present a challenge in her ability to connect with fans, but Rhodes said she's confident Riho can overcome it.
"It's a huge challenge for someone like Riho, who just came over to the United States and doesn't speak English. Translation will come mostly from Michael Nakazawa, but Riho is an incredible competitor, and you can get her story without her talking," Rhodes said.
Rhodes added that she had originally been rooting for Rose, who is the first trans woman wrestler to compete for a major promotion's women's world championship and was expected to be the winner. But by the end of the match, Rhodes said, she was cheering for Riho.
"I loved what I saw from her the other night. I felt the wave of emotion, her fight. I wanted her to win by the end," she said.
"The first finish, what I thought was the finish, I actually jumped because you can tell your story between the four corners of a ring," she recalled. "And that match is absolutely a perfect example of that."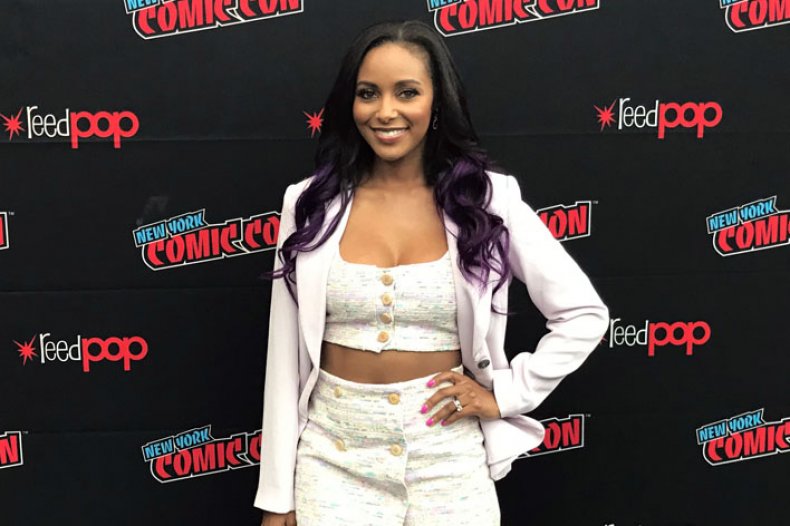 AWE wrestler Awesome Kong, who competed in the Japanese circuit, also spoke at New York Comic Con and told reporters she related to the language issue.
"I can identify with Riho because I was the talent that didn't speak the language in Japan," said the American pro wrestler. "I'm very excited for the fans to kind of build a relationship with her because it's going to take work from both sides to understand one another. It's an exciting thing to build a relationship with a talent that's outside of your comfort zone."
Yet the pro wrestler said the match spoke for itself. "The suspense of that match, you can cut the tension with a knife, and I was literally on the edge of my seat," she said.
Rhodes said Dynamite is committed to being inclusive and listening to fans as it moves forward, but she tempered expectations about the near future. "If we gave it to you all on night one, what would you have to work toward and look forward to? It's important to build."
All Elite Wrestling: Dynamite airs live every Wednesday at 8 p.m. ET on TNT.