All the Famous Faces at 'An Audience With Adele'
Scores of famous faces were present at An Audience With Adele in London this month as the signer debuted her new album, 30, for the select crowd.
ITV's An Audience With Adele aired on Sunday night with the Grammy-award winner providing an intimate setting for her new songs to be heard by her industry peers—it also marked the singer's first live U.K. performance in four years.
The audience was made up of the 33-year-old's family, friends, fans and celebrities who participated in the show by getting involved and asking the star questions.
It seems like almost every famous British celebrity was in attendance, with viewers reveling in all the recognizable faces from the audience.
Emma Thompson, famed for Nanny McPhee and Sense and Sensibility among many titles, is going viral on Monday morning for her excited dancing at the event.
The actress' name began trending on social media as fans reacted to her dancing to "Rolling in the Deep."
"The best part of this Adele special is Emma Thompson getting her absolute life," reads one tweet, while radio presenter Abbie McCarthy commented: "Emma Thompson is all of us."
Meanwhile, comedian and chat show host Alan Carr also stole the show at one point when Adele invited him on stage while she was having her makeup touched up.
Carr, who is a judge on RuPaul's Drag Race U.K., also asked Adele what she believed her exes would say about her if they were songwriters.
"Famously, you write songs about your exes... if your exes wrote a song about you, what would it be called and what would it sound like?" he asked. "We wanna know everything!"
To which Adele hilariously replied: "It'd probably be called 'No One Like You', I imagine."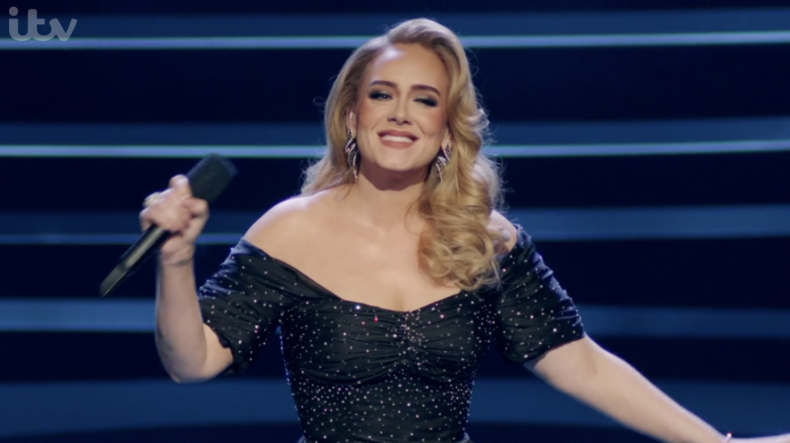 She added: "And, erm... also, I can't imagine any of them would really be able to do it, because most of them couldn't even do a normal daily task... most of them, not all of them! So yeah, I don't think they could get away with it."
Adele also gave a special shout-out to Get Out star Daniel Kaluuya, who was in the audience, when she was asked who she would most like to collaborate with.
"I'm not an actress, but I think you are the greatest actor. I'm mesmerized by you and your work. I'd love to watch you work. I think I'd learn a lot," she said.
On Twitter, TV critic Scott Bryan shared some shots of the crowd with the caption: "I am obsessed OBSESSED with this audience #AnAudienceWithAdele."
In the four photos shared, the celebrities sitting together are: comedian Dawn French and Killing Eve star Jodie Comer, Emma Thompson, Alan Carr and David Tennant.
Samuel L. Jackson and rapper Stormzy can be seen in another and Harry Potter star Emma Watson and Saoirse Ronan are sitting together in the last one.
During the show, Adele also cried tears of joy when her old English teacher who inspired her arrived on stage.