All-Female Cobb County Board of Commissioners Evidence of Georgia's Changing Political Landscape
Georgia was a pivotal state in swinging the presidential election to Joe Biden, and no Georgia county was more important in turning the state blue than Cobb County, a suburb of Atlanta.
But in doing so, it made a little history of its own.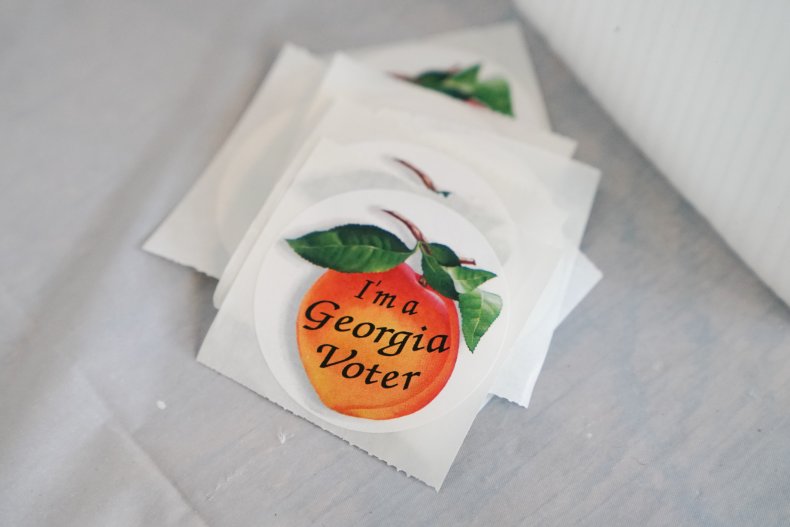 The voters in Cobb County elected all women to its Board of Commissioners, with a Democratic majority consisting of three women of color, including the first African American woman to win the chair.
Incoming Chairwoman Lisa Cupid, first elected to the commission in 2012, said the achievement had a bittersweet side.
"There's a bit of a sad tale mixed in with that," Cupid told Newsweek. "We're in the year of 2020, and the significance of it is that women and women of color have not had these opportunities. We have been in our communities, contributing to their success, working along with our peers, but yet have not had the opportunity to step up and lead in this manner. The accomplishment is really rooted in the travesty."
Cupid, a non-practicing lawyer and a former manufacturing engineer, said getting the job done is far more important than identity.
"Being a person of color, I'm Black, I'm African American," she said. "If you ask my family, I'm Guyanese. Both my parents are from Guyana, South America. I'm Guyanese-American. There's no wavering or waffling from being a female, a woman when I'm at the table."
For Cupid, it's all about public service.
"It's very easy to get caught up in labels," she said, "but at the beginning and the end of the day, it's about the work and the work is about serving people."
A native New Yorker, Cupid defeated the incumbent Republican Chair Mike Boyce, and will be joined by her Democratic colleagues Jerica Richardson and Monique Sheffield, both African Americans, in addition to Republicans Keli Gambrill and JoAnn Birrell.
Cupid has drawn renewed inspiration from fellow-Democrat Stacey Abrams, who lost her run for governor of Georgia in 2018. but has been a leader in the nationwide charge to register voters and get people involved in politics and government.
In the 2018 gubernatorial race, Abrams won Cobb County 54.09% to 44.50% over Brian Kemp, who was elected to the office and remains the incumbent.
Jacquelyn Bettadapur, chair of the Cobb County Democratic Committee, emphasized the historic nature of the political changes going on in the county, including this year's election of the county's first African American sheriff, Craig Owens.
"If you talk to African Americans who lived in the county for a long, long time, generations perhaps," she told Newsweek, "this county has a reputation of 'you didn't want to be caught here after dark.'"
Republican Party Cobb County Chairman Jason M. Shepherd said that along with the changing of the guard, policy issues remain a top concern for the GOP and the people of Cobb County.
"Voters rejected the party that for decades has made sure Cobb has some of the lowest taxes, best schools, and most efficient and effective run government in the State of Georgia," Shepherd said. "If the Democrats think this is some mandate for more taxes and more liberal government, then their tenure may be short-lived."
Shepherd said that the new majority on the board needs to prove themselves with results.
"Hopefully, Cobb Democratic voters won't rue the day they threw out the baby with the bath water," he said, "because they didn't like the top of the ticket."
Cupid acknowledged the work Republicans have done for the county, but said that her eight-year record as a commissioner spoke to voters.
"The fact is we are where we are, and we should, just as any other any elected official, be able to confidently serve our constituency by listening to their needs and responding accordingly," she said.
Parts of Georgia's 6th Congressional District, represented for 20 years by Republican firebrand former Speaker of the House Newt Gingrich, are in Cobb County. But the days of Cobb County as a Republican stronghold may be fading as the region continues to experience demographic change.
In 2010, Cobb County's population was 688,078, with 24.96% "black or African American alone," and 62.21% "white alone not Hispanic or Latino," according to the U.S Census Bureau categories.
By 2019, 28.8% of the county's 760,141 population was black or African American, and 51.1% was white alone not Hispanic or Latino, according to U.S. Census Bureau estimates.
And evidence of long-term changes to the political landscape persists.
In 2016, former Secretary of State Hillary Clinton won Cobb County by 2.1%, after Republican nominees Mitt Romney won it by 12.42% in 2012 and Sen. John McCain carried it by 9.4% in 2008.
Democratic nominee former Vice President Joe Biden, the presumptive president-elect, captured a decisive 14.32% victory over incumbent Republican President Donald Trump in Cobb County, according to unofficial results.
Georgia's Republican Secretary of State Brad Raffensperger has directed counties to undertake an audit, a hand recount, of ballots cast in the presidential election, and within Cobb County, the work is ongoing.
In addition, the two contests for Georgia's U.S. Senate seats are headed for January runoffs, because no candidate received a majority of votes.
Republican Sen. Kelly Loeffler faces Democrat Raphael Warnock. Loeffler was appointed to the seat vacated by Sen. Johnny Isakson when he resigned. First-term Republican Sen. David Perdue, cousin of Trump's Secretary of Agriculture Sonny Perdue, is opposed by Democrat Jon Ossoff.