We're about to Set off on an All-female Expedition Across the World's Oceans. Here's Why
In two weeks' time, I'll set off from Plymouth, U.K., with an all-female team, to embark on the first leg of a two-year sailing research mission around the world with eXXpedition. We'll be investigating ocean plastic pollution: where it's coming from, and how to stop it. With a combined crew of 300, spread over 30 voyage legs, we'll journey through our planet's most vital and diverse marine environments—including the Arctic—and crossing four of the five oceanic gyres, where the world's plastic gathers.
A crew for change
I co-founded eXXpedition in 2014, to explore the impact of plastic and toxics in our global seas.
At the time, I'd been learning about the impact on womens' bodies in particular— how, by entering our food chain, endocrine disruptors might affect our hormones during pregnancy and be passed on to children during birth or through breastfeeding.
It became clear to me then the plastics problem goes beyond surface concerns—and it felt right to gather a crew of amazing women to become ambassadors on the issue, tackling the research and the challenge of making the unseen seen, together.
Over the past 11 voyages, our mission has grown and changed in step with our understanding of the situation. But that first course we set has continued to shape our journey, and the all-women aspect has become central to what we're all about.
There's something unique about the experience shared by a group of women at sea. The boat becomes an incredibly supportive environment. People can be vulnerable and let their guards drop. We choose women from a range of backgrounds, with a range of skill sets, and for many of the crew on an eXXpedition voyage it's their first time sailing. There are real challenges to overcome, from upwind weather battering the boat to the emotional bombshells that hit in the most polluted parts of the ocean. Bonds form fast—and last for life.
Global ambassadors
The collective journey these women go on is critical to the change that comes after. A key aim of the work we do at sea is to empower a community of ambassadors, who leave the boat with first-hand experience and an impassioned understanding of the problem. From robotic deposit return schemes to ambitious public art commissions, we've seen women from our voyages go on to do awe-inspiring things in their own homes, lives and workplaces—which is where the real change starts to happen. In the ten years I've been criss-crossing the ocean, I've become convinced that the most effective solutions start on dry land and so—alongside the science—we're focused on building a visible network of role models.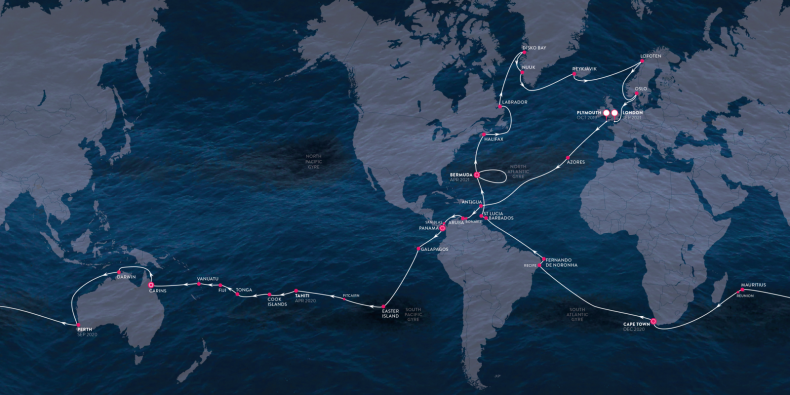 Today is World Maritime Day. Taking its lead from the UN's sustainable development goals, the emphasis this year is on 'empowering women in the maritime community.' With women still underrepresented in sailing, science, and exploration; it's an imbalance we're actively redressing as our community grows.
It's an approach that seems to have struck a chord. Since that first voyage in 2014, we've gained momentum year on year. After last year's journey to the North Pacific, hundreds of women contacted us, asking how they could get involved. So this year we're radically scaling up our approach.
Since we announced eXXpedition Round The World, almost 10,000 women have applied to take part. We've put together our most internationally diverse team yet, with bursaries enabling women of all perspectives and backgrounds to get aboard. The challenge we face with plastic pollution affects every country, and every person, in many and complex ways. And so, we need an army of passionate, skilled and experienced people to take on every aspect of the solution.
Solutions back home
Why this, and why now? There's been a seismic shift in awareness around plastic and its effect on our oceans, and the opportunity to turn that awareness into action is now. We know plastic is a problem, but there's still a wealth of misunderstanding around what's going wrong and why. Headline-grabbing images of floating islands of trash seem to call for ocean clean-up, and draw focus onto personal plastic consumption; the bags and bottles that we're learning are an issue.
But both research and my own experience suggests that most ocean plastic is too tiny to be effectively removed. Most of our waste has become too ingrained with marine life, or sunk too deeply out of reach, to be held accountable for.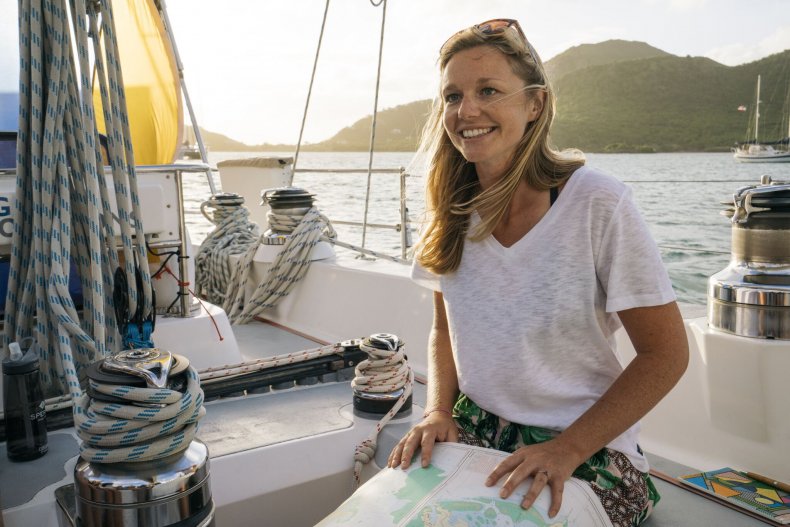 As well as creating our community of ambassadors, our Round the World voyage launches a program of solutions-based research; geared towards finding out where the plastic in the ocean is coming from—the industries and governing bodies that are mismanaging waste, and the most effective targets for policy change.
I've seen the ocean gyres, and the most shocking sights aren't floating bottles.
It's albatross, diving into crystal blue waters that that hide a soup of plastic. It's a pod of dolphins, leaping through waves that are visually indistinguishable from a healthy ocean—but laden with traps and toxic chemicals, slipping into the ecosystem unobserved.
Our oceans connect us all. We have to work out how to cut off the problem at the source, and we have to work across national, political and personal interests. It's why this time we'll be bringing back our accounts and experiences from every corner of the globe. We hope you'll join us on the journey.
Views expressed in this article are the author's own.
Emily Penn is Co-Founder and Director of eXXpedition. She is a skipper, ocean advocate and artist dedicated to studying environmental challenges in the most remote parts of our planet.