Who Are The Moderators For The Fifth Democratic Debate? All-Female Panel to Run 2020 Presidential Primary Event
For the first time in this election cycle, and just the third time in U.S. history, the fifth Democratic presidential debate will be moderated by an all-female panel.
Wednesday night's event will be held at Tyler Perry Studios in Atlanta, from 9 to 11 p.m. Eastern time. The debate will be co-hosted by reporters from The Washington Post and MSNBC.
The panel of moderators consists of MSNBC's Rachel Maddow and Andrea Mitchell, NBC News correspondent Kristen Welker and Washington Post reporter Ashley Parker. All four women are well known for their coverage of politics:
Rachel Maddow: Maddow is the host of The Rachel Maddow Show on MSNBC, which airs nightly at 9, Eastern time. Maddow previously moderated the first Democratic debate of the 2020 race, in June.
Andrea Mitchell: Mitchell is the host of Andrea Mitchell Reports on MSNBC, which airs daily at noon, Eastern time. Mitchell is also the chief foreign affairs correspondent for NBC News.
Ashley Parker: Parker is a White House reporter for The Washington Post. Before joining the Post in 2017, she spent over a decade covering presidential campaigns and Congress for The New York Times.
Kristen Welker: Welker is a White House correspondent for NBC News. Welker began covering the White House for the network in December 2011, when Barack Obama was president. She was a staple of NBC's 2016 election coverage and often reported from Hillary Clinton's campaign.
A primary debate moderated by all women last occurred three years ago, according to the Times. Fox Business Network hosts Trish Regan and Sandra Smith moderated a Republican presidential debate in 2016. That same year, PBS co-anchors Gwen Ifill and Judy Woodruff teamed up for a Democratic debate.
There have also been solo female moderators for general election presidential debates. Pauline Frederick was the first woman to moderate a debate, which occurred between Gerald Ford and Jimmy Carter in 1976. Later that year, Barbara Walters moderated the final debate between Ford and Carter.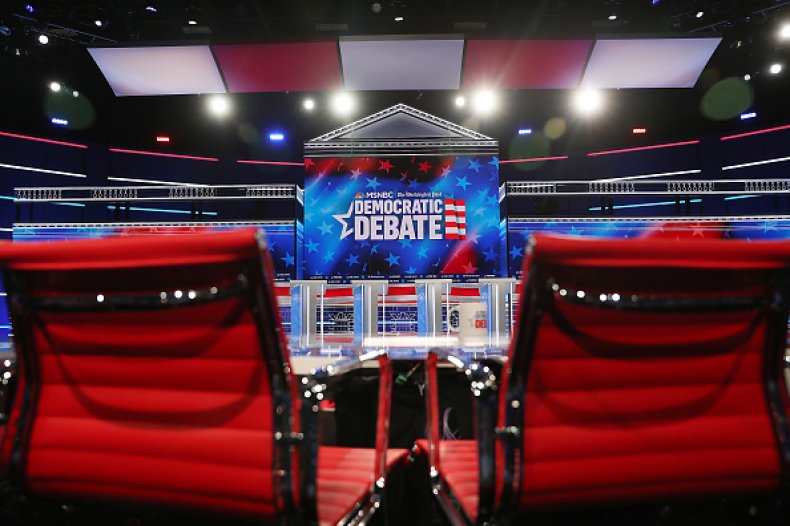 Earlier this year, several civil rights organizations urged media organizations to make sure that at least half of the moderators running presidential debates were women and at least half were people of color.
"It is the responsibility of the media to provide accurate, fair, and equal attention to every serious presidential candidate and to do so in a way that does not further sexist or racist stereotypes," the groups wrote in a letter. "The media must do more to make its coverage truly equitable and to not repeat the mistakes of the past, including in the 2016 election, that disadvantaged women candidates."
In May, the Democratic National Committee announced new rules requiring at least one woman and one person of color to moderate each of the 2020 primary debates.
Even though 18 candidates are currently vying for the Democratic nomination, only 10 qualified for the fifth Democratic debate. Joe Biden, Cory Booker, Pete Buttigieg, Tulsi Gabbard, Kamala Harris, Amy Klobuchar, Bernie Sanders, Tom Steyer, Elizabeth Warren and Andrew Yang will participate.
The candidates who are still competing in the Democratic primaries but did not qualify for this debate are Michael Bennet, Steve Bullock, Julián Castro, John Delaney, Wayne Messam, Deval Patrick, Joe Sestak and Marianne Williamson.
Wednesday's debate comes three months before the first primary votes are cast. In February, early-voting caucuses in Iowa, New Hampshire, Nevada and South Carolina will give a first glimpse at where voters stand heading into the 2020 race.
Viewers can watch the debate live on MSNBC or online at MSNBC.com and Washingtonpost.com.