What's After 'Dumbo'? All the Live-Action Movies Disney Has Planned
Disney has found a winning formula that has allowed it to remake many of its classic animated films into a live-action format. Whether audiences like it or not, there's much more on the way.
The latest Disney live-action remake is Dumbo, which is based off the 1941 feature of the same name. It follows a young elephant named Dumbo, who boasts large ears that allow him to soar, as he helps to save a struggling surface. Dumbo is directed by Tim Burton and features an all-star cast with Michael Keaton, Danny DeVito, Eva Green and Alan Arkin.
Disney has seen great success at the box office through its animated adaptation method. Beauty and the Beast (2017) is the best example as it managed to drum up $1.26 billion globally. Cinderella (2015) earned $543 million at the worldwide box office and Alice in Wonderland (2010) $1.02 billion globally as well.
As Dumbo flies into theaters Friday and analysts predict it'll soar to a $50 million debut, here's what's live-action adaptations are coming next from Disney's vault: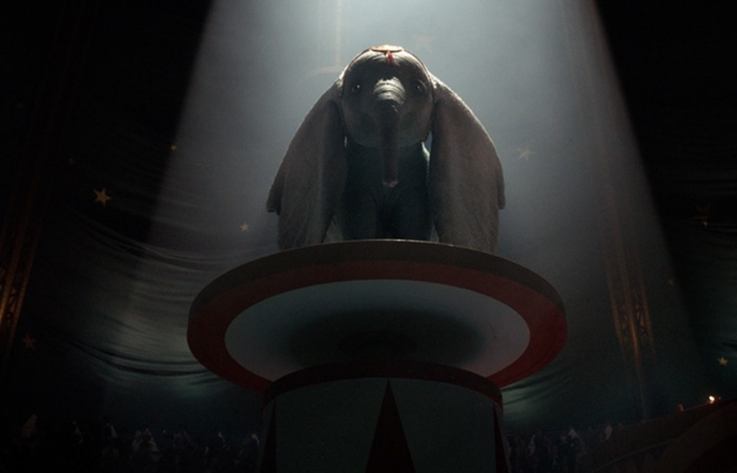 Aladdin
Directed by Guy Ritchie, Aladdin has already garnered mixed feelings before its May 24 due to Will Smith as Genie—a character last portrayed by the late Robin Williams. Mena Massoud will appear as Aladdin, Naomi Scott as Princess Jasmine, Marwan Kenzari as Jafar and Nasim Pedrad as Dalia.
The Lion King
Disney recruited the best of the best for its live-action adaptation of The Lion King. Beyoncé, Donald Glover, Seth Rogen, Chiwetel Ejiofor, Billy Eichner, Keegan Michael Key, John Oliver and James Eral Jones are among the film's impressive all-star cast. The film, directed by Jon Favreau, will follow the story told in 1994 animated version.
Mulan
Disney's searched far and wide to find its Mulan in actress Yifei Liu. She's joined by Jet Li as The Emperor and Yoson An as Mulan's love interest Chen Honghui, who will differ from her romantic partner Li Chang from the animated version.
Pinocchio
A live-action version of Pinocchio is still up in the air at Disney. While reports in November claimed Tom Hanks was in early talks to play Geppetto, director Paul King exited the project in January.
Maleficent 2
Angelina Jolie will reprise her role as the misunderstood villainous character in Maleficent: Mistress of Evil this October. Audiences last saw Maleficent on the big screen in 2014. The 2014 version scored $758.5 million domestically.
The Little Mermaid
Lin-Manuel Miranda and Alan Menken will write the Disney adaptation's screenplay, but there haven't been any casting updates as of yet. Universal Pictures also announced its intentions to remake a live-action version of The Little Mermaid in 2014, but this production has faced major complications. Filmmaker Sofia Coppola stepped down as director and Chloë Grace Moretz, who was reportedly Universal's top choice, dropped out as well.
Peter Pan
Peter Pan has seen live-action bows before in a 2003 version from Universal Pictures and the poorly received Pan in 2015, but Disney is willing to explore it once more. David Lowery is set to direct.
Genie
While Disney's live-action Aladdin is set to bow in May, the industry powerhouse also intends to release a standalone spinoff film about Genie. According to Variety, the film will tell the story of how Genie ended up inside his lamp.
Lady and the Tramp
Lady and the Tramp, directed by Charlie Bean of The Lego Ninjago Movie, will feature an all-star cast that'll help to tell the love story between an upper-class cocker spaniel and a stray. Tessa Thompson, Justin Theroux, Janelle Monáe, Kiersey Clemons and Sam Elliott are among the stars associated with the project.
Snow White and the Seven Dwarfs
Snow White was last explored on the big screen via 2012's grave departure Snow White and the Huntsman, which featured Kristen Stewart as Snow White and Charlize Theron as the Queen. However, Disney's adaptation has La La Land lyricists Benj Pasek and Justin Paul on board to create all-new songs for the film.
Lilo & Stitch
Disney announced in October 2018 that it would be developing a live-action Lilo & Stitch movie. Mike Van Waes will pen the script, whereas Dan Lin and Jonathan Eirich will be on board to produce.
Cruella
Disney found its perfect Cruella de Vil in Academy Award winner Emma Stone. AV Club reported in December 2018 that it'll be an "origin story set in the early 1980s with a punk vibe." Craig Gillespie, who directed I, Tonya and Lars and the Real Girl, is on board to direct. According to IMDb, it's still in the early stages as the production status says "Script" and Stone is the only actor cast so far.
The Sword in the Stone
Director Juan Carlos Fresnadillo and Game of Thrones writer Bryan Cogman will join forces with Disney to help recreate 1963 for a live-action format. Production was reportedly supposed to begin in Ireland in September 2018, but no casting choices have been announced.
Prince Charming
Cinderella's perfect man will finally get his time to shine in a standalone live-action feature from Disney, sort of. According to The Hollywood Reporter, the film will tell the story of Prince Charming's brother who "never quite lived up to the family name." Wonder writer/director Stephen Chbosky was hired to direct.
James and the Giant Peach
Disney's 1996 take on Roald Dahl's book featured a combined stop-motion animation with live-action, but the mouse house aims to revisit this world once more in a new live-action feature. Sam Mendes is no longer associated as the film's director, so the status of its development is uncertain.
The Jungle Book 2
Favreau intends to revisit the live-action world he created in 2016 in the highly successful Jungle Book. "The idea is to go further through the Kipling but also go into some of the Disney resources from the '67 film that maybe didn't get to see the light of day in the first film," screenwriter Justin Marks told Slash Film in January 2018.
Tinkerbell
Tinkerbell has been explored in several animated avenues outside of Peter Pan before, but Disney is ready to tell her story in a live-action format. Tinker Bell will be played by Reese Witherspoon, according to IMDb.
Rose Red
In case you missed it, Snow White has a sister named Rose Red. The Hollywood Reporter first reported on plans for this feature in 2016. According to its IMDb listing, the film will put Rose Red "into the original Snow White and the Seven Dwarfs story, adding her into the third act of the tale" after the princess bites into a poisonous apple.
What's After 'Dumbo'? All the Live-Action Movies Disney Has Planned | Culture