'For All Mankind' Release Date, Cast, Trailer Plot: Everything You Need to Know About the Apple TV+ Show
For All Mankind is the space race drama with a twist that is helping to launch Apple TV+ this November.
The cast of characters contains familiar names like Buzz Aldrin (played by Chris Agos), but probably not in the forms that those familiar with the history might recognize. As the trailer reveals, the plot of the series asks the question of how American history may have changed had Russia got to the moon first in 1969.
When is For All Mankind out on Apple TV+?
For All Mankind is one of the nine projects that are launching Apple TV+ on Friday, November 1, with the sci-fi drama joined by series like The Morning Show, See and Dickinson.
Unlike those other series, however, all of the show is expected to be released at once, meaning that all 10 hour-long episodes will be streaming at once on the service. For All Mankind has already been renewed for Season 2 by Apple, meaning that the show will have more episodes coming in 2020.
Who is in the cast of For All Mankind?
Leading the ensemble cast of NASA staff and their spouses is Altered Carbon and Hanna star Joel Kinnaman as Edward Baldwin, a fictional top astronaut, with Michael Dorman of Patriot fame joining him in the space flight program as Gordo Stevens and Damnation's Sarah Jones as his wife Tracy.
Joining these fictional characters in the series are a number of roles based on real people, including Apollo 11 astronaut Buzz Aldrin, Astronaut Office chief Deke Slayton (Chris Bauer of True Blood) and Thor's Matt Battaglia as astronaut John Glenn.
The Apple show also has a famous showrunner behind the scenes, with the series helmed by Ronald D. Moore, creator of the Battlestar Galactica reboot.
Other key cast members include Shantel Vansanten, Wrenn Schmidt, Jodi Balfour, Krys Marshall, Arturo Del Puerto, Olivia Trujillo and Sonya Walger.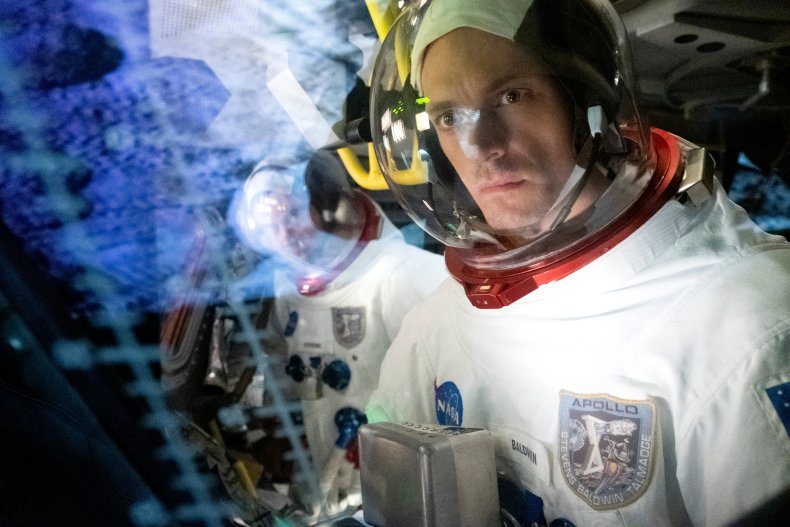 What will happen in For All Mankind?
The plot synopsis for the show reads: "Enter a captivating 'what if?' take on history from Golden Globe nominee and Emmy Award winner, Ronald D. Moore. Told through the lives of astronauts, engineers and their families, For All Mankind imagines a world in which the global space race never ended and the space program remained the cultural centerpiece of America's hopes and dreams."
Moore told Entertainment Weekly: "We're starting with how history changes, and as the season develops we'll jump months — and sometimes years — and you'll see the ripple effects that occur: We pull out of Vietnam earlier, Nixon goes in hard on the space program. How do things change because of all that? In our history, Ted Kennedy does not go to Chappaquiddick. He cancels the trip to go to Washington, and so Nixon's team is worried he's going to run. There's a lot to explore when you start to consider how life would be different."
Is there a trailer for For All Mankind?
The promo for the Apple TV+ show begins with one of the most arresting moments of the show, as seen at the start of Episode 1. We see people all over American glued to TV screens in 1969 as man is about to make its first step on the moon. We think it is a scene we have seen dozens of times on film and TV until the astronaut steps onto the lunar surface and, just as we think he is about to start his "one small step for man" speech, he starts speaking in Russian.
For All Mankind starts on November 1 on Apple TV+.