All the Oscars Records Broken by 'Everything Everywhere All at Once'
Everything Everywhere All at Once has completed its transition from surprise box office hit to certified Oscars history maker.
The movie dominated the 2023 Academy Awards, winning seven of the 11 awards it was nominated for. The result meant that movies like The Banshees of Inisherin, Elvis and The Fabelmans went home empty handed.
Directed by the duo Daniel Kwan and Daniel Scheinert (aka the Daniels), and starring a core Asian cast that included Michelle Yeoh, Stephanie Hsu and Ke Huy Quan, Everything Everywhere All at Once has been a gamechanger for filmmaking and representation in Hollywood.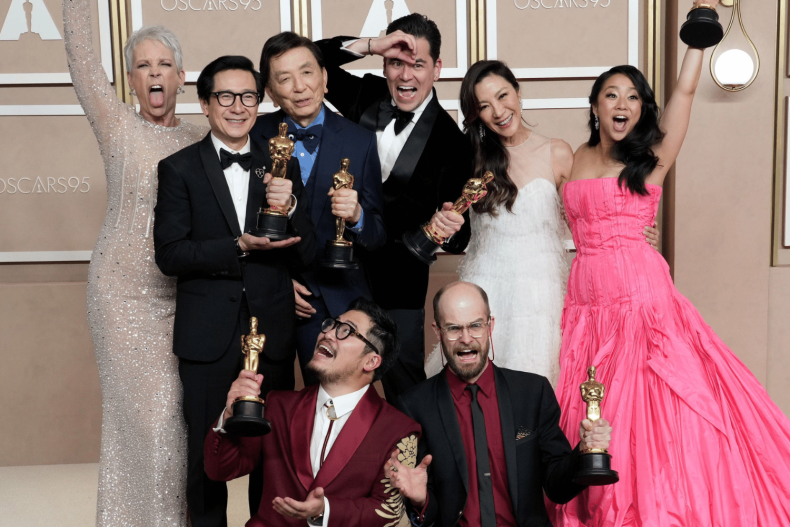 Its 11 nominations were the most received by a movie in 2023, matching the achievements of the likes of The Godfather Part II, Saving Private Ryan, Gandhi, Terms of Endearment and Joker. Its seven wins makes it as successful as Star Wars, Schindler's List, Lawrence of Arabia and Gravity.
Here's a list of the Academy Awards records broken by the now immortal Everything Everywhere All at Once.
First Sci-Fi Best Picture Winner
Winning Best Picture at the 2023 Oscars is a momentous occasion for the Sci-Fi genre.
While The Silence of the Lambs was the first horror to win Best Picture in 1991, The Lord of the Rings: The Return of the King was the first fantasy winner in 2003, now Everything Everywhere All at Once has become the first science fiction movie to win the prize.
First Asian Person to Win Best Actress
Asian actors had previously won Oscars in the supporting actor and actress categories, but Yeoh becomes the first ever Asian identifying person to win in the Best Actress category. After Halle Berry, she is also only the second ever woman of color to win the Best Actress award.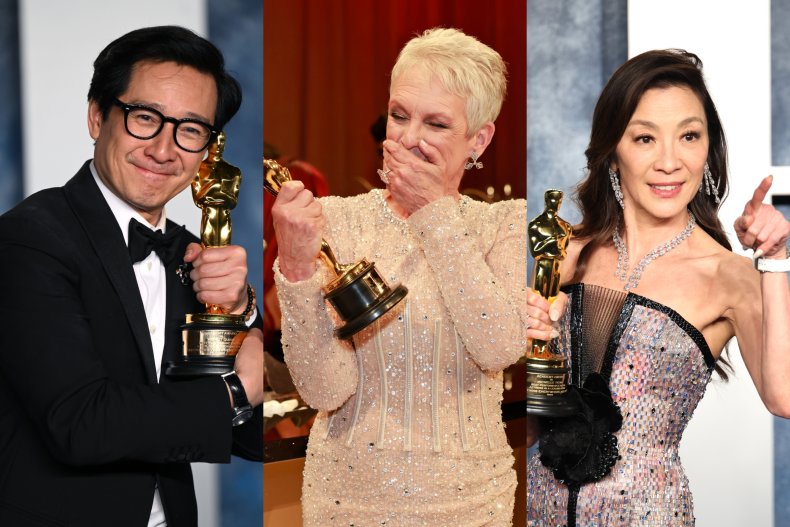 First Non-Siblings to Jointly Win Best Director
Known collectively as Daniels, Daniel Kwan and Daniel Scheinert beat the likes of Steven Spielberg, Martin McDonagh and Todd Field to win the Best Director gong at the 95th Academy Awards.
They're not the first duo to win the prize, as Joel and Ethan Coen won for No Country for Old Men in 2007. The Daniels are the first duo not to be related to win the prize though.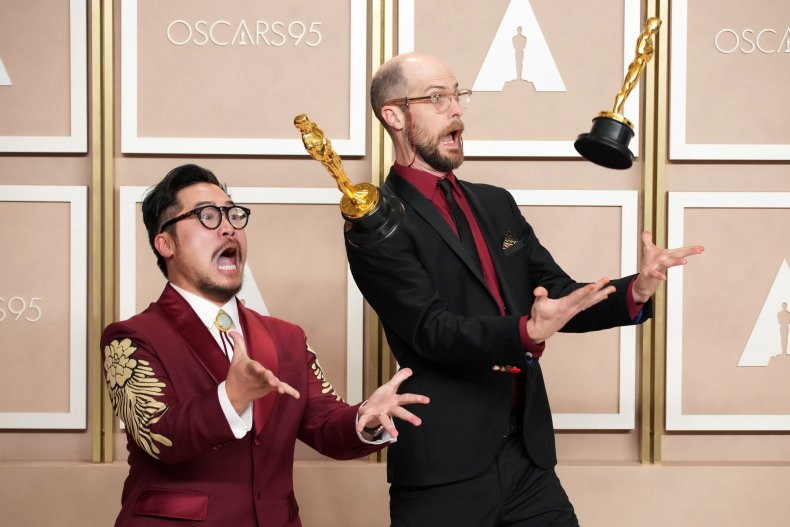 At 35-years-old, Daniels are among the youngest winners of the Best Director award, but Damien Chazelle holds the record for winning for La La Land at 32 years old.
Most Acting Wins for a Single Movie
Four actors from Everything Everywhere All At Once were nominated across three categories at the 2023 Academy Awards.
Michelle Yeoh won Best Actress, Ke Huy Quan won Best Supporting Actor, and Jamie Lee Curtis won Best Supporting Actress, with co-star Stephanie Hsu nominated in the same category.
It's actually the third time a movie has achieved such a feat, after A Streetcar Named Desire (1951) and Network (1976).