'All Pigs Matter': Man Crashes Blue Lives Matter Rally, Antagonizes Supporters of Police
A Connecticut man crashed a Blue Lives Matter rally over the weekend with a sign that read "All Pigs Matter."
In a video posted online, the man, identified as Michael Picard, is shown carrying the sign and antagonizing rally members who gathered at Coe Memorial Park in Torrington on Saturday to support the police.
Picard told Newsweek he attempted to expose intolerance by attending the rally in counterprotest.
The video begins with Picard running up to the mic and declaring to the crowd that "all pigs matter." Picard is met with booing and police supporters are seen coming up to him to voice their opinions over his sign and his presence at the rally.
Attendees are heard saying to Picard, "Looks like you ate about 20 pigs" and "Do you own a pig farm?" among other things.
Throughout the video, Picard is seen engaging with individuals who condemn him. He continually tells rally members he is also there to support the police, before going on to refer to law enforcement as "pigs."
Multiple people attempt to take his sign from him. At one point, a police officer at the rally approaches a man who had grabbed Picard's sign and tells him to "just give him his sign back." At the end of the video, a woman is seen confiscating his sign before folding it up and shoving it into a nearby garbage receptacle.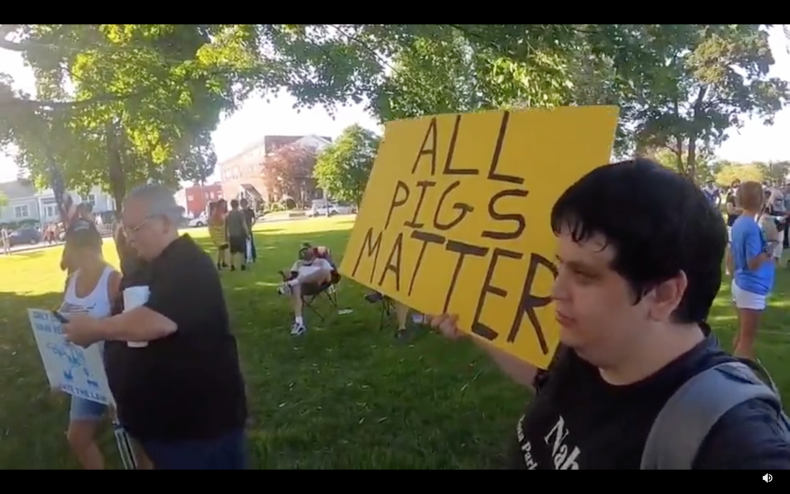 Picard said he wanted to shed light on those who contradict their own beliefs in freedom of speech.
"My intention in going to that rally with my 'all pigs matter' sign is to expose an intolerance to different ideas through satire. Rightly so, because they destroyed and trashed my sign all because I disagreed with them," Picard told Newsweek in an email. "We should all be tolerant of different ideas because, when one person or group is silenced, any one of us can be silenced. We should all be able to laugh at ourselves, respect each other views, and learn from each other."
Picard said filming his encounters at the rally was in lighthearted fun.
"I post my videos to give people a laugh and to shine a light on those who say they support free speech, but then trash signs because they disagree with it," he added.
Another counterprotester at the event, a man wearing Trump 2020 apparel, is shown in Picard's video holding signs that read "Black Lives Matter" and "F*** the Police."
The event, which drew more than 200 people, was organized by the United American Patriots, a group founded by David LaManna and Mark Dorias of Connecticut.