Queen Elizabeth II is set to begin her Platinum Jubilee year just weeks after stripping her once favorite son of his honorary titles.
The monarch, 95, will spend her accession day at Sandringham, where her father died in 1952 on the day she became queen.
Elizabeth has more than one reason to be somber though, as her Christmas Day message revealed she is still struggling with the loss of her husband of 73 years, Prince Philip, in April 2021.
Her grief has been interrupted by crisis numerous times since, with most relating to either her son Prince Andrew or her grandson Prince Harry.
She also had a health scare in the fall which forced her to clear her diary of official visits.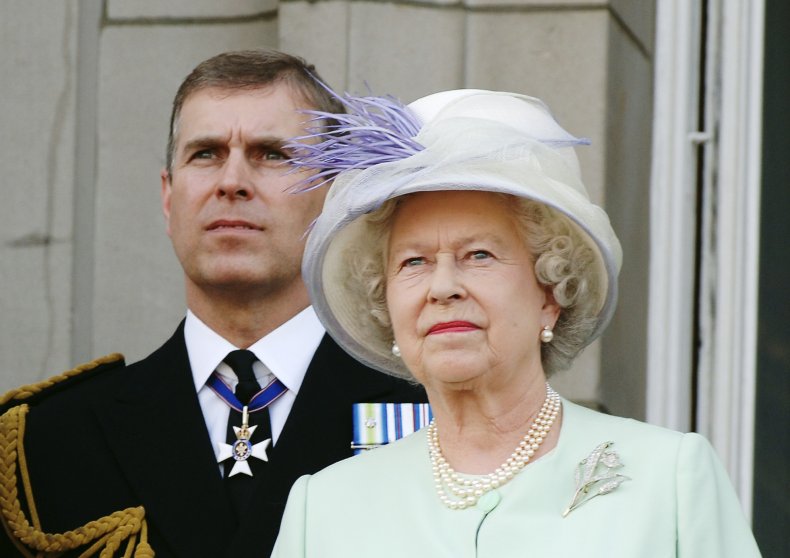 Prince Harry
The Duke of Sussex launched a "judicial review," or legal challenge, to the Home Office decision to strip him of his Metropolitan Police protection in the U.K.
A legal representative traced the dispute back to the "Sandringham Summit," a meeting he had with the queen, Prince Charles and Prince William in January 2020 during negotiations over his decision to quit royal duties.
A statement released to Newsweek read: "The Duke and Duchess of Sussex personally fund a private security team for their family, yet that security cannot replicate the necessary police protection needed whilst in the UK.
"In the absence of such protection, Prince Harry and his family are unable to return to his home.
"The Duke first offered to pay personally for UK police protection for himself and his family in January of 2020 at Sandringham.
"That offer was dismissed. He remains willing to cover the cost of security, as not to impose on the British taxpayer."
A palace source previously told Newsweek the decision came from the Home Office and not one the royals had made.
However, the issue is not the only point of potential conflict with Harry, who is due to release his memoir towards the end of 2022.
The book is expected, at the very least, to revisit some of the criticisms he has already made of his family.
Beyond the Oprah Winfrey interview, Harry told the Armchair Expert podcast in May, 2021, how he experienced "genetic pain" passed on by his father, Prince Charles, from his own royal upbringing.
Charles gave interviews for The Prince of Wales: A Biography, by Jonathan Dimbleby, released in 1994.
The book said Prince Philip bullied his son to tears with banter and that the queen left the parenting to her husband while she focused on her public role.
Prince Andrew
Virginia Giuffre is suing the Duke of York on allegations he raped her when she was a 17-year-old sex trafficking victim of Jeffrey Epstein and Ghislaine Maxwell.
Andrew has denied the accusations and has resolved to fight the case after failing to have it thrown out during a hearing on January 4.
The queen stripped her once favorite son of his honorary military titles and royal patronages on January 13 in a brief Buckingham Palace statement that confirmed he would be defending the lawsuit as a "private citizen."
Current scheduling suggests the trial is likely to take place later than July, which means it would be after the centerpiece of her Platinum Jubilee, scheduled over four days in early June.
However, there may well be updates on the case in the weeks and months leading up to the trial.
Health Scare
The queen had a health scare in October 2021, which led her to cancel a planned two-day trip to Northern Ireland and also to the COP26 climate change conference, in Glasgow, on November 1.
After the initial scare, she experienced an additional back sprain which led her to scrap her planned attendance at Remembrance Sunday commemorations.
Her diary, which had been hectic, has been scaled down dramatically since.
It all means that a queen who once famously said "I have to be seen to be believed" is juggling several scandals in a year of celebration—at a time when being seen is harder than ever.